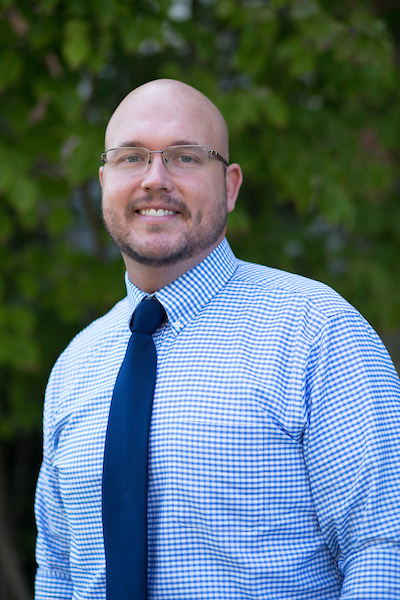 Associate Professor
Howard College of Arts and Sciences
Geography and Sociology
248 Ingalls Hall
Jonathan Fleming is from the rural community of Belgreen in northwest Alabama. His teaching and research interests span a wide range, including applied GIS, drone mapping, environmental geography, and invasion ecology, as well as how each of these subjects plays a role in understanding contemporary environmental challenges. He loves exploring how Earth systems work with his students and is a firm believer in experiential learning through field studies, having led or co-led programs in the southeast U.S., desert southwest U.S., Pacific northwest U.S., Tanzania (Africa), and Saba (Dutch Caribbean).
Fleming also enjoys designing and teaching a variety of Geographic Information Systems courses and serves as the director of the Graduate GIS Certificate program offered alongside the M.S. in Environmental Management from the Department of Biological and Environmental Sciences. He is a certified GIS Professional (GISP), ArcGIS Professional, and FAA Part 107 Remote Pilot for Small Unmanned Aircraft Systems. Dr. Fleming is an avid outdoorsman, gardener, and proponent of environmental stewardship. He also enjoys traveling and spending time with his wife, Whitney, a special education teacher. They stay entertained at home by their cat, Rosalie, and three dogs, Ollie, Ruby, and Samson.
Degrees
• Ph.D., Forest Resources, Mississippi State University
• M.S., Wildlife and Fisheries Science, Mississippi State University
• B.S., Geographic Information Science, University of North Alabama
Publications
Fleming, J.P., R.M. Wersal, J.D. Madsen, and E.D. Dibble. 2021. Weak non-linear influences of biotic and abiotic factors on invasive macrophyte occurrence.  Aquatic Invasions 16: 349-364.
Sartain, B.T., J.P. Fleming, and C.R. Mudge.  2019.  Utilizing Remote Sensing Technology for Monitoring Chemically Managed Giant Salvinia (Salvinia molesta) Populations.  Journal of Aquatic Plant Management 57: 14-22.
Palumbo, M.D., J.P. Fleming, O.A. Monsegur, and F.J. Vilella.  2016.  A GIS model of habitat suitability for the endangered shrub Solanum conocarpum (Solanaceae) in St. John, U.S. Virgin Islands.  Caribbean Naturalist 36: 1-10.
Fleming, J.P., and E.D. Dibble.  2015.  Ecological Mechanisms of Invasion Success in Aquatic Macrophytes.  Hydrobiologia 746:  23-37.
Fleming, J.P., J.D. Madsen, R.M. Wersal, and E.D. Dibble. 2015.  Investigation of Darwin's Naturalization Hypothesis in invaded macrophyte communities.  Biological Invasions 17: 1519-1531.
Simek, S.L., J.L. Belant, Z. Fan, B.W. Young, B.D. Leopold, J.P. Fleming, and B. Waller.  2015.  Source populations and roads influence American black bear recolonization.  European Journal of Wildlife Research 61: 583-590.
Huenemann, T., E.D. Dibble, and J.P. Fleming.  2012.  Influence of turbidity on the foraging of largemouth bass.  Transactions of the American Fisheries Society 141: 107-111.
Kröger, R., E. Dibble, J.B.Brandt, J.P. Fleming, T. Huenemann, T. Stubbs, J.D. Prevost, T. Tietjen, K.A. Littlejohn, and S. Pierce.  2011.  Spatial and temporal changes in total suspended sediment concentrations in an oxbow lake after implementing agricultural landscape management practices.  River Research and Applications 29: 56-64.
Fleming, J.P., J.D. Madsen, and E.D. Dibble.  2011.  Development of a GIS model to enhance macrophyte re-establishment projects.  Applied Geography 32: 629-635.
Fleming, J.P., J.D. Madsen, and E.D. Dibble.  2011.  Macrophyte re-establishment for fish habitat in Little Bear Creek Reservoir, Alabama, USA.  Journal of Freshwater Ecology 26: 105-114.