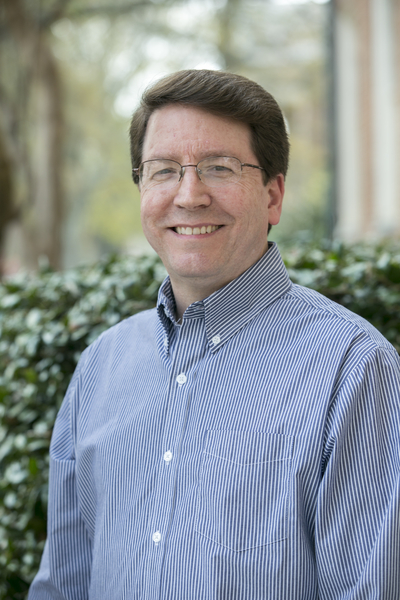 Professor
Howard College of Arts and Sciences
Chemistry and Biochemistry
323 Propst Hall
Dr. Gregory joined the faculty at Samford in 2002. Prior to coming to Samford, he held positions as a Postdoctoral Research Associate at both the University of Georgia and with the U.S. Department of Energy at Ames Laboratory (managed by Iowa State University), and was a faculty member at Illinois State University.
Dr. Gregory's research interests focus on the structure and properties of surfaces and films (both organic and inorganic) using a wide variety of surface analytical techniques: electrochemistry, mass spectrometry, surface infrared and Raman spectroscopy, and scanning probe microscopy. In 2006, Dr. Gregory received a Major Research Instrumentation grant from the National Science Foundation to purchase a liquid chromatograph-mass spectrometer (LC-MS) for the study of multi-component self-assembled monolayers (SAMs) of alkanethiols on metal surfaces: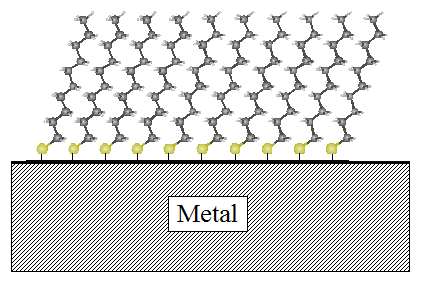 Multi-component SAMs of various types are currently being explored as templates for cell adhesion and growth, as surfaces which enhance human blood plasma coagulation, and as surface coatings for DNA microarray applications. In Dr. Gregory's research, mass spectrometry is being used to quantify the relative proportions of each of the constituents in binary mixed SAMs on gold surfaces, where the two alkanethiol constituents differ in either chain length, end group, or both. LC-MS is highly desirable for these studies since it exhibits the sensitivity to detect monolayer and submonolayer quantities of materials, and can detect all the components simultaneously. In March 2009, Dr. Gregory was awarded a three-year, $65,000 research grant from the American Chemical Society-Petroleum Research Fund (ACS-PRF) to continue this work. It is expected that these studies will benefit the wider thin film community, particularly those having an interest in systematic control over interfacial film properties.
Other recent work has involved using Raman spectroscopy to study SAMs of long-chain alkanethiols on gold and silver surfaces. In particular, Dr. Gregory has been interested in the nature of the electronic structure at the metal-sulfur interface (as revealed by mathematical modeling of the Raman data) since little is known about this region of the film. These Raman/modeling studies of alkanethiol SAMs continue through existing collaborations with individuals at both Illinois State University and the University of Georgia.
When not at Samford, Dr. Gregory enjoys reading and playing the piano (but not simultaneously), and international cuisine (when he can find it).
Degrees and Certifications
B.S., Furman University
M.S., Furman University
Ph.D., University of Georgia
Publications
Murphy, A.B.; Duong, C.N.; Crenshaw, K.K.; Hartman, S.K.; Barrett, W.F.; Whitehead, A.R.; Lampkins, A.J.; Gregory, B.W. Catalytic Oxidation of Alkanethiols and Dialkyldisulfides to Alkanesulfonic Acids by H2O2/CH3ReO3 Examined by Electrospray Ionization Mass Spectrometry. J. Mass Spectrom. 2014, 49, 241-247.
Worley, B.C.; Ricks, W.A.; Prendergast, M.P.; Gregory, B.W.; Collins, R.; Cassimus, J.J.; Thompson, R.G. The Anodic Passivation of Tin by Alkanethiol Self-Assembled Monolayers Examined by Cyclic Voltammetry and Coulometry. Langmuir 2013, 29, 12969-12981.
Roberts, R.; Driver, J.A.; Brown, D.M.; Amin, S.H.; Gregory, B.W. Hydrogen Peroxide-Induced Oxidation of Mixtures of Alkanethiols and Their Quantitative Detection as Alkanesulfonates by Electrospray Ionization Mass Spectrometry. Anal. Chem. 2011, 83, 9605-9613. 
Standard, J.M.; Gregory, B.W.; Clark, B.K. Computational Studies of Copper, Silver, and Gold Alkanethiolates and Alkaneselenates. J. Mol. Struct. (THEOCHEM) 2007, 803, 103-113.
Niki, K.; Gregory, B.W. Electrochemistry of Redox-Active Proteins Immobilized on Self-Assembled Monolayers of Organothiols, in

Biomolecular Films: Design, Function, and Applications

, Surfactant Science Series, Ed. J. F. Rusling (Marcel Dekker: New York, 2003), Chp. 2.
Avila, A.; Gregory, B.W.; Clark, B.K.; Standard, J.M.; Cotton, T.M. Image Potential Surface States Localized at Chemisorbed Dielectric-Metal Interfaces, Langmuir 2002, 18, 4709-4719.