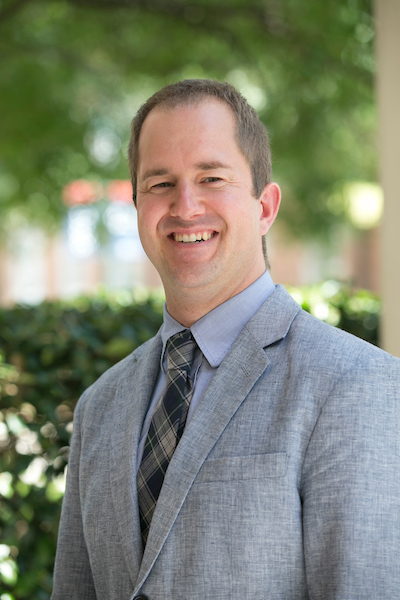 Associate Professor of History
Howard College of Arts and Sciences
History
304 Burns Hall
Anthony Minnema is a historian of premodern Europe and the Islamic world. His writing focuses on the social and cultural relations between Christians and Muslims, particularly in Spain and Portugal during the Middle Ages. He regularly offers courses on the Crusades, early Islamic civilization and world history. Minnema comes to Samford from Valparaiso University, where he was a Lilly Postdoctoral Fellow. He received his PhD in History from the University of Tennessee and a BA from Calvin University. A native Californian, he enjoys gardening and cooking. His wife, Linnea, also works at Samford as the Director of Grants and Sponsored Programs.
Minnema's first book, The Last Ta'ifa, follows the Banu Hud, a Muslim noble family, after their exile from Zaragoza. Far from accepting their fate, the dynasty survived by serving Christian kings, nurturing popular rebellions, and carving out a new state to recover their power. By tracing the Banu Hud across Arabic, Latin and vernacular sources, Minnema shows how dynastic leaders borrowed their rivals' claims and symbols, and engaged in military campaigns and complex alliances to cultivate legitimacy.
Minnema's next project looks at the Portuguese conquest of the Algarve and the competing interests of kings, military orders and the remaining Muslim population. He also has published articles on the translation of Arabic works into Latin and their subsequent readership at European universities and other centers of learning. His research has been supported by the Mellon Foundation, Southern Historical Association, Warburg Institute and American Academy of Research Historians of Medieval Spain.
Publications
The Last Ta'ifa: The Banu Hud and the Struggle for Andalusi Political Legitimacy. Ithaca, NY: Cornell University Press, 2024
"Between Amīr and Rey Moro: Bahā' al-Dawla Ibn Hūd and the Question of Sovereignty in Thirteenth-Century Murcia." In A World of Realms, edited by Malika Dekkiche and Houssine Alloul (London: SOAS/Routledge, 2024).
"Medieval Translations from Arabic into Latin." In A Cultural History of Translation in the Postclassical Era, edited by Cristiana D'Ancona (London: Bloomsbury, 2024).
"Squire to the Moor King: Christian Administrators for Muslim Magnates in Late Medieval Murcia." Journal of Medieval Iberian Studies 12.2 (2020), 248-266.
"A Taifa in Exile: Sayf al-Dawla and the Survival of the Banu Hud." Al-Masāq: Journal of the Medieval Mediterranean 31.1 (2019): 1-19.
"Cave hic: Marginal Warnings in Latin Translations of Arab Philosophy: A Case Study from Algazel." Manuscripta 61.1 (2017): 72-104.
"A Hadith Condemned at Paris: Reactions to the Power of Impression in the Latin Translation of al-Ghazali's Maqaṣid al-falasifa." Mediterranea 2 (2017): 145-162.
"Algazel Latinus: The Audience of the Summa theoricae philosophiae, 1150-1600." Traditio 69 (2014):153-215.