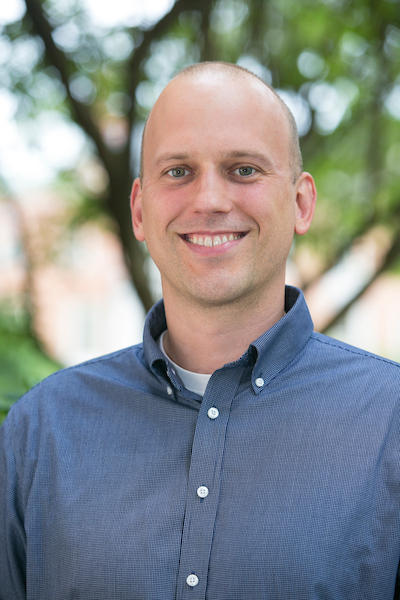 Assistant Professor of Science and Religion
Howard College of Arts and Sciences
Biblical and Religious Studies
Office: 324 Russell Hall
Reeves is a graduate of Cambridge University and Boston University and completed a postdoctoral position in the Heyendaal Program for Theology and Science at Radboud University in the Netherlands. In 2018 he was awarded a research fellowship at the Free University of Amsterdam. He is author of "Against Methodology: Recent Debates on Rationality and Theology" (Routledge, 2018) and co-author of "A Little Book for New Scientists" (IVP, 2016) and has published articles in journals such as Zygon, the Journal of Religion, and Theology and Science. Before joining Samford's faculty, Josh Reeves served as a grant project administrator in the university's Center for Science and Religion. Reeves currently serves as co-chair of the Science, Technology, and Religion group of the American Academy of Religion.
In his free time, Josh enjoys spending time with his wife and two daughters.
Degrees and Certifications
B.A., Samford University
MDiv., Beeson Divinity School
MPhil., Cambridge University
Ph.D., Boston University
Grants and Awards
"God and the Book of Nature" Research Fellowship. Senior mentor for three-year science and theology postdoc position hosted at Samford.
TheoPsych: Bringing Theology to Mind Seminar (Theme: Completely Human, Completely Divine) Fuller Seminary, January 2020.
$22,000. Four-month Research Fellowship with the project "The Epistemic Responsibilities of the University", Vrije Universiteit, Amsterdam, The Netherlands, 2018-2019.
Oxford Interdisciplinary Seminars in Science and Religion, July 2018 and July 2019. (One of 20 CCCU faculty chosen)
$116,000 from the Templeton World Charity Foundation for the project: "Why Trust Scientific Experts? Addressing Science Skepticism Among Christians."
$25,000 from The Steam Project  to conduct a series of science and faith discussions in the Young Adult ministry at Dawson Family of Faith church in Birmingham, Alabama.
$3,000 for Alvin Plantinga Reading Group, from the Society of Christian Philosophers.
$170,000 "Who Pulls the Random Strings in Neural Evolution?" with Steve Donaldson and Tom Woolley, Samford University.  2013-2015.  From the Randomness & Divine Providence Project, funded by the John Templeton Foundation. 
Books
"Against Methodology in Science and Religion: Recent debates on rationality and theology", Routledge Science and Religion Series, Routledge, 2018.
"A Little Guide for New Scientists" with Steve Donaldson, InterVarsity Press, 2016. 
Select Articles and Publications
"Why Christians Struggle to Think Theologically About Chance" Sapientia (2019).
Christianity and Science: The Three Key Questions" Journal of Biblical and Theological Studies 2:2 (Journal Theme: Christianity and the Philosophy of Science) (Fall-2017).
"How Not to Link the Reformation and Science: Reflections on Brad Gregory's The Unintended Reformation" Religions 8:5 (2017).
"Values and Science: An Argument For Why They Cannot be Separated" Theology and Science 14:2 (April-2016), 147-159.
"The Secularization of Chance: Towards Understanding the Impact of the Probability Revolution on Christian Belief in Divine Providence" Zygon (2015), September 50:3, 604-620.
"Response to 'Turning a Critical Eye on Science and Religion'" with Richard A. Peters  Method and Theory in the Study of Religion (2014), January 26:1, 75-86.
"Should Christians Trust Scientific Experts?" on the BioLogos Blog (3500 words), December 16, 2014.
"On the Relation Between Science and the Scientific Worldview" Heythrop Journal (2013), July 54:4, 554-562.
"Problems for Postfoundationalists: Evaluating J. Wentzel van Huyssteen's Theory of Rationality"  Journal of Religion (2013), April 93:2, 131-150.
"Theology and the Problem of Expertise" Theology Today (2012), April 69:1, 34-42.
"What is Natural?: A Critical Analysis of Nonreductive Physicalism" Studies in Science and Theology (2012), 159-172.
"After Lakatos" Theology and Science, November 9:4 (2011), 395-409.
"The Field of Science and Religion as Natural Philosophy" Theology and Science, November 6:4 (2008), 403-419.
Recent Presentations
Respondent to Book Panel on "Against Methodology", Presented at the American Academy of Religion Meeting (Science, Technology, and Religion section), November 2019.
"Summary of "Against Methodology", Presented at International Society for Science and Religion session, San Diego, November 2019.
"Christianity and Science: The Three Big Questions"- Presented to the University of Alabama at Birmingham Honors College, October, 2017.
"Debating Methodological Naturalism: Towards a Middle Ground"- Presented at Samford University, September, 2017.
"Towards Understanding the Modern Conflict Between Science and Christianity," Texas A&M- Texarkana, September 2017.
"Understanding Christian Mistrust of Scientific Experts", Samford University Science and Religion lecture series, March 2017.
"Reflections on Peter Harrison's Territories of Science and Religion" Presented at American Academy of Religion Conference, San Antonio, November 2016
"Critical Reflections on Brad Gregory's The Unintended Reformation" Presented to the "Teaching the Reformations" conference, Samford University, October 2016.
"Kathryn Tanner on Divine Action: An Evaluation." Presented to the Science and Personal Action: Human and Divine Conference, Boston, July 2015.