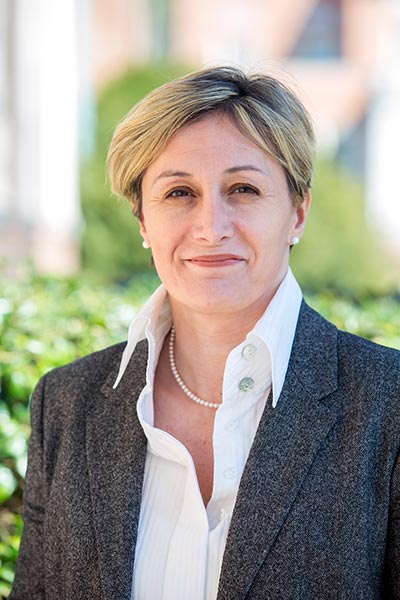 Associate Professor and Director, International Relations Program
Howard College of Arts and Sciences
Political Science
Office: Beeson Hall 218
Dr. Simoni holds a Ph.D. in International Relations from the University of Southern California (USC). A native of Italy, she has a B.A. in Political Science -International Relations concentration- from Universitá degli Studi di Roma La Sapienza and and an M.A. in Political Science from California State University Long Beach. Her teaching and research interests include International Relations, International Security, Transatlantic Relations, International Organization and Foreign Policy.
She has published her first manuscript entitled Understanding Transatlantic Relations: Whither the West? (2013) with Routledge. Breaking away from the conventional way to study transatlantic relations, she uses a constructivist theoretical lens to argue that the transatlantic partners' changing identities since the early 1990's have influenced their political interests and, as a consequence, their national security policies.
Dr. Simoni is also researching a second manuscript on trans-border criminality and human security. Still with a focus on transatlantic relations, this research is centered on international security vis-a-vis international law. More specifically, she is analyzing the relationship between international security, the behavior of states and the formation of international norms.
Dr. Simoni is the faculty advisor for the Model United Nations.
Dr. Simoni is also the coordinator of the IR-Careers-in-DC. Every year, the Political Science faculty nominate a number of students to participate in the IR-Careers-in-DC experience. They are chosen because of their stellar academic record and demonstrated interest in American and International politics. As part of this trip, students will be able to visit a variety of government offices and non-profit organizations where they will learn more about possible career opportunities in public service. They will also be attending a Samford reception in Washington and have an opportunity to learn firsthand from our alumni about life in the capitol city. This is not a sightseeing tour of Washington, DC. It is a great chance to meet with high profile individuals who work in the State Department, the Carnegie Endowment for International Peace, and other influential institutions. The professionals will talk to our students about their jobs, and students will find out about employment opportunities, fellowship programs in research institutes, and internships.
 
 Dr. Simoni has taught at the California State University Long Beach and the University of Pennsylvania. She taught courses such as Introduction to International Politics, Issues in Global Politics, Transatlantic Relations, Introduction to Contemporary Europe and International Law, the Senior Thesis Seminar in International Relations. She has worked with the Organization for Security and Cooperation in Europe (OSCE) as an international observer in Albania when in 1996-1997 the country was convulsed by the dramatic rise and collapse of several huge financial pyramid schemes. With the end of hostilities in the Balkans, Dr. Simoni joined the OSCE mission to Bosnia-Herzegovina and Republika Srpska with the mandate to assist the country to make the transition to a stable, peaceful, democratic, multi-ethnic and self-sustaining society. Dr. Simoni has been employed by the Italian Department of State as a consultant in Political Affairs.
Dr. Simoni enjoys reading, traveling, movies and music. She is married to Dr. Carlo Chiarenza, an Emeritus Professor of Literature and Cinema, and former Executive Director of the Fulbright Program in Italy.
Degrees and Certifications
B.A. Universita degli Studi di Roma La Sapienza
M.A. California State University, Long Beach
Ph.D. University of Southern California
Expertise
International Relations
Transatlantic Relations
Organized Crime
International Security
Italian Politics
Research
International Relations
International Security
Transatlantic Relations
International Organization
Foreign Policy