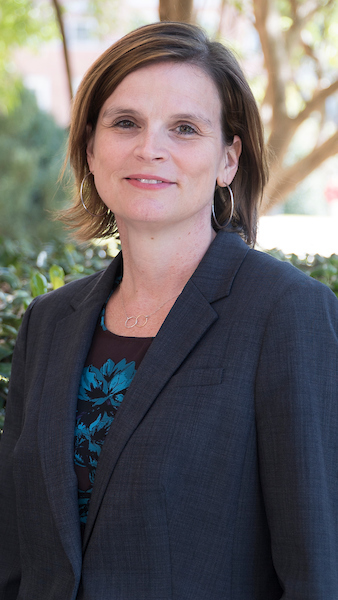 Professor and Chair
Howard College of Arts and Sciences
Geography and Sociology
246 Ingalls Hall
Dr. Speights-Binet joined the Howard College faculty at Samford in 2008 as an assistant professor in the geography program after teaching four years at the University of Houston. She teaches a variety of courses including Global Geography, North American Landscapes, and Suburban Nation. Her teaching philosophy has always involved an interdisciplinary approach, a direct result of her undergraduate experience at Samford when she was a part of the university Honors program. Dr. Speights-Binet is also a regular instructor in the university's core course in Cultural Perspectives.

After completing a degree in history and geography from Samford in 1994, she continued her education at the University of Edinburgh and Louisiana State University. Her research interests include cultural landscapes, urbanism, public memory, and the memorialization of public space.  Her articles and reviews have appeared in Southwestern Geographer, Journal of Applied Geography, Geographical Review, and the Journal of American History. She currently serves as Associate Editor for the Journal of Geography.
Degrees and Certifications
BA, Samford University
MS, University of Edinburgh-Scotland
PhD, Louisiana State University
Publications
Sheehan, Rebecca and Speights-Binet, Jennifer. 2019. "Negotiating strategies in New Orleans' memory-work: white fragility in the politics of removing four Confederate-inspired monuments."  Journal of Cultural Geography 36 (3): 346-367.
Boske, C., Gershon, W., McEnery, L., Speights-Binet, 2019. "The 'Dead Ends': Reconsidering place for school leaders." Theory in Action 12 (1). 
Speights-Binet, Jennifer and Sheehan, Rebecca. 2018.  "Confederate Monument Controversy in New Orleans."  Association of American Geographers, Meridians, January 1, 2018.
Selected Papers and Presentations
"Removing White Confederate Monuments: The Work of Remembrance Not Reverence in New Orleans' Cultural Landscape"November 2016. Southeastern Association of American Geographers Conference
"Sauntering through the Texts: Worthy Walking in Virginia Woolf's Street Haunting and Kate Chopin's The Awakening". April 2015, Association of Core Texts and Courses
The Hidden Agenda of Fieldwork:  Teaching & Learning in the Field. August 2014, National Council for Geographic Education
Picturing America:  Norman Rockwell and Ordinary American Landscapes. April 2014, Association of American Geographers
Review of Landscape of Transformations: Architecture and Birmingham, Alabama.  By Michael Fazio, Geographical Review, 2012
"In the Field with Herodotus:  Reading Books Two and Four of The Histories as Travelogue"  Proceedings of the Association for Core Texts and Courses, June 2012
Monument, Myth, and Memory: The Huey Long Legacy and the Construction of the Louisiana State Capitol. Presented at the Association of American Geographers Meeting, March 2009.
Growing Geographers in Texas Soil: An Ethnographic Study of Teaching and Learning Geography in the Field. Co-presented with Jeff Lash. Presented at the Southeastern Association of American Geographers, November 2008.
The Dead Ends: The use of critical geography in preparing school leaders for urban educational reform. Co-presented with Susan McCormack and Christa Boske. Presented at the National Council of Professors of Educational Administration Annual Conference, July 2008.
"Sidewalks in the Kingdom": Faith-Based Urbanism and Morality Discourses in Three New Urban Case Studies (Session Chair and Co-organizer). Presented at the Association of American Geographers, April 2008.
Research
Cultural Geography, Landscapes of Memory, North American Urbanism, Geographic Education