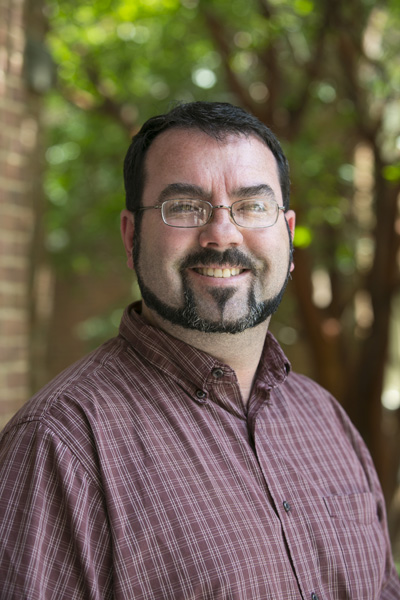 Associate Professor
Howard College of Arts and Sciences
Chemistry and Biochemistry
335 Propst Hall
Paul Wiget (pronounced wig – et), joined the Samford family in the fall of 2014. During his undergraduate research as a chemical engineering major, he discovered his love of organic chemistry, synthesizing triphenylenes and porphyrins for use as anion receptors. He so enjoyed organic chemistry that he continued his education working under Dr. James W. Herndon as a doctoral candidate. His dissertation, titled "The Synthesis of Dienylfurans and Their Reaction with Electron-deficient Alkynes," describes efforts to construct the carbon skeleton of eluetherobin, a potent anti-cancer agent using a newly discovered [8+2] cycloaddition reaction. After receiving his Ph.D., he performed postdoctoral research at the University of Texas at Austin under the joint direction of Dr. Eric V. Anslyn and Dr. Jon D. Robertus, where he synthesized small-molecule inhibitors for the biotoxin ricin and analyzed their protein-bound crystal structure. In order to prepare for a teaching position at a liberal arts college, he then took a position as a teaching and research postdoctoral scholar at Villanova University to teach organic chemistry at both the undergraduate and graduate levels and to supervise undergraduate research.
Dr. Wiget loves teaching. He finds it exhilarating, exhausting, and probably one of the most rewarding aspects of his life. He brings passion and excitement for the subject to every lecture, every teaching laboratory, and every research project. His enjoyment of and success in lecturing has been matched and enhanced by successful student-mentor collaborations in the laboratory.
Dr. Wiget wants you!
Rooted in Samford University's commitment to pre-professional degree paths such as pre-med, pre-pharm, and nursing, Dr. Wiget is devoted to providing every Samford undergraduate student the opportunity to perform publishable research, increasing his or her competiveness in his or her career path. Dr. Wiget's research interests lie in providing students access to projects in chemical biology and other biochemical fields closely allied with synthetic organic chemistry, through carefully chosen synthetic methods. This research aims to develop new methodologies for the construction of biologically active compounds in order to examine the relationships between small changes in the compounds' structures and how they behave in the pertinent biological systems (structure-activity relationship or SARs). These new methods then open the possibility to study the mechanisms of the reactions employed. Additionally, the research provides avenues to improve known cytotoxic materials, such as organoruthenium complexes. Through advanced ligand design and the incorporation of cell-targeting peptides (CTPs), the organoruthenium research aims at expanding the potential of these complexes as photo dynamic therapy agents (PDTs). Dr. Wiget's research interests are driven by a desire to produce new or improved biologically relevant molecules for the treatment of cancers and other ailments and to serve his community, doing what the Lord has called him to do.
When Dr. Wiget is not actively serving the Samford family, he enjoys spending time with his wife, Carol, and sons, Ender and Xavier. Paul and Carol are active in the Roman Catholic Church and are certified Living in Love facilitators, actively promoting and teaching life-skills for strong, lasting, Spirit-filled marriages. His hobbies include playing with his children, watching movies with his wife, and studying and discussing theology. He strongly believes that the beauty, nuance, and complexity of chemistry are represented in the beauty, nuance, and complexity of every human person.
His personal and career goals can be expressed by a simple saying: Scientia Pro Amore Dei - Knowledge for the Love of God.
Degrees and Certifications
B.S., Chemical Engineering, New Mexico State University, 2004
Ph.D., Organic Chemistry, New Mexico State University, 2011