The Shikhin Excavation Project is a multi-disciplinary, multi-institutional, international, cultural heritage project and archaeological field school whose goal is the recovery, preservation, and publication of the site of Shikhin in the Lower Galilee of Israel. Professor James Riley Strange of Samford University, serves as Director. Professor Mordechai Aviam of Kinneret Academic College on the Sea of Galilee is the Associate Director.
The archaeology is done by volunteers from all over, many of them students from Samford University, Kinneret Academic College, University of South Florida, and Centre College. No experience is necessary in order to participate. We train all volunteers in American excavation and recording methods.
From Our Students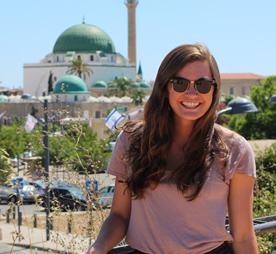 Anna Ozment, religion major
Samford Summer in Israel was the most rewarding month of my life. Not only did I learn a wealth of information in archeological studies, but I also gained insight on the history of Judaism, Islam and Christianity, and gained a whole new perspective of the Middle East. Touring holy sights of the land where my faith was founded was just an incredible bonus. The most worth-while trip I have ever taken.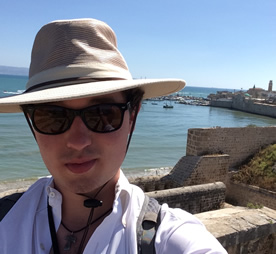 Franklin Lowe, history major
Taking part in the Shikhin Excavation Project gave me the opportunity to study not only ancient cultures and the theories of archaeology, but also my own connection to the energies of the Holy Land. Each day, I dwelt with cultures, ancient and modern, that were full of emotion, wisdom, and faith, and I hope that I am a better scholar and thinker because of it. In just four weeks, I learned an entirely new skill, developed strong friendships and academic connections, and embraced the stark beauty of the Galilee and its so very tangible history.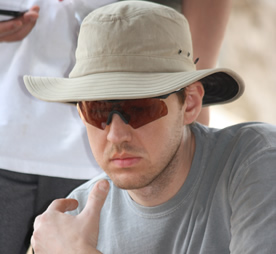 Stetson Pevear, pharmacy major
Participating in the Shikhin Excavation Project is an experience of a lifetime. I learned from experts such as Dr. Strange and his colleagues, who have spent decades researching in Israel, not only about history and archaeology, but about life as well. I found fascination in every moment of the trip.
Trip Details
We will spend the bulk of our time excavating the ancient site of Shikhin near Nazareth, at the edge of the beautiful Beit Netofa Valley in Lower Galilee. We will be joined by students and non-student volunteers from the US and other countries.
Trip Itinerary for 2018*

| Event | Date |
| --- | --- |
| Arrive in Tel Aviv, drive with the group to the Hotel Galilee | May 26 |
| Tour the sites of Shikhin and Sepphoris | May 27 |
| First day in the field | May 28 |
| Tour site possibilities: Sepphoris, Magdala, Capernaum, Cana, Yodefat, Caesarea Philippi, Sea of Galilee | June 2 |
| Tour site possibilities: Bet Alpha, Megiddo, Caesarea, Mediterranean Sea | June 9 |
| Free weekend | June 16, 17 |
| Last day in the field | June 22 |
| Jerusalem! Possible side trips to Qumran, Masada, and the Dead Sea | June 22-24 |
| Fly home | June 25 |
*There may be some adjustments
Flights
Fly with the group or arrange your own. If you fly with the group your cost will include trip insurance, which is highly recommended to everyone. If you arrange your own flight and wish to drive with the group from the airport to the hotel, be at Ben Gurion Airport when the group's flight arrives.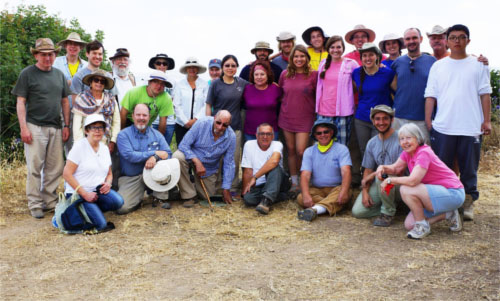 Dig Schedule
We start early to beat the heat and are finished by 12:30 pm. Gone are the days of living in tents! We have the advantage of living in downtown Nazareth in an air conditioned hotel whose staff spoils us with Wi-Fi connections and heaps of delicious food. We spend two Saturdays traveling to other archaeological sites and places of interest, taking dips in the Sea of Galilee and blue Mediterranean. There is usually one free weekend, on which many students take trips to the beach or other sites that they wish to see, and then a final, three-day weekend in Jerusalem as an optional trip. In Jerusalem, students experience the Old City, ride camels on the Mount of Olives, and take side trips to places like Qumran, Masada, and the Dead Sea.
Daily Itinerary

| Event | Date |
| --- | --- |
| Wake up, first breakfast | 4:00 a.m. |
| Load up and drive to site | 4:30 a.m. |
| Arrive at site and start work | 5:00 a.m. |
| Second breakfast in the field | 8:30 a.m. |
| Fruit break | 10:30 a.m. |
| Pack up, drive to the hotel | 12:15 p.m. |
| Lunch at the hotel | 1:00 p.m. |
| Pottery registration | 1:30 p.m. |
| Pottery reading | 4:30 p.m. |
| Dinner | 6:00 p.m. |
| Lecture three nights a week | 7:00 p.m. |
| Paperwork | 8:00 p.m. |
| Bed | 9:30 p.m. |
What You Will Learn
All volunteers are trained in archaeological excavation and recording methods in our field school. Consequently, upon graduating from the field school they have a discreet set of technical skills that will make them invaluable members of other archaeological expeditions. Of course, we hope that they return to Shikhin to become Area Supervisors, responsible for training their own crew of new archaeologists. The precise, meticulous work that we are known for would simply not get done without them.
Skills include laying out a 5 x 5 meter square and the 4 x 4 meter square that is excavated, taking elevations from a known datum, and drawing top plan and sections to a 1:25 scale. They will also gain some knowledge of pottery seriation. Additional training includes the use of GPS devices and surveying using a total station.
Samford Student Cost & Credit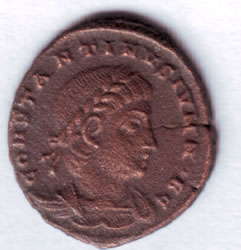 The estimated cost for undergraduates in 2018 is $6,750. Includes eight (8) credit hours of undergraduate tuition through Samford University plus four weeks of room and full board at the Hotel Galilee in Nazareth, in-country transportation, two Saturday trips, admission into national parks, additional insurance, and other incidental costs.
Course Information
Students will register four two courses and receive eight (8) hours of undergraduate academic credit through Samford University.
Field Methods in Archaeology (RELG 393)
Field Methods in Archaeology is an upper-level religion course that helps you complete 40 hours at 300 level or above, required of all Samford undergraduate students. Coursework includes training in the field, readings, lectures, and weekend trips to other archaeological sites. Students keep a daily journal, are evaluated by their Area Supervisors, and take a final, written field exam.
Archaeology of Early Judaism and Christianity (RELG 394)
Archaeology of Ancient Judaism and Christianity is an upper-level religion course that helps you complete 40 hours at 300 level or above, required of all Samford undergraduate students. Coursework includes readings, lectures, and weekend trips to other archaeological sites. Students take a written exam and write a paper.
Substitution Credits
Substitution credit for RELG 393:

IDSC 201 Scientific Methods, an undergraduate general education science.
An undergraduate general education social science.

Substitution credit for RELG 394:

An undergraduate general education social science.
An undergraduate general education humanities.

Substitution credit for both courses: an upper-level course in Classics, History, Geography, or Sociology.
Graduate credit for RELG 393 is available for ENVM 521 for MSEM students; DVBF 521 for Beeson Divinity students.
Non-Samford Student Cost & Credit
Non-Samford Undergraduate Students
United States
Undergraduate students at institutions other than Samford will apply for transient student status at Samford, and email or call Dr. James Strange at 205-726-4543.
Israel
Israeli students should contact Professor Mordechai Aviam.
Other Countries
Undergraduate students at institutions in other countries should email Dr. James Strange or call (205) 726-4543.
Non-Student Volunteers
The trip cost for non-student volunteers in 2018 is $2,700 (double or triple) or $3,350 (single), and includes four weeks of room and full board at the Hotel Galilee in Nazareth, in-country transportation, two Saturday trips, admission into national parks, additional insurance, and other incidental costs.
Not covered: flights and three-day trip to Jerusalem.
Your complete application and a $500 check are due February 1. The remainder of your fee is due March 1.
Make your checks available to Samford University and mail them to:
James Strange
Department of Religion
Samford University
800 Lakeshore Dr.
Birmingham, AL 35229
Scholarships, Grants & Loans
Samford
The Religion Department

offers scholarships for religion majors who wish to take a religion course abroad.

ASPIRE Grant ($2,000): You will need to develop a research proposal, with which Dr. Strange will help you. You will do research on the dig and will work with Dr. Strange in his office in the second part of the summer.
Your major department.
University Fellows: check with the directors about grants or scholarships for summer study abroad.
Your national honor society
Your Greek organization: check with the local and/or national office.
Check with Geography, Sociology, History, or Classics if you are a major.
Archaeological Research Grants
Additional Summer Study Abroad Sources
Friends and Family
Investigate the following sources of funding:
Your congregation
Your parents: ask for a loan and present a plan for paying it off.
Excavation, History & Importance
Excavation History
1988
In 1988 a survey team from the University of South Florida Excavations at Sepphoris mapped out the two northern peaks of Shikhin and located many features of archaeological interest. The team was drawn to the site because of the thousands of pottery sherds that were visible at the base and on the slopes of the northern hill. It became clear to the surveyors that the hilltop must have been home to a thriving village, due to the number of cisterns, underground chambers, architectural fragments, and olive and grape presses that they found, in addition to the volume of pottery ling on the surface. Most importantly, the team found evidence of pottery production: they were able to locate the village's old clay bed, and they found "clinkers," broken parts of ceramic pots that slumped and bubbled in over-heated kilns. Those discoveries confirmed the Rabbis' memory of the town as a pottery production center.
2011
In 2011 a team from Samford University conducted a second mapping project, expanding the survey area to include all three of Shikhin's hilltops and the surrounding countryside and nearby hills. This team relocated many features that the first team found and some other important ones besides, including evidence for a large public building on top and milestones of the Roman road that connected Sepphoris to the highway and the remains of a public building that sat on top of the hill. The team was also able to confirm earlier estimates of the settlement's life span: founding in the Late Hellenistic period, flourishing in the Early Roman period, and abandonment by the end of the Byzantine period.
2012
In 2012 a team of students from Samford University, the University of South Florida, and Centre College opened the first archaeological excavation at the site by sinking eight squares in two fields. At the crown of the northern hill the team found remains of a building with plaster floors that dates to the second century CE, and the corner of a house that probably dates to the Early Roman period. They also found simply thousands of pottery sherds from pots that had been ruined in production and thrown out. As a result of one season of excavations, we now know that the kilns at Shikhin were producing most known Galilean pottery forms, including oil lamps, and they were doing so at a volume that suggests they produced a surplus for trading.
2013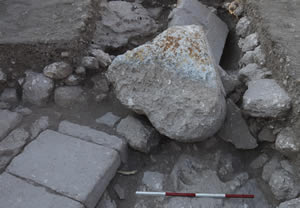 In 2013 we were joined by students from Kinneret Academic College to continue and expand what we had begun in 2012. The most significant information we are learning continues to be about pottery production at the site. We have now found seven lamp molds and can confirm that Shikhin's potters produced lamps on-site. We also found the remains of Shikhin's previously unknown synagogue. The 2011 survey team located column fragments in a terrace wall, and in 2013 we finally located a drum from a heart-shaped column, one half of a massive threshold cut from hard limestone, and what appears to be part of a stylobate. In 2014 we will continue to excavate in the pottery production area, and the synagogue, searching for sealed loci to help us date our finds. Most of the activity on this part of the hill dates to the Late Roman period, with little signs of activity after 363.
2014-2015
In 2014 and 2015, we continued to recover evidence of pottery and lamp production, and to get a bigger bite of the synagogue. In places, the building is nearly completely robbed out, including the floor.
Only the leveling of bedrock in some places betrays its presence. As of the end of 2015, we have about 20 fragments of stone lamp molds, and the collection of unfamiliar pottery forms continues to grow.
Some data are challenging our dating conventions. It now seems clear that the site must have been abandoned before 363 because all of the evidence of robbing dates to the Late Roman period, and the complete absence of 3rd century coins is particularly puzzling. Two cisterns located beneath the floor of the synagogue reveal that an earlier building with painted plaster walls once stood here. That building was dismantled in the Early Roman period.
Site History
Spanning the lifetime of Jesus, the ancient village of Shikhin perched on a low knoll in the lush hills and broad valleys of the Tuscany of Israel: the Lower Galilee. Travelers on the Roman highway that linked Acco/Ptolemais on the Mediterranean coast with Tiberias on the Sea of Galilee could turn south to the city of Sepphoris, gleaming atop its own hill. Just before reaching the city, they would cross the foot of Shikhin and could take the opportunity to refresh themselves before completing their journey.
Sepphoris and Shikhin had similar beginnings as new Jewish settlements in the Persian period, and the population of both grew in the Hellenistic period. The fates of the two diverged, however, when some time in the early second century BCE Ptolemy Lathyrus successfully attacked Shikhin on a Sabbath but was fended off by Sepphoris' militia. This suggests that Sepphoris was already fortified. Gabinius, the Roman proconsul of Syria, located one of the Sanhedrins at Sepphoris in around 57 BCE, and Sepphoris would receive further prestige when Herod made it his northern headquarters in 39/38 BCE. Shikhin did not join the city in revolt at the death of Herod, and so the village was probably spared when the Romans destroyed Sepphoris in 4 BCE and sold its inhabitants into slavery. Afterwards, Antipas, one of Herod's sons, made Sepphoris his capital city: "the ornament of all Galilee," according to the historian Josephus (he called the village Asochis). It was at Sepphoris that Rabbi Judah "the Prince" completed the compilation of the Mishnah in the first decade of the third century CE. That text would become the basis for Judaism's two great Talmuds. The hill of Sepphoris supported continuous settlement up to the present day, while Shikhin's population declined and eventually abandoned its hilltop in the fourth century, never to resettle it.
Yet Shikhin managed to distinguish itself on its own terms. Its potters gained a reputation for throwing vessels that were not likely to break. Consequently, throughout the Roman periods Shikhin probably became a supplier of storage jars, bowls, cooking pots, jugs, and oil lamps for many towns in the Galilee, perhaps even Sepphoris. Shikhin was ideally situated to distribute its wares because of its location near the highway. The village also gained some wealthy and influential residents. Several rabbinic sources recount a story of firemen at Sepphoris rushing to put out a conflagration at the house of Joseph Ben Simai, a "government official" who lived at Shikhin. The story suggests a close connection between the populations of the two towns, and that city officials thought it was important to protect the villagers—or at least this particular villager—from fire.
Despite that relationship, Shikhin may also have bypassed Sepphoris' markets. In the Galilee, archaeologists are discovering some villages in which they find none of Sepphoris' city coins, but, surprisingly, they do find Jewish coins minted centuries earlier in the Hellenistic period. Shikhin's coins shows the same pattern. One of the questions we will be asking is, "Did Shikhin participate in the same resistance economy?"
Importance of the Site
Because Shikhin sat a scant mile from Sepphoris (around a 20-minute walk), and over the same Roman highway that the city oversaw, the site stands to teach us much about Galilean village life in relation to the city. What we learn about Shikhin will have important implications for the beginnings of Christianity and Formative Judaism, for this Galilee formed the world of Jesus' ministry and the Sages who compiled the Mishnah.
Our two primary research questions are about pottery and lamp production and economy, and they have implications for broader questions about categories such as "Judaism"–"Hellenism" and "village/countryside"–"city". The first question is, "Where did Shikhin distribute its pottery and lamps?" After four seasons of excavating we can show that Shikhin's potters were producing most known Galilean forms, including oil lamps, and that they were doing so in great quantities. The volume of waste sherds found—broken bits of pots and lamps that failed in production—suggests that Shikhin's kilns were putting out far more than could be used by the villagers, which in turn suggests that pottery manufacturing was one of the village's export goods. The question of which Galilean villages were pottery manufacturing centers, and to whom they distributed their wares, is critical for understanding the Galilean economy. Lamp manufacturing at Shikhin has been our biggest surprise. We now know that the town was a production center for two typed of mold-made lamps that people have speculated were made near Nazareth, a mere 6 miles southeast of Shikhin.
The second question is, "Did Shikhin participate with other Galilean Jewish villages in an economy that bypassed the city markets of Sepphoris and Tiberias, or that existed alongside them?" Recent excavations at other Galilean village sites have been discovering that Hasmonean coins minted in the Hellenistic periods remained in use into the Roman periods. At the same time, in some of these villages, no city coins of Sepphoris (which was granted authority to mint its own coins) have turned up. These two pieces of evidence suggests that some villages resisted to the city's economy and established an alternative economic system that kept ancient Jewish coins in use.
The American Archaeological Field School in Galilee
Publications