Published on October 25, 2012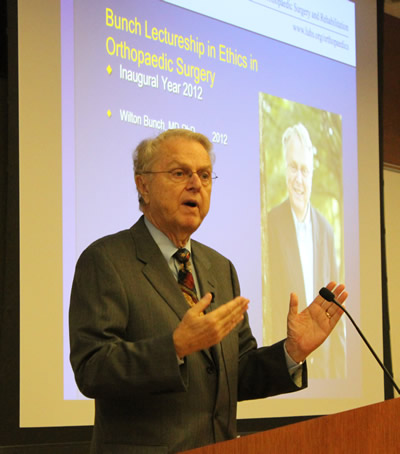 Loyola University Chicago's Stritch School of Medicine has honored Samford Philosophy professor Wilton Bunch with a new annual lecture in his name, funded by alumni and faculty. 
Bunch chaired Loyola's Department of Orthopaedic Surgery from 1975 to 1985, having already served as the endowed chair of a surgical department at the University of Virginia. He went on to serve as Dean of Medicine at the University of Chicago and Dean of the College of Medicine at the University of South Florida before a divinity degree led him to a second career and his Samford teaching.
Bunch delivered the inaugural Wilton Bunch Lecture in Medical Ethics in Orthopaedic Surgery Oct. 11 in Chicago. "I was tremendously pleased with this great honor," he said of the event, "but what meant the most to me was how many former residents and faculty came back for the event."
Bunch, who holds B.A. M.B.A., M.Div., M.D., and Ph.D. degrees, joined Samford's faculty in 2000, and has focused on ethics for Beeson Divinity School, Howard College of Arts and Sciences and the University Fellows honors program. His medical career might not be as well known locally, but is no less impressive. His orthopaedic research has included studies of muscle cell membranes, the biomechanics of the human spine, changes in blood flow during anesthesia and changes in electrical activity of the spinal cord during the correction of spinal deformity. He also has been an innovator in the development of surgical procedures.