Published on October 21, 2014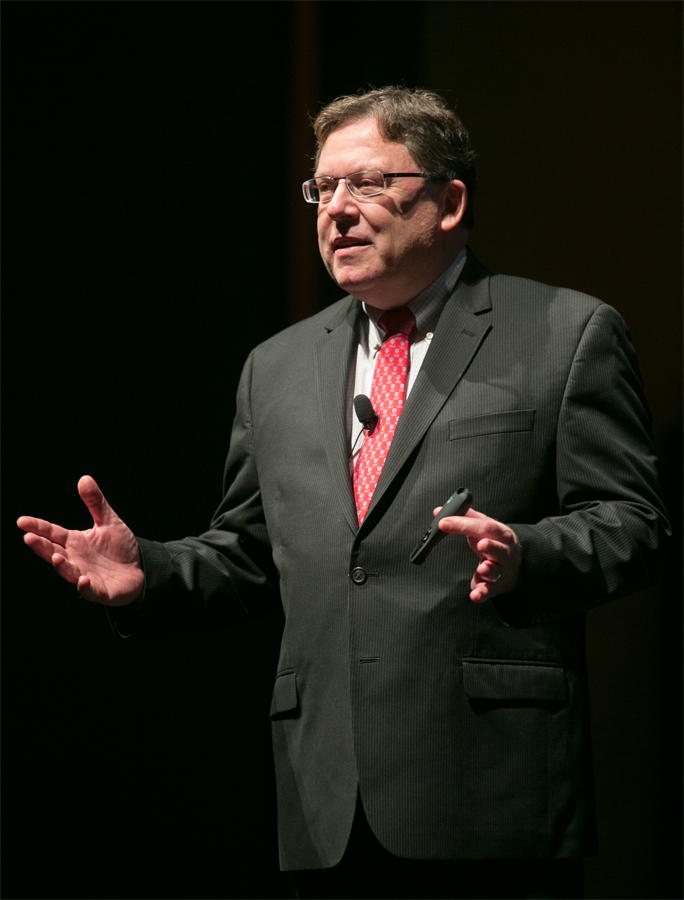 Scholar and popular author Stephen Post presented the 2014 J. Roderick Davis Lecture Oct. 9 at the invitation of Howard College of Arts and Sciences and Samford's Center for Science and Religion. Post also enjoyed two very busy days meeting with students in a variety of disciplines and leading a workshop for ministers.
Post is Professor of Preventive Medicine and Founding Director of the Center for Medical Humanities, Compassionate Care, and Bioethics at Stony Brook University School of Medicine. Post also founded The Institute for Research on Unlimited Love, which engages in the scientific study of self-giving and altruistic love.
In his lecture, Post described research that demonstrates connections between compassion for others and one's overall well being. On a 1-10 scale of treatments for various illnesses, "helping others is about a six or seven," and doesn't require a trip to the drug store, Post said. "This key to health lies within you. That should be pretty good news."
Post described an experiment that tracked the brains of laboratory subjects who were shown lists of causes they might support. The mere act of thinking about supporting those causes stimulated the mesolimbic pathway, "the part of the brain associated with feelings of joy" and the delivery of dopamine, a "happiness hormone."
A 2010 survey Post led in cooperation with the United Healthcare company revealed that 41 percent of Americans volunteered an average of 100 hours per year, an average of only two hours per week. Those volunteers reported significant positive personal benefits from their service, including greater happiness and an enriched sense of purpose in life. Sixty-eight percent said their service made them physically healthier.
That last finding might be more surprising than the psychological benefits, but Post said other studies confirm significant physical improvements in patients who feel respected an d cared for.
Does Love Heal?
Post noted that 25 percent of every healthcare dollar goes to remedial care for patients who haven't complied with their treatment. The strongest indicator of compliance, he said, is whether or not patients feel that their physician is empathic. "Empathy is the crucial ingredient" in getting patients to choose to live healthier lives, Post said.
Empathy also benefits patients through improved diagnoses. "When you listen empathically to patients they will reveal things about themselves they would never let you know about if they felt stressed and disrespected," Post said. He said the simple "VIP solution" of sitting with patients, respecting them and really listening to them helps prevent premature closure of diagnosis and other medical errors.
The good news isn't for patients alone. Clinicians benefit from their own empathic practice. Post said 20 percent of medical students suffer from clinical depression during their studies. Giving them more opportunities to connect with patients and positive professional role models makes them more resilient and capable of overcoming depression.
More senior clinicians, too, can avoid burnout by periodically retreating and reconnecting with their sense of purpose, Post said. He offered the example of Dame Cicely Saunders, a physician and friend who founded the first hospice in the U.S. and St. Christopher's Hospice in London. Saunders worked into her 80s changing bedpans at St. Christopher's every morning, asking patients about their lives and listening to their stories. "She found a way to live her life in love," Post said, and not just in human love–which he often finds to be unwise, unsteady and narrow–but in agape. "Agape is not a human emotion," Post said. "Agape is a divine spiritual reality most fully disclosed, I believe, in the life of Christ."
Post acknowledged that such religious belief might not be required to achieve the good he describes. He noted that the "golden rule" is "one of the real universal benchmarks of human civility and spirituality and moral excellence" and asks us "how to contribute to the lives of others." But, he said, "beliefs do matter." "The idea that, somehow, there is an ultimate reality of divine love in the universe–that can sustain my confidence in the power of love long term, even when, on any given day, the world looks pretty nasty."