Published on September 16, 2014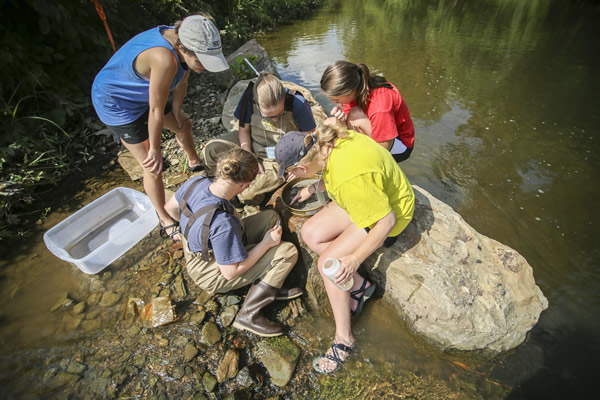 Samford University's Department of Biological and Environmental Sciences collaborated with the Jefferson County Department of Health for a unique event for local high school students Sept 6.
"What's Bugging You: Analyzing Water Quality in Shades Creek" drew on the expertise of Samford professors Kristin Bakkegard and Betsy Dobbins, and Scott Hofer and Jonika Smith of the county department's Watershed Protection Division.
Students from Homewood High School, led by Environmental Science teacher Melonie McBrayer, learned how to use aquatic macroinvertebrates to  measure water quality in Shades Creek adjacent to Samford's campus. 
Four sampling teams, led by Samford biology majors Caroline Hinds, Kendall McPheeters, Meg Scott, and Taylor Williams, waded into Shades Creek and  used nets and sieves to sample aquatic insects, crawfish, clams, and  worms.  After identifying their catch under microscopes and counting the number of each type of organism, the group concluded that water quality in the creek was only fair. 
Quick snapshot studies such as these provide valuable experience in field methods and data analysis, and demonstrate how storm water and high sediment loads can negatively affect the health of our local creeks.