Published on March 28, 2018 by Sean Flynt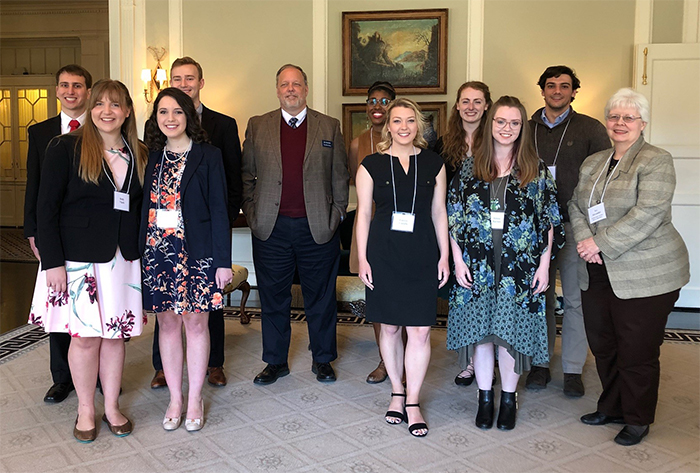 Eleven Samford University history students earned $5,200 in awards for essays submitted to the 2018 American Independence Awards, sponsored by the Alabama Society of The National Society of Colonial Dames in America (NSCDA). The awards were presented at a luncheon held at Mountain Brook Club in Birmingham, Alabama, on March 22, 2018.
 The 2018 honors included:
1st Place       Keely Smith
Justice in the Hills: How the Dedham/Natick Land Controversy Reconciled Indian and Colonial Understandings of Property Ownership
2nd Place       Margaret Schultz
Good Fetch'd Out of Evil: A Comparison of Indian Captivity Narratives
3rd Place       Sam Bartz
Colonel John Trumbull: Artist of America's Legacy
4th Place       Holly Vlach
De Rerum Natura: What Human Nature Dictates about Government – Cicero, Madison, and Hamilton

Other Recognitions
Jessica Brewer–Written Out of the Shadows:  Injustice and the Forgotten Legacy of Chickasaw Removal   
Lauren Canada–Revolutionary Women in the Revolutionary War: The Ladies Association of Philadelphia 
Sean Coffindaffer–Executors and Judges: Debates over Articles I and III of the United State Constitution
Clayton Jones–Exceptionalism in Early America: How One Idea Remained Central to American Intellect and Identity from the Puritans to the Declaration of Independence    
Jared Skinner–American Colonial History: The Puritan Gaze and American Development   
Jake Williams–An Analysis of Garcilaso de la Vega's La Florida del Inca      
Jenna Barnes–A Historical and Architectural Analysis of Homes Preserved by the NSCDA
The society will dedicate Volume 62 of the Samford students' winning essays to Mary Lee White Sullivan (Mrs. Charles James Sullivan). The volume will be placed in the Special Collection department of Samford's University Library.