Advice to Prospective Students
Your goal should be to prepare yourself for college the best you can. This preparation can include taking AP courses in high school, joining pre-health clubs, and exploring as many interests as possible.
As you look for colleges, you will be tempted to concentrate on acceptance rates into professional school. While this is somewhat important, acceptance rates don't predict whether you will be accepted. A better measure is probably the number of advisors for pre-health students. At Samford, we have three advisors for approximately 30 applicants per year.
Advice to Freshmen
Attend initial convocation meeting at the beginning of the school year (first Tuesday of class at 10 a.m.)
Explore different majors through Samford's Majors Fair
Join the pre-health list serv and attend AED meetings to hear about different health careers and activities
Get to know your professors by visiting them after class
Take advantage of Samford's many academic and artistic offerings such as lectures, concerts, art exhibits and sporting events
Do well in your classes to establish your academic credentials
During the summer, seek out shadowing, job or volunteer opportunities in health care if possible
Find service opportunities and reflect on what you learn about yourself and about others from your experience. Keep a journal of your experiences and reflections on those experiences.
Work with your advisor to develop a four-year plan for your courses
Save the notes from your science classes to help you study for the professional exam (MCAT, DAT, OAT, or GRE). Do not wait to until your junior year to start studying for the exam!
Read widely, including both fiction and non-fiction.
Advice to Sophomores
Attend initial convocation meeting at the beginning of the school year (first Tuesday of class at 10 a.m.)
Do well in your classes to maintain your academic credentials
Join Samford organizations that interest you and contribute however you can
Consider taking the Jan term internship course Biol 360
During the summer, find shadowing, job, or volunteering opportunities in a health profession
Read widely, including both fiction and non-fiction.
Keep a journal of all of your health-related experiences (shadowing, volunteering, etc.) focusing on stories of those experiences and the impact they made on you. Also keep track of the hours you spend on those activities
Advice to Juniors
Take leadership roles in campus organizations and work to make them better
Take your toughest courses (Physics, Chemistry, Biology) and study for the professional exam when possible
Fill out and submit evaluation request form
Determine which professional schools you wish to apply to
Register to take the professional exam in the late spring or early summer
Start filling out the application on or around June 1 and plan to have it completed by July 1
Read widely, including both fiction and non-fiction.
Learn as much as you can about the current issues in medicine, looking at each issue from several different points of view
Remember to add new experiences to your journal and practice reflecting on what the experiences mean to you
Advice to Seniors
Evaluate your application during the summer before your senior year and start to work on any areas that need improvement
Make an appointment at the Career Development Center for a mock interview
Interview
Let your prehealth advisors know of your acceptance
Application Process for Medical School
Details about how to apply can be found here.
The application process usually begins on June 1. By this time, students should have taken or scheduled the MCAT. Information about the MCAT, including subject matter and dates of administration, can be found here.
The application process can take up to 20 hours to complete, so students should get started early. The application will ask for demographic information, including state of residence. State of residence is important if you're applying to a state-supported medical school, since those medical schools have a quota of in-state students they must fill.
All coursework you've taken at all post-secondary schools. You will enter each course and grade you've taken, and the grades will be verified by AMCAS. Therefore, you must have the transcripts from each college/university you've attended sent to AMCAS. You can request that your transcripts be sent as soon as the process begins. That is, don't wait until you've finished everything else to have your transcripts sent to AMCAS.
Extracurricular activities including jobs, shadowing, volunteering, research/publications, and awards. You can list up to 15 such experiences and elaborate on a few of them. Opportunities to volunteer during the school year can be found here. Some internships may be available here. Research opportunities are available to Arts & Science majors through the Arts & Sciences Program for Independent Research (ASPIRE).
Letters of evaluation. These come through the pre-health advisors at Samford. Someone in the pre-health office will upload the letters to AMCAS for you after you supply your AMCAS ID number.
Medical schools. You will be asked to list all medical schools you wish to receive your application. Fees will be assessed based on the number of medical schools you list. You should research those medical schools that fit you best and only apply to those where you will go if accepted.
MCAT scores. You will enter all MCAT scores and the dates the MCAT was taken. If you haven't taken the MCAT yet, you can indicate when you are scheduled to take it.
Personal statement. The purpose of the personal statement is to tell medical schools who you are and why you need to be a physician. Personal statements have a limit of 5500 characters and can be uploaded as a Word or PDF file. Personal statements should include things not listed elsewhere on the application and should be read by as many people as possible before submission. Samford sponsors a workshop with tips on how to prepare a personal statement each year.
Once applications are complete and transcripts received and verified, the application is held until July 1. On that date, all completed applications will be available for viewing by the medical schools you have designated. You can monitor the progress of your application through the AMCAS website. Most medical schools have "rolling admissions," which means they accept some students throughout the fall. Therefore, delaying your application will likely lower your chance of acceptance. For this reason, apply as early as you can!
Starting in the early fall of your senior year, medical schools will send secondary applications (usually electronically) to students they are interested in. Students will send their answers to these questions directly to the medical schools and, if the answers are satisfactory, the medical schools will contact the student for an interview date and time. Students are strongly encouraged to go to Samford's Career Development Center to schedule a mock interview before their actual interview.
Choosing a Medical School
Students vary in what they're looking for in a medical school. Here are some factors to consider when deciding which medical schools to apply to during the application process.
Early Decision
Most medical schools offer an early decision option. Students must have their application materials submitted early in the process – usually by August 1 – are interviewed during September, and are notified of their acceptance by October 1. Students are not allowed to apply to any other medical schools before October 1 and must go to their early decision school if accepted. Many medical schools have minimum GPA and MCAT score requirements that must be met before consideration for early decision.
Type of Practice
Some medical schools pride themselves in producing professors of medicine, that is, those who will teach in medical schools during their careers. These professors often also have active research programs in their areas of specialty. Students seeking this career path should get research experience as early as possible and should work to make themselves competitive for the most selective medical schools. This usually means having a GPA of 3.9 and an MCAT score of 37 or higher (on a 45 scale). Students can also consider pursuing a combined M.D./Ph.D. which lets students go to medical school for two years, complete a Ph.D.-level research project, and then complete the final two years of medical school. The medical school pays all tuition and fees and sometimes provides a stipend as well. The student is expected, though not required, to pursue academic medicine and clinical research during her or his career.
Some medical schools pride themselves in preparing students to practice medicine the best they can. Many schools have special programs to encourage students to practice primary care and/or maintain a practice in a rural area. Primary care specialties include family medicine, internal medicine, obstetrics/gynecology, psychiatry, and (sometimes) emergency medicine and general surgery. The GPA and MCAT requirements for these schools and programs are generally a little lower (around 3.7 GPA and 30 MCAT), though still competitive. Students seeking to practice medicine without doing research should investigate schools' curriculum and teaching styles, their emphasis on primary care, and placement into residency programs.
Location
Decisions as to which medical schools to apply to or to attend are frequently made on the basis of personal situations. Students frequently wish to attend medical school in or near their home state to be close to family. Married students may find that their decision rests with job prospects for their spouses as much as the attributes of the medical school.
Curriculum
The traditional medical school education typically involves two years of didactic, lecture-based classes in topics such as anatomy, physiology, biochemistry, neurology, microbiology and immunology, pathology, embryology, and genetics followed by clinical rotations such as internal medicine, OB/GYN, cardiology, neurology, etc. during the third and fourth years. Increasingly, medical schools are going to a more integrated format during the first two years. This curriculum instructs the students in taking medical histories and conducting physical exams while learning the typical subjects in the context of actual patients.
Cost
Generally, state-supported medical schools are less expensive than private medical schools since state schools receive some money from their legislatures. Also, students attending state-sponsored medical schools outside of their state of residence can expect to pay much more in tuition and fees than in state students. The cost of a medical education is quite high: students can have debt approaching a quarter of a million dollars, and they are expected to begin payment as soon as they graduate. Students who don't complete medical school are still responsible for paying back any and all loans. For these reasons, students should be sure that they want to practice medicine and should carefully consider whether attending an out-of-state medical school is worth the extra cost.
Allopathic or Osteopathic?
Allopathic medical schools award M.D. degrees and require passage of two USMLE exams and satisfactory completion of the medical school courses. M.D.'s then apply for residency positions based on their specialties, take one or more additional board exams, and are then licensed to practice in their specialty. Osteopathic medical schools offer the same courses as allopathic medical schools, but they award a D.O. degree instead. Osteopathic physicians are trained in therapeutic manipulation, and may apply for M.D. or D.O. residencies. Once they complete their board exams, D.O.'s have the same privileges and responsibilities as allopathic physicians. Osteopathic medical schools frequently have a mission to provide primary care, especially to underserved areas, though their graduates can apply for residencies in any specialty area.
Medical School Statistics
Since 2013, 88 students have applied for medical school and 60 have been accepted (68.2%). The average GPA for all applicants is 3.67, and the average MCAT for all applicants is 28.7 (before 2015) and 502.7 (since 2015). The average GPA for those students who were accepted is 3.80, and the average MCAT for those accepted is 29.9 (before 2015) and 508.1 (since 2015).
Majors of Accepted Students
Biochemistry – 11
Biochemistry and Physics - 1
Biology – 23
Biology and Religion – 1
Biology and Spanish – 2
Chemistry - 1
Chemistry and Biology - 1
English – 1
Exercise Science – 1
Finance - 1
Kinesiology - 1
Nursing - 1
Pharmacy – 2
Philosophy and Physics - 1
Psychology – 2
Science and Religion - 1
Sports Medicine – 9
Medical Schools Attended
University of Alabama School of Medicine – 28
University of South Alabama College of Medicine – 9
East Tennessee State College of Medicine – 2
LSU - School of Medicine in Shreveport – 2
Mercer University School of Medicine – 2
University of Louisville School of Medicine – 2
University of Tennessee College of Medicine – 2
Edward Via College of Osteopathic Medicine (Auburn) – 1
Indiana University School of Medicine – 1
Loma Linda University School of Medicine – 1
LSU - School of Medicine in New Orleans – 1
Medical College of Georgia at Augusta University – 1
Philadelphia College of Osteopathic Medicine (Atlanta) – 1
University of Central Florida College of Medicine – 1
University of Florida College of Medicine – 1
University of Kansas School of Medicine – 1
University of Mississippi School of Medicine – 1
University of South Carolina School of Medicine – 1
University of South Florida College of Medicine – 1
University of Texas School of Medicine - Galveston Branch – 1
Acceptance Rates for Applicants with Competitive GPA and MCAT Scores
Forms
Preparing for Professional School
Professional schools are looking for five characteristics in their candidates:
GPA
Professional schools in the health sciences want students who can survive the rigors of their programs. The evidence for this is a solid GPA (3.5+), both overall and BCPM (Biology, Chemistry, Physics, Math). With a high undergraduate GPA in a rigorous curriculum, professional schools will feel confident that the candidate is capable of continuing to fare well academically.
Samford University offers rigorous programs in math and science designed to prepare students for a variety of professional graduate programs and provide a solid foundation to a liberal education.
Entrance Exams
Professional schools want to know that you will be capable of passing the requisite licensure exams post graduation. Entrance exam test scores provide admission committees with evidence that you are capable of performing well on standardized exams.
The Alpha Epsilon Delta chapter for Samford University organizes a low cost ($50 + $25/exam) MCAT prep course every spring. Our predental students report that our MCAT prep course serves them well for DAT preparation. The study sessions are taught by full-time faculty who volunteer their time to support our students.
GPA and exam score will typically secure an interview for medical school. The interview will largely determine who does and does not get into medical school. In the interview, admission committees will be looking for evidence of the following:
Communication Skills
Health professionals must communicate well with a wide variety of people: patients, nurses, staff, colleagues and administrators. Therefore, it is imperative that potential health professionals demonstrate excellent written and oral communication skills. Your personal statement in your application, your essay score from the entrance exam and all other written communication (including emails) will be used as evidence of your writing skills. Your oral communication skills will be on display during your interview.
Samford University offers excellent instruction in both written and oral communication for all students in University Core Communication Arts: UCCA 101 and 102. The prehealth professions advising committee conducts interviews with juniors and seniors to help prepare them for professional school interviews. The Career Development Center tapes mock interviews and advises students regarding professional dress and behavior. These services would cost thousands of dollars through private companies such as Kaplan and Princeton Review; they are provided free of charge to all Samford students and alumni.
Investigation of the Profession
It is important that prospective students seriously investigate their potential careers. There is no magic formula that a student should shadow X physicians for Y hours. Each candidate needs to make efforts to shadow and/or work in several health care settings so that they can adequately answer questions like:
"Why do you want to be a health care professional?"
"Where do you see yourself ten years from now?"
"What kind of health care professional do you think you might like to be?"
"What do you think about the current state of health care in the United States?"
Samford University offers a January-term internship through local hospitals (BIOL 361). Our students shadow physicians and medical students for three weeks. The students spend one week in three different departments. The best place to start shadowing is through your family physician.
Empathy
When asked, "why do you want to be a doctor?" most candidates will answer "because I want to help people." The best way to demonstrate that you want to help people is to help people right now. The professional schools will expect you to demonstrate a dedication to a life of service through volunteer efforts. Those efforts do not necessarily need to be medically related.
Samford University offers myriad volunteer opportunities through campus organizations and ministries. Student organizations all participate in service projects: Greek organizations all have philanthropies; AED volunteers with MPower, a local clinic; Samford University has funded and helped build a number of homes through Habitat for Humanity; service trips are organized every spring over spring break. Through student organizations and service learning in our classes, you will be hard pressed to avoid the volunteer spirit infused throughout our campus.
General Requirements for Professional Schools
All professional schools require applicants to have competitive GPA's (generally 3.4 or better), a high score on the entrance test, demonstrated care for others, and experience in the profession (through internships, shadowing, work, or volunteer service).
Majors
Though many students major in biology, sports medicine and chemistry, there is no single best major to be competitive for professional school. Students should find a major they love and do well in it.
Courses
One Year Each of:
Biology (with lab)
General Chemistry (with lab)
Organic Chemistry (with lab)
Physics (with lab)
Math
English
Other courses may be required by specific schools; check their web sites for additional prerequisites. Recommended courses are Biochemistry, Cell and Molecular Biology, Anatomy, Physiology, Genetics, Histology, Embryology, and Microbiology.
Additionally, courses in other departments on campus (Psychology, Sociology, English) may not offer specific information that will aid in preparation for the MCAT or other admissions test, but do offer additional perspectives that will not only help you grow academically, but allow you to become more attractive to professional schools. Students are encouraged to read as much as they can – in all disciplines – to increase their competitiveness for professional school.
Entrance Tests
Medical School
Medical Colleges Admissions Testing (MCAT)
The Medical College Admission Test (MCAT) is a standardized, multiple-choice examination designed to assess problem solving, critical thinking, and writing skills in addition to the examinee's knowledge of science concepts and principles prerequisite to the study of medicine.
Scores are reported in each of the following areas: Verbal Reasoning, Physical Sciences, and Biological Sciences. Fifteen points are possible in each category. A writing sample is also obtained during the test and is scored on a letter scale.
Dental School
Dental Admissions Test (DAT)
The Dental Admission Test (DAT) is conducted by the American Dental Association (ADA) and has been in operation on a national basis since 1950. The Dental Admission Test is administered on computer on almost any day of the year. The testing program is designed to measure general academic ability, comprehension of scientific information, and perceptual ability. The test consists of four sections: a survey of natural sciences (90 minutes), perceptual ability (60 minutes), reading comprehension (60 minutes), and quantitative reasoning (45 minutes). Scores used in the testing program range from 1 to 30. There are no passing or failing scores; the standard score of 17 typically signifies average performance on a national basis.
Optometry School
Optometry Admission Test (OAT)
The Optometry Admission Test (OAT) is a standardized examination designed to measure general academic ability and comprehension of scientific information. The OAT consists of four tests: Survey of the Natural Sciences (Biology, General Chemistry, and Organic Chemistry), Reading Comprehension, Physics and Quantitative Reasoning. Scores range from 200 to 400 with 300 the national average.
Veterinary School
GRE
The GRE General Test measures verbal reasoning, quantitative reasoning, critical thinking, and analytical writing skills that have been acquired over a long period of time and that are not related to any specific field of study. Three scores are reported on the General Test: a verbal reasoning score reported on a 200-800 score scale, in 10-point increments, a quantitative reasoning score reported on a 200-800 score scale, in 10-point increments, and an analytical writing score reported on a 0-6 score scale, in half-point increments.
The GRE Subject Tests gauge undergraduate achievement in eight specific fields of study and can help forecast a candidate's potential for success in graduate school. Each Subject Test is intended for students who have majored in or have extensive background in that specific area. One total score is reported on a 200-990 score scale, in 10-point increments, although the score range for any particular Subject Test is usually smaller. Subscores are reported for the Biochemistry, Cell and Molecular Biology; Biology; and Psychology Tests on a 20-99 score scale, in 1-point increments, although the range for any particular Subject Test subscore is usually smaller.
The General Test is the more commonly accepted test for veterinary schools.
Involvement
It is important to stay well rounded in spite of your difficult load of classes. Become involved in organizations on-campus and in the community. Students should especially volunteer for service activities through campus and church organizations and keep records of activities (dates, number of hours, responsibilities, etc.).
Professional Experience
Professional schools also require clinical and/or research experiences. Below are a few opportunities at and around Samford.
Research Opportunities: Samford Undergraduate Research
Volunteer clinical programs at local Birmingham hospitals:
Resources
Medical School
Dental School
Optometry School
Veterinary School
Admissions Resources
Other Resources
Alpha Epsilon Delta Honor Society
Alpha Epsilon Delta is a prehealth honor society. Its mission is to provide a friendly environment in which prehealth students at Samford can learn valuable information about their fields, interact with peers, enhance their leadership skills, serve their community, and have a positive impact on Samford University. They fulfill this mission by presenting professional speakers from various fields, service events around Birmingham, providing information from students in the same field, and hosting social events for interaction with other students in the same field. Fellow students help others with their undergraduate studies in areas including test prep, tutoring, volunteering, class and teacher recommendations. Students on a prehealth path are encouraged to attend a meeting and experience the interaction for themselves.
History of Alpha Epsilon Delta
Alpha Epsilon Delta was founded on April 28, 1926 at the University of Alabama. Fifteen premedical students met with Dr. Jack Montgomery, a professor of organic chemistry and the premedical advisor, to further organize the AED honorary fraternity for premedical students. Within a couple of years, other schools began petitioning for a chapter of their own. Today, there are over 185 chapters and over 144,000 members, and still growing.
AED at Samford
Shortly after joining the faculty of Howard College as Professor of Biology in the fall semester of 1926, Dr. J. B. Brake called together the premedical students and advised them as to the formation of a scientific club to foster scientific ideals. Within the 1926-27 school year the "Pre-medical Scientific Club" was organized and began to work. Only those students who had a B average and who had completed at least 45 semester hours were eligible for membership.
In 1928, the club petitioned Alpha Epsilon Delta for a charter. The charter was granted by the Grand Council on May 5, 1928, making the Alabama Beta Chapter at Howard College the second oldest chapter in the nation. The chapter was very active and was growing well until World War II. The chapter became almost inactive until it was revived in 1947. Today, the Alabama Beta Chapter at Samford University continues to grow and to help many prehealth students reach their full potential.
National Requirements
At least 3 semesters of college science courses
Math and science GPA of 3.2
Samford Requirements
You must attend at least two AED events to apply for initiation. Initiation takes place in the Spring semester of each academic year.
Officers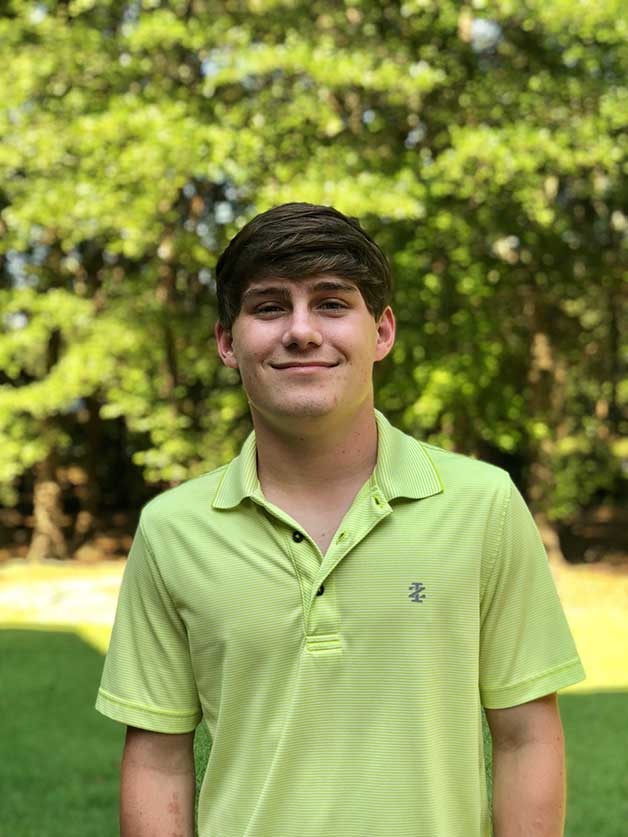 Boyd Price - President
I am a Senior Sports Medicine (Pre-med) major and Biology minor from Clanton, Alabama. I am very excited to serve as the Alpha Epsilon Delta President this year. Since joining AED, I have met many medical school students and professionals already in medicine. Meeting these people has given me better perspective on what applying to medical school and going through medical school will look like. All the speakers are very encouraging and give great advice to students so that they may achieve their goals in medicine. Outside of AED, I am a member of Alpha Lambda Delta Honor Society, Alpha Gamma Sigma for Greek Life, Sigma Chi Fraternity, a Samford Connections Leader, and a volunteer at Brookwood Baptist Hospital. I highly encourage all students to join Alpha Epsilon Delta!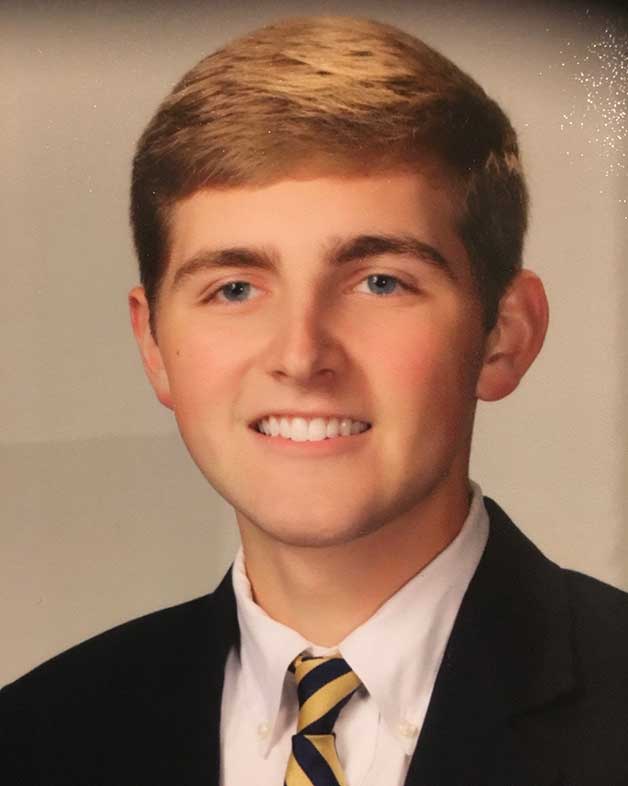 Blake Edmonson - Vice President
I am a senior Biochemistry major from Cadiz, KY. Alpha Epsilon Delta has been a huge resource throughout my college career, and I am honored to serve as Vice President for the upcoming year. AED has given me the opportunity to listen and speak with panels of graduate students, doctors, and professors regarding their own experiences in the medical field. AED has been a guide through the craziness of college by pulling together students with similar career goals and providing them with direction. I also serve as the Scholarship Chairman of the Sigma Chi Fraternity and conduct research for the Chemistry Department here at Samford. In my free time, I enjoy playing tennis and volunteering at my hometown's local hospital.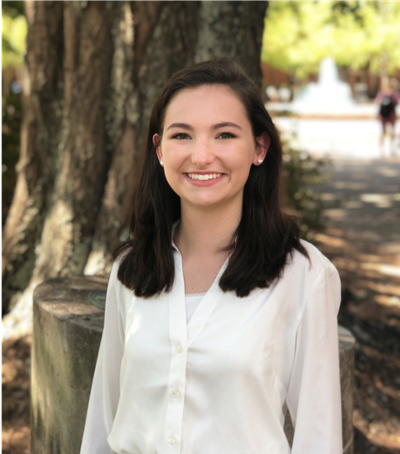 Anna Tankersley - Treasurer
I am a junior Sports Medicine (pre-medicine) major with a Chemistry minor. I have the privilege to serve as the Treasurer for Alpha Epsilon Delta. This program has given me the amazing opportunity to build relationships with fellow Pre-Health students at Samford. AED creates a safe environment where I am able to learn from the experiences of older students as well as mentor younger students pursuing the same career path. Outside of AED, I am a Global Missions Scholars, Leadership Counsel member for Alpha Lambda Delta Honor Society, Gamma Sigma Alpha Greek Honor Society member, Guard for the Kappa chapter of Alpha Delta Pi, and a Research Lab Assistant for the Kinesiology and Biochemistry Departments.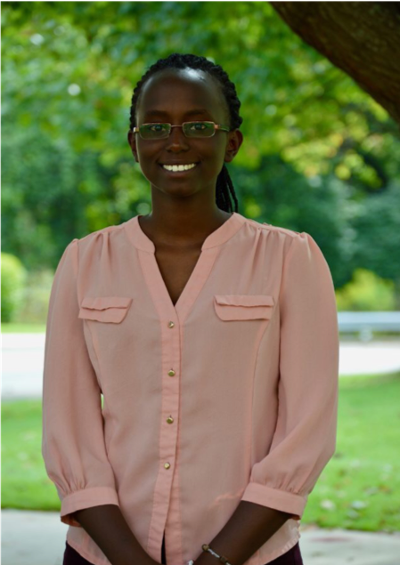 Christa Bella Bizimana - Secretary
I am a Junior Nutrition and Dietetics (Pre-med) major from Burundi, Africa. This year, I am honored to serve as Secretary for Alpha Epsilon Delta Honor Society. AED has been a great resource for me this past year as it provided me with helpful tips and pieces of advice to help me plan well for my journey as a pre-health student. I enjoyed attending AED meetings as they were concise, valuable, and were a beautiful occasion to meet other students whom we shared career goals. Currently, I also serve as Secretary for the Student Dietetic Association (SDA), Historian for the Kapa Omicron Nu, the honor Society for human Sciences, Nutrition research lab assistant and, French lab assistant. In my free time, I enjoy reading a good nonfiction novel and learning how to play guitar.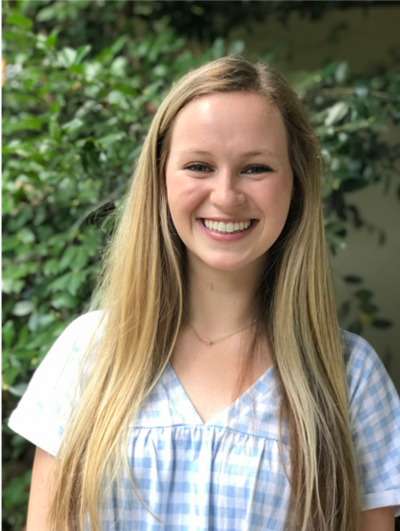 Katherine Wilson - Historian
I am a senior Biology (pre-medicine) major from Franklin, Tennessee. This is my second year in Alpha Epsilon Delta and I am honored to serve as the Historian to be able to give back to this organization that has provided so much to me. AED has allowed me to meet other Pre-Health students and has fostered a special community of people working to help one another along the path to professional health schools. One of the most beneficial aspects of AED for me has been the many speakers we have hosted. They provide great insight into different medical fields so you have the opportunity to learn about many areas of healthcare and what admissions into these programs require as well. I highly encourage students to join Alpha Epsilon Delta Samford because I believe it will benefit you as much as it has benefited me!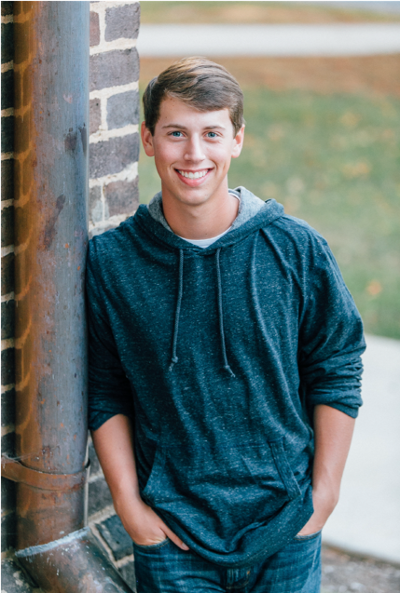 Zack Pitt - Editor
I am a senior Sports Medicine major and Biology minor from Maryville, TN. The Alpha Epsilon Delta Pre-Health Honor Society has been such an amazing resource throughout my college career, and this year I have the privilege of serving as the Beta Chapter's editor. For anyone looking to pursue graduate school and a career in medicine, this organization is a valuable tool for learning information and gaining new experiences to help in achieving that goal. Throughout my time here at Samford, AED has given me the opportunity to meet with medical school students, admissions counselors, and other medical professionals to discuss various topics relating to graduate school and different medical professions. Additionally, this organization has given me the opportunity to meet like-minded students and faculty who have helped me in my journey toward a graduate school and professional career. It is for these reasons and many more that I encourage anyone interested in the medical field to join AED. Outside of AED, I am a member of the Alpha Gamma Sigma Greek Life Honor Society, the Sigma Chi Fraternity, a Samford Connections Leader, and an SGA Senator for the School of Health Professions.