Samford University's Preministerial Scholars program exists to equip young ministers for personal, spiritual, and professional excellence in ministry leadership. Sponsored by the Department of Biblical and Religious Studies, participants in the Preministerial Scholars Program will receive and engage in the following:
A $3,000 stipend that can be used to help fund ministry opportunities like:
Mission trips
Ministry conferences
Ministry internships
Two ministry internships with on-site mentoring and personal mentoring with the Preministerial Scholars Coordinator. This experience has consistently received superior reviews from students. The internships are customized to the student's current ministry interests. In addition to semester-long internships, students can choose one summer ministry experience. We have participated with nearly 200 ministry and mission sites in Birmingham and across the world. Students benefit from internship experience as they pursue post-graduation ministry positions.
Participation in two Cadres led by the program director, the Biblical and Religious Studies faculty. The Fall Semester Cadre is for first-time Preministerial Scholars, and the Spring Cadre is open to all Preministerial Scholars and covers areas of spiritual growth in ministry. Students receive convocation credit for attending the Cadres.  
All application materials and recommendations are due no later than December 1. Decisions of the Biblical and Religious Studies Department are final.
Eligibility
Prospective Students
Prospective students are encouraged to apply to the program.
Sense of calling
Applicants must have a sense of calling to full-time ministry in one of the following church-related vocations: senior pastor, associate pastor, church administrator, minister of education, age group minister, music and worship minister, career missionary, hospital chaplain, campus minister, pastoral/family counselor, seminary/religion professor, bi-vocational minister, church-related social worker, justice ministry, church-related nonprofits, or Christian media/journalism.
Biblical and Religious Studies major
Applicants must commit to a Biblical and Religious Studies major.
Requirements for admission
Applicants must meet all requirements for admission to Samford University and must be admitted at the time of any official announcement of the award.
Leadership
Applicants must demonstrate leadership inclination or capacity, energy, industry and self-reliance in extracurricular activities.
Highest moral standards
Applicants must represent the highest moral and ethical standards and principles.
Timeline
December 1, 2023
Completed application materials and recommendations deadline
March, 2024
Preministerial Scholars announced
May 1, 2024
 Preministerial Scholars confirmation deadline
Application
To apply for scholarships, you must have an online Samford account. If you've started your Samford/Common App admission application, you can apply for scholarships using the same login information. If you haven't started an admission application, please log in as a new user.
Internships
Preministerial Internships
Preministerial students participate in two internships. Internships involve regular hours of service in a local church, church-related mission organization, church-related non-profit, or through the Samford Sunday preaching program (see below). Students also have the option of completing internships during the summer. Students gain experience in ministry settings that are customized for their areas of interest.
Mentor Introduction
One of the unique characteristics of the Preministerial Internship is the commitment of the mentors to invest in the student intern's life. The mentor relationship is the key to the success of the program. Through the evaluations and mentor feedback, it is apparent that the mentors often benefit as much as the students. Mentors agree to spend at least thirty minutes a week with the intern. This time is set aside weekly for ministry evaluation, planning, relationship building, and spiritual formation.
Become a Partner
Samford University seeks out new Preministerial Mentoring Partners each semester. If you are interested in becoming a mentor, please download the Mentor Application and return it to Preministerial Scholars at Samford University. Students are paired in ministry settings of their interest. We cannot guarantee we will have an intern to fill in each request we receive. However, we do have new interns seeking placements each semester.
Samford Sunday
Samford Sunday
Originally called H-Day, Samford Sunday has been connecting student preachers with Alabama Baptist churches for more than 70 years. The program gives churches the opportunity to invest in a student preparing for a lifetime of ministry while giving students the opportunity to gain invaluable experience in preaching. A new addition to the program–Samford Youth Nights–provides a team of male and female students to lead youth worship services and discipleship weekends, matched to the denominational traditions of partner churches and associations.
"Samford Sunday has introduced me to real pastoral situations through which I've learned about the Lord's work in Alabama Baptist churches. Churches report that they are also encouraged by our youthful energy and zeal to see God's kingdom grow."--John Pawlik '21, Samford Sunday Student Coordinator 2017-2021
"Samford Sunday is our primary connection with our school. We experience the Department of Biblical and Religious Studies by connecting with its ministerial students. We engage in the education process of ministers by connecting with ministerial students. We encourage those preparing in ministry by connecting with ministerial students."--Dale Wood '84, Associational Missionary for East Liberty Baptist Association
Contact the Preministerial Scholars Program Coordinator for more information at (205) 726-4361
Our Team
Tyshawn Gardner
Associate Professor, Preministerial Scholars Director
Biblical and Religious Studies
Office: Chapman Hall 221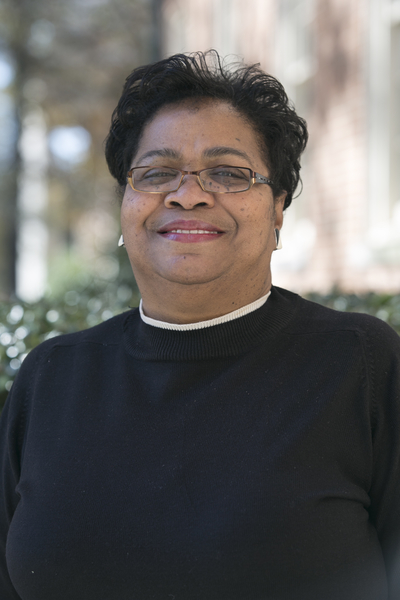 Brenda Ridgeway
Administrative Assistant
Biblical and Religious Studies
Office: Chapman Hall 217