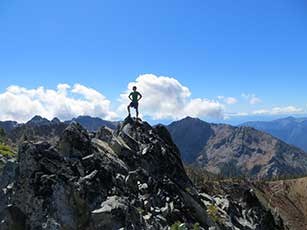 Samford in Oregon gives you the opportunity to spend a fall semester in Oregon's beautiful Cascade Mountains, earning 17 academic credits during a four-month conversation with professors and other Christian college students who love to read books, ask big questions, confront big ideas and get closer to the land. Our academic partner–The Oregon Extension–has provided this opportunity since 1975, focusing on one topic of study at a time through daily reading, small group discussion and one-on-one conversations with faculty.
Eligibility & Instructions
You must be at least a second-semester freshman and have a minimum GPA of 3.0.
First, contact your faculty advisor to determine if the program is compatible with your major. If it is, then you must submit the following documents to Howard College of Arts and Sciences Associate Dean Don Bradley by February 14, 2020 (for Fall semester 2020)
Résumé
Statement of Personal Interest of approximately 100 words that broadly describes personal interests, future career goals, skills hoping to be gained, and ways in which you will contribute to the community.
Once you have met with one of The Oregon Extension liaisons at Samford (Don Bradley or Betsy Dobbins), follow the instructions and complete application documents as listed at the link below.
Oregon Extension Application Information
Academic Credit
You must register for 17 credit hours through The Oregon Extension, selecting courses which align with your major/minor requirements and personal interests. Samford's Oregon Extension liaisons and your academic advisor will help you determine the Samford course most relevant to each Oregon Extension course.  You must  then complete a complete a Transient Enrollment form. Academic credits are provided by Eastern Mennonite University, a SACSCOC accredited institution.
Cost and Financial Aid
You will be charged Samford's full-time tuition and fees for the semester, as well as The Oregon Extension housing costs ($1,950 in fall 2019), student activity fee ($550 in fall 2019) and textbook fee ($250 in fall 2019). You will be responsible for purchasing transportation to Oregon, groceries and meal preparation. If you are eligible, federal, state and private outside financial assistance may be applied towards Samford charges (Samford institutional aid may not be applied to cover Samford charges). Samford will then pay the Oregon Extension tuition, housing, and fees on your behalf.