Published on August 25, 2020 by Morgan Black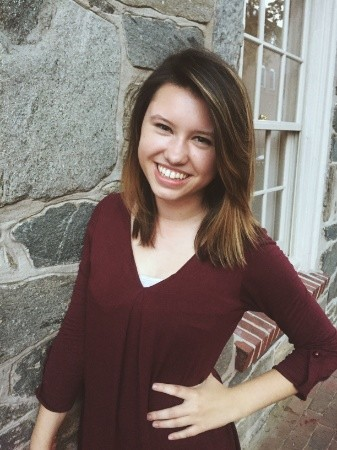 Senior Hannah Florence is the first Samford University student to receive a scholarship through the American Enterprise Institute's (AEI) Initiative on Faith & Public Life's Young Scholar Awards Program. Florence, an economics and political science major from Lewis Center, Ohio, is one of six students in the U.S. to be chosen to receive a $5,000 scholarship to support her research studying social capital and late-life health outcomes.
According to their website, AEI's Initiative on Faith & Public Life works to "provide Christian college students with formational educational and professional opportunities that propel them to lives of faith and leadership in the public square." The Young Scholars  Awards Program aims to foster high-quality academic research and writing. Students are awarded scholarships for demonstrating significant promise in their field of research and a commitment to AEI's mission of defending human dignity, expanding human potential, and building a freer and safer world.
Florence will research to what extent declining levels of social capital among Baby Boomers will exacerbate a growing elderly population's challenges. Through her research, Florence aims to clarify how current retirees will impact the healthcare system and expenditures to Medicare and Medicaid in the decades to come. Florence will present several recommendations for how public policy could potentially address these issues. Her study will analyze how decreasing levels of social capital impact the ratio of informal and formal care among Americans over age 65 and evaluate the differentiated healthcare costs of individuals with higher versus lower social capital.
"The scholarship will be financially helpful as I will be spending a considerable amount of time working on this paper this coming year," Florence said. "And, AEI provides other resources and opportunities to grow as part of the Young Scholar's program."
Other opportunities she will experience through the program include defending her research in front of AEI scholars with expertise in the issues that she will be addressing. "This will be a great opportunity to learn from the feedback and input of distinguished scholars that are working in the arena that I want to work in someday. I think this research will be a great bridge between finishing my career at Samford and entering the workforce while using tools that I have been learning here and getting a taste of doing research in the think-tank sphere."
Florence closed, "I am super thankful for my time at Samford and think that many of the opportunities I have had here have prepared me to take on this kind of commitment. Dr. [Art] Carden and Dr. [Joy] Buchanan were both very supportive of me applying to be a Young Scholar and were helpful throughout the process. I am very thankful and grateful for their time and support. There are also countless other professors who have challenged me throughout my time at Samford are responsible for me developing the skills and interests that were influential in leading me to this. I think this will be a fitting capstone to my time at Samford and is truly the culmination of multiple years of growth, discernment and learning."