Published on August 26, 2021 by Morgan Black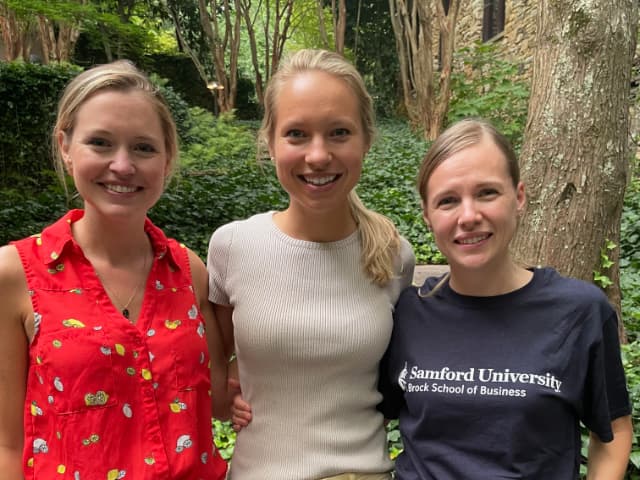 Piano received her bachelor's degree with a focus in economics and marketing from Creighton University and completed her doctorate in economics at George Mason University. Her primary areas of research are family economics, the economics of religion and political economy. She has published works on the origins of economic analysis within the School of Salamanca, the causes and effects of Soviet family policy, the relationship between state and church welfare, and the organization of Christian seminaries. Her work has been featured in national media outlets such as Public Discourse, The Journal of the Witherspoon Institute, and the popular Faith & Economics podcast. As an assistant professor, she will teach introductory and advanced data analytics courses.
Born and raised in Russia, Shapoval came to the U.S. as a student in 2006. She completed her bachelor's degree in economics at Sonoma State University and earned her doctorate at the University of Nevada–Reno. Her research focuses on policy evaluation in the health and education sectors. In particular, she is interested in the effect of mandatory programs on clinical outcomes within hospitals. In addition to her academic work, she and her husband have a data analytics consulting business. As an instructor of economics, Shapoval will teach undergraduate economics and data analytics courses as well as economics courses in the Master of Business Administration (M.B.A.) program.
McCombs received her bachelor's degree in finance and master's degree in international business from the University of Florida. She worked in finance with Siemens Healthcare in New York City and Raleigh, North Carolina, before moving into a sales role in Nashville, Tennessee. She returned to school to pursue her doctorate in business management at Florida Atlantic University before accepting a visiting faculty position at Tennessee Technological University. Her research interests include leadership, identity work and gender roles to name a few, most recently publishing work on narcissism, charisma and character in the 2016 and 2020 U.S.  presidential elections. Her passion in teaching and higher education lies in leader development. As an assistant professor, McCombs will teach courses related to leadership, human resource and organizational management, and entrepreneurship.
"We're grateful for such successful results of our new faculty searches over this last year," said
Dean Chad Carson
. "The talent, knowledge and experience that these scholars bring to our business faculty will undoubtedly have a great impact on our students and on our academic programs."