Published on August 7, 2015 by Graham Lehman  
It is undeniable that the world's game of soccer is booming in the United States. Following increased viewership and attendance, there is no doubt that the U.S. is an ideal market for soccer. That being said however, where should America's domestic league look to for investment? Here are five reasons why soccer needs to traverse politics and connect the Middle East to Major League Soccer.
1. Shirt Sponsorship
Deals between Middle Eastern companies and European teams have been incredibly lucrative. Europe's top clubs have seen revenue from shirt sponsorship rise to $777.75 million, a 20% increase from the previous season (Collett). This enormous sum is in large part due to investment from Middle Eastern nations as the below data from the Business Side of Soccer shows.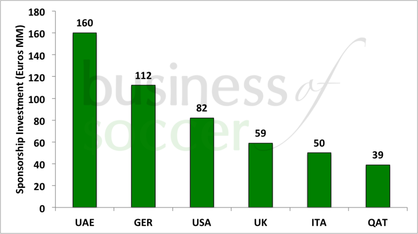 If MLS hopes to compete for attention globally, the teams need to expand to Arab nations for sponsorship opportunities to generate more capital.
2. Ownership
Some of the most successful teams in Europe, such as Manchester City and Paris Saint-Germain, are owned by wealthy investors from the Middle East (Khawaja). Sheikh Mansour, who bought Manchester City Football Club in 2008, took a team that had long been shadowed by Manchester United, and has since raised them to global prominence and League Champions in 2012 and 2014. He has done this by purchasing 22 players in four years, spending an average of $34.7 million on each player (Phillips). United States sports are no strangers to foreign ownership and Major League Soccer needs to take note and market the league to attract foreign ownership. This would open up immense capabilities of sponsorship deals, new fan bases and capital to invest.
3. Stadiums
Naming rights of stadiums, even currently in the United States, have tremendous financial impact. Stadiums such as Nissan Stadium and Petco Park bring in large sums of money for their respective teams. Middle Eastern companies have begun to sponsor European stadiums, such as the Emirates Stadium in London, which has brought in $240 million for Arsenal to invest in building a successful team (Phillips). This makes the team more desirable for top players, and thus a more marketable world team. If the MLS were to attract similar stadium sponsors, it would provide the funds to have world-class facilities like top clubs in Europe.
4. International Attention
With Middle Eastern companies investing in European leagues, the fan base has grown for these teams throughout the Middle East. Clubs like Malaga in Spain and Nottingham Forest, a lower-level English side, have seen increased attention due to foreign sponsors and backing. With input from these companies, MLS teams could expand and create a Middle Eastern fan base. This could lead to deals with broadcaster Al Jazeera, who currently has been increasing broadcasting rights in Europe. This would make the league more attractive to top talent across the world, as the league would be more prominent and have a global broadcasting presence.
5. League Investment
Middle Eastern companies invested over 5 billion pounds to the Premier League in 2008, in an attempt to reach a global audience (Soccerlens). As an economic powerhouse, the United States stands as a clear opportunity for these companies to reach. If the MLS were to take advantage of this and market investment in the league, such as league naming rights, tournaments and more, the league would see tremendous growth both financially and globally in terms of attention.
This blog was written by Samford University student Graham Lehman.
References
Collett, Mike. Yahoo! Sports. "Soccer-Middle East Investment Boosts European Shirt Revenue." Retrieved from: http://sports.yahoo.com/news/soccer-middle-east-investment-boosts-european-shirt-revenue-230100128--sow.html
Harris, Wes. Business of Soccer. "Rise in Foreign Exposure Drives Increase in Sponsorship Revenue for European Clubs." Retrieved from: http://www.businessofsoccer.com/2015/02/26/rise-in-foreign-exposure-drives-increase-in-sponsorship-revenue-for-european-clubs/
Khawaja, Moign. Arabian Gazette. "Middle East Investment Lifts Top European Clubs to New Height. Retrieved from: http://www.arabiangazette.com/middle-east-football-influence/
Phillips, Scott. Business of Soccer. "Follow the Money: Middle Eastern Influence in Global Soccer." Retrieved from: http://www.businessofsoccer.com/2014/08/15/follow-the-money-middle-eastern-influence-in-global-soccer-part-1-u-a-e/
Soccerlens. "Middle East Looks to Influence Premier League and English Football. Retrieved from: https://sportslens.com/middle-east-looks-to-influence-premier-league/15011/
Photo Credits: Google images