Published on October 22, 2015 by Darin White  
According to research conducted by KPMG in the UK, the Spanish clubs FC Barcelona and Real Madrid are the soccer teams with the highest number of global Facebook fans, having 86.7 million and 84.3 million likes respectively. Social media followers of a sports property are important for a variety of reasons. More followers can be leveraged into higher sponsorship dollars, ticket sales and team merchandise sales. With that in mind, its interesting to note that three of the biggest names in global soccer have fallen far behind their competitors in terms of Facebook followers.
According to Football Benchmark, "The variation between the highest and lowest performers within the top ten football clubs in terms of Facebook followers is large, the one being almost 4.5 times greater than the other. With this in mind, some of the biggest clubs appear to have significant potential to increase the number of their followers." The total number of Facebook followers of three of the most iconic soccer teams in the world (Liverpool FC, AC Milan and Manchester City) combined is millions less than Real Madrid and FC Barcelona. Given the strong correlation between revenue generation and on-field success, growing the global fanbase should be a top priority of these three iconic clubs.
TOP TEN GLOBAL SOCCER TEAMS BY TOTAL FACEBOOK FOLLOWERS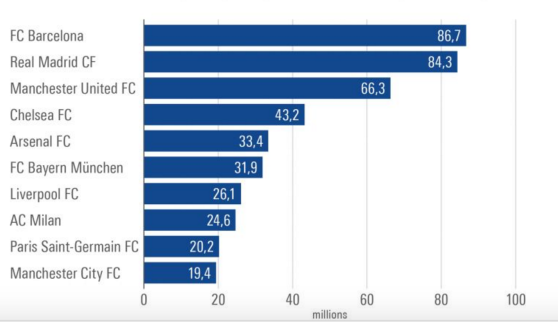 Source: FootballBenchmark.com