Published on October 2, 2015 by Laura Klein  
It has been noted that fan attendance at college football games has declined in recent years. The NCAA reported a downward trend of attendance since 2009 and a 2% decrease in fan attendance from 2013-2014. To combat this troubling issue for top sports executives, many have scrambled for a band-aid solution for a bullet hole-sized problem. According to a study done by AECOM, a marketing research firm, of the student body population at the University of Texas, solutions to the issue of fan engagement and attendance may be easier achieved than once thought.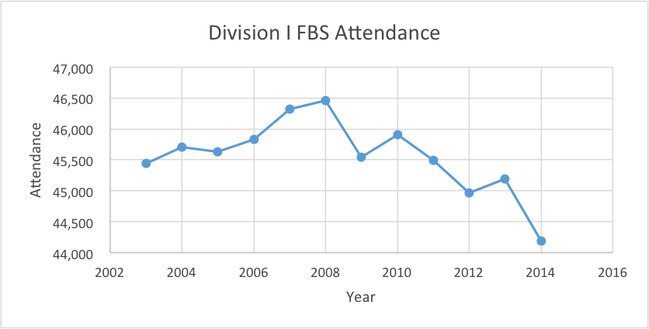 Connecting Fans to the Game
According to the AECOM study, the deterrence of fans to attend college football games is not that college students do not care about sports, but rather college students chose to spend their time elsewhere. Fans sought connectivity through their peers and sharing an experience they can make their own, typified through events like music festivals. Fan's biggest desires are to be personally connected to the event. In the case of football, their desire was to be connected to the team, players, and coaches. Football fans want to have a personal identification and interpersonal relationship with the event.
Social Media is the Key
In order to give fans the connectivity and personal aspect that they are seeking, college football programs can take note of the popularity of fan engagement through social media. Facebook, the largest social media site in the world, boasts over 1 billion users monthly. In 2014, Sports Research Business Network reported that 17% of fans that used their mobile phone at a college football game used Facebook to engage with friends or family about the event. Snapchat, social media's hottest trend, boasts 200 million users monthly and the ever-gaining popularity of their "My Story" and "Our Story" functions. Successful sports brands have incorporated Facebook and Snapchat by documenting behind the scenes practices, press conferences, and exclusive player interviews through their social media platforms.
Bridging the Connectivity Barrier
It does not take much knowledge or perception to see that millennials and college students desire to be connected. Their phones are linked to all social media platforms, and everything from going to new restaurants to shopping for toilet paper is made a social experience via smartphones and social media. But how does a school, such as the University of Texas where the AECOM study was conducted, give each of their 100,000 plus fans in the stadium a personal and connected experience? To bridge the gap, universities and other sports brands alike must create a product with which fans can interact. Instead of promotions and prizes, brands can increase fan engagement by rewarding fans for participating in the game rather than simply rewarding their attendance. By inviting fans to participate in the conversation, analysis, and viewership of the game through personal connection mediums such as Snapchat and Facebook, sports brands are creating a personal link between the distant fan and the event. When fans feel they are a part of the experience, rather than merely an observer, a personal and intimate connection is formed. Lifelong and committed fans are created by giving fans a special connection.
This post was written by Samford University student Laura Klein.
Citations
Attendance Market Research/Demographics. (n.d.). Retrieved September 5, 2015, from http://www.sbrnet.com.ezproxy.samford.edu/research.aspx?subrid=614
Dachman, J. (Ed.). (2015, August 14). Social-Media ROI: Balancing Fan Engagement With Dollars and Cents. Retrieved September 3, 2015.
D'Onfro, J. (2015, May 26). Snapchat now has nearly 100 million daily users. Retrieved September 3, 2015.
NCAA Football Attendance. (n.d.). Retrieved September 5, 2015, from http://www.ncaa.org/championships/statistics/ncaa-football-attendance
Photo | Texas Longhorns. (n.d.). Retrieved September 5, 2015, from http://www.hookemreport.com/2011/07/photo-texas-longhorns-2/
Smith, M. (2015, August 24). What does it take to get students to the games? Retrieved September 3, 2015.