Published on September 7, 2015 by Shelby Davidson  
NFL Attenders
Attending NFL football games have become incredibly expensive over the last decade. When you add all the additional costs associated with attending the game (parking, concessions, etc) on top of the ticket price, fans can easily spend over $600 for a day at the game. This might make one assume that only senior-level executives and other older professionals would have the luxury of attending. On the contrary, most people that attend NFL games are in the 18-34 age group. These individuals are within the income range of $100,000 or more. A study conducted in 2014 discovered that the cheapest NFL ticket was $146.53 to attend a Cleveland Browns football game. Personally, I would assume that older people with a higher income would be most likely to buy tickets and attend NFL games, but it appears that a younger, wealthier crowd dominates ticket sales. The data listed below is pulled from Sports Business Research Network.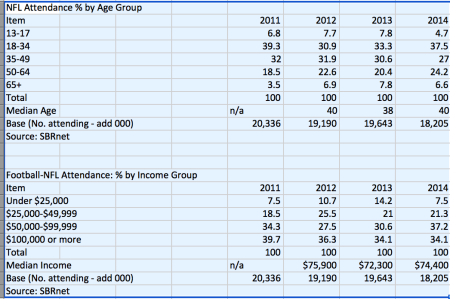 College Football Attenders
According to Forbes, the average ticket price for a Notre Dame home football game in 2014 was $332.09. Fox Business reports that the cheapest college football ticket is the Buffalo Bulls at a whopping $18! When comparing the NFL attendance statistics with that of college football, the age group was exactly the same, while the income group was strangely different. In regard to college football attendance, many members that attend are within the 18-34 age group. However unlike the NFL, the attenders were in the $50,000- $99,999 income group.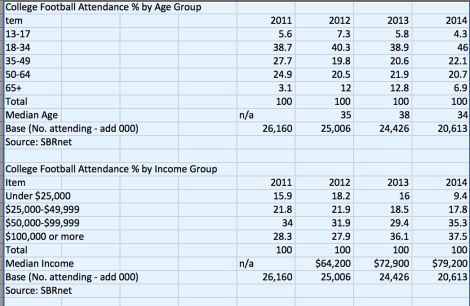 This blog post was written by Samford University student Shelby Davidson.
Seattle Seahawks Tickets Most Expensive In NFL On Secondary Market, Up 9% From 2014. (2015, July 19). Retrieved from http://www.forbes.com/sites/jesselawrence/2015/07/13/seattle-seahawks-tickets-most-expensive-in-nfl-on-secondary-market-up-9-from-2014/
College Football's Most Expensive Tickets for 2015. (2015, August 27.) Retrieved from http://www.forbes.com/sites/kristidosh/2015/08/27/college-footballs-most-expensive-tickets-for-2015/
NFL Tickets: Team by Team Average Prices. (2013, August 29). Retrieved from http://blog.tiqiq.com/2013/08/2013-nfl-tickets-team-team-average-prices/
Ten Cheapest College Football Tickets. (Accessed 2015, August 30). Retrieved from http://www.foxbusiness.com/slideshow/personal-finance/2011/09/16/ten-cheapest-college-football-tickets/#slide=2
NFL vs College Football. (2014, December 11.) Retrieved from http://movietvtechgeeks.com/nfl-vs-college-football/