Published on November 25, 2016 by Darin White  
The White House Office of Science and Technology Report on Big Data predicted revolutionary advancements in virtually all sectors of society thanks to the digital footprints billions of people produce each day. The use of indepth statistical analysis to discover insights from vast databases of information promises to cure disease, solve crime and defeat terrorism.  Yet on the eve of the Iron Bowl, we thought it would be interesting to see what big data can tell us about the South's most heated sports rivalry - the Iron Bowl.
A deep dive into social media data from Alabama and Auburn fans provide some fascinating insights. Samford University's partnership with Affinio, a marketing intelligence platform based in Canada, allowed us to run a detailed study on the 237,000 followers of Auburn Football on Twitter and the 569,000 followers of Alabama Football on Twitter. The Affinio analysis, based on hundreds of millions of social media data points, provides a richer, more rounded view of the DNA of the Iron Bowl Rivalry than traditional survey research methods employed by Nielsen and others. (Note: We are all familiar with the failure of traditional research methods from the 2016 Presidential Election). By analyzing how hundreds of thousands of Alabama and Auburn fans are connected we are able to understand the rivalry much better. The Affinio algorithm ingests massive amounts of data pulled from audience sizes into the millions, providing a more holistic view of the audience.
Who are the Biggest Influencers of Alabama & Auburn Fans?
Every day Alabama and Auburn fans produce signals on social media that indicate unbiased preference and interest. These "digital footprints", made up of what fans consume, like, share, watch and read, holds the key to a more accurate, richer understanding of fan base segments. From this information we were able to determine the 40 social media accounts that have the most influence on Alabama and Auburn fans.
As expected, both fan bases are heavily influenced by former players and coaches from their respective teams. Of note, Paul Finebaum is the 7th most influential person for Alabama fans while he does not make the top 40 for Auburn fans. A.J. McCarron is the strongest individual influencer on Alabama fans whereas Coach Gus Malzahn holds that distinction for Auburn fans. One out of every four of the most influential accounts for Alabama fans are non-Alabama-centric accounts including: James Spann, Al.com, SEC Network, SEC, College Game Day, ESPN SEC, Kirk Herbstreit, ESPN College Football, Saturday Down South and AT&T (an official Alabama Athletics sponsor). Conversely, all 40 of the most influential accounts for Auburn fans are Auburn-centric accounts. Eighteen former Alabama players are included in the top 40 list for Alabama fans and one current coach (Lane Kiffin).
McCarron
McElroy
Ingram
Yeldon
B. Jones
Drake
Mosley
Henry
Sunseri
Jones
Tinker
Clinton Dix
Collins
Lacy
Barker
Foster
Bell
Sims
Eleven former Auburn players made the list while three current Auburn coaches made it (Malzahn, Lashlee and Garner). Unlike Alabama fans, Auburn fans follow the Athletic Director, the head football coach's wife, the basketball coach and Auburn Basketball team account and the Auburn Baseball team account. Surprisingly, former Auburn Heisman Trophy winner and current Carolina Panthers QB Cam Newton barely made the list and came in behind ten other former Auburn players.
Bo Jackson
Lutzenkirchen
Mason
Burns
Coates
D. Craig
Marshall
Davis
Parkey
Uzomah
Newton
Despite Significant Differences Alabama and Auburn Fans Share Much in Common
The below graphic demonstrates how much Alabama and Auburn fans hold in common. When it comes to the content they read, like, watch and consume, they share much more in common than one might expect. Note the amount of overlap between the two fan bases in the comparison metric below (the area shaded both purple and green). Outside of college football, our analysis reveals the two fan bases are highly similar on every other cultural indicator.
Comparison Metric (Purple = Alabama Fans; Green = Auburn Fans)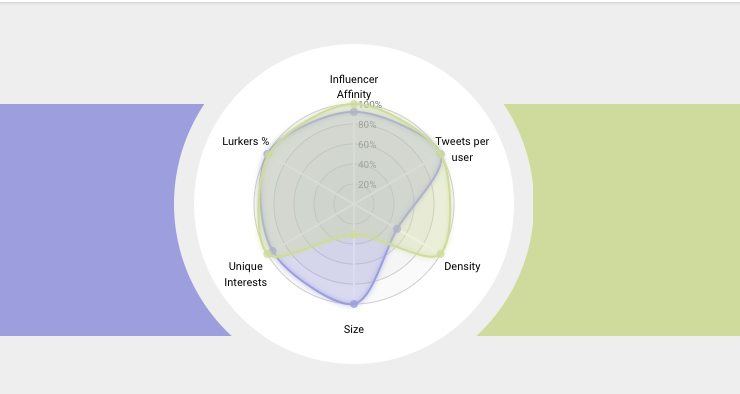 One area that Alabama and Auburn fans hold much in common is politics. The below graphic lists the social media accounts that are highly influential on both fan bases. Many of these accounts have a political focus.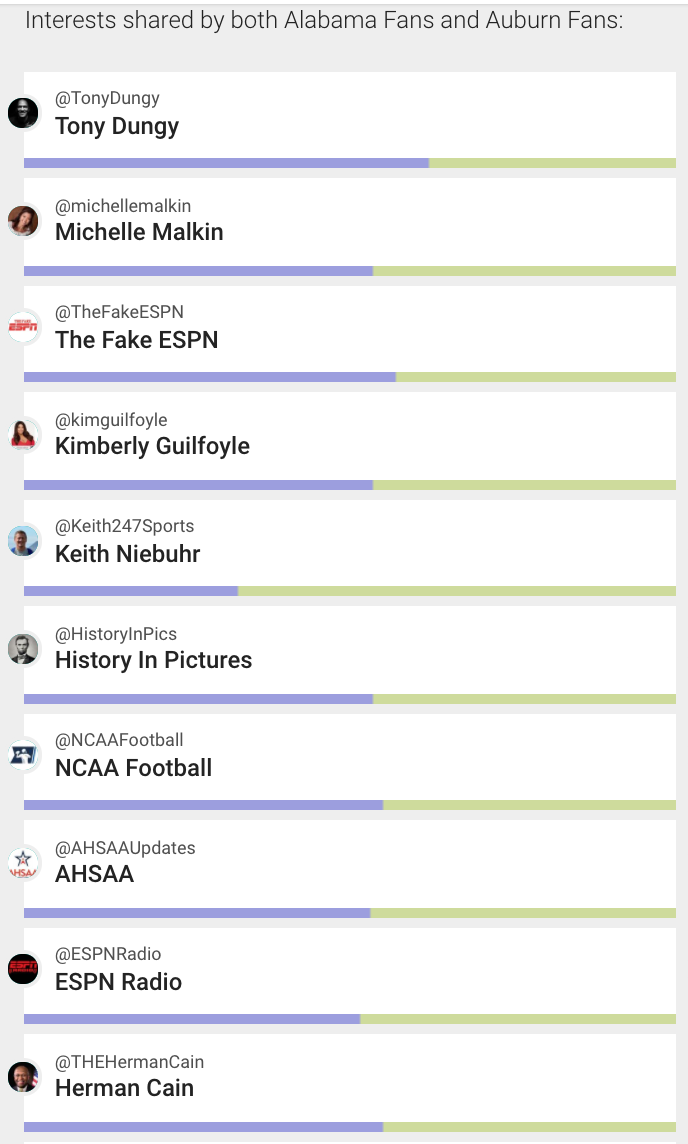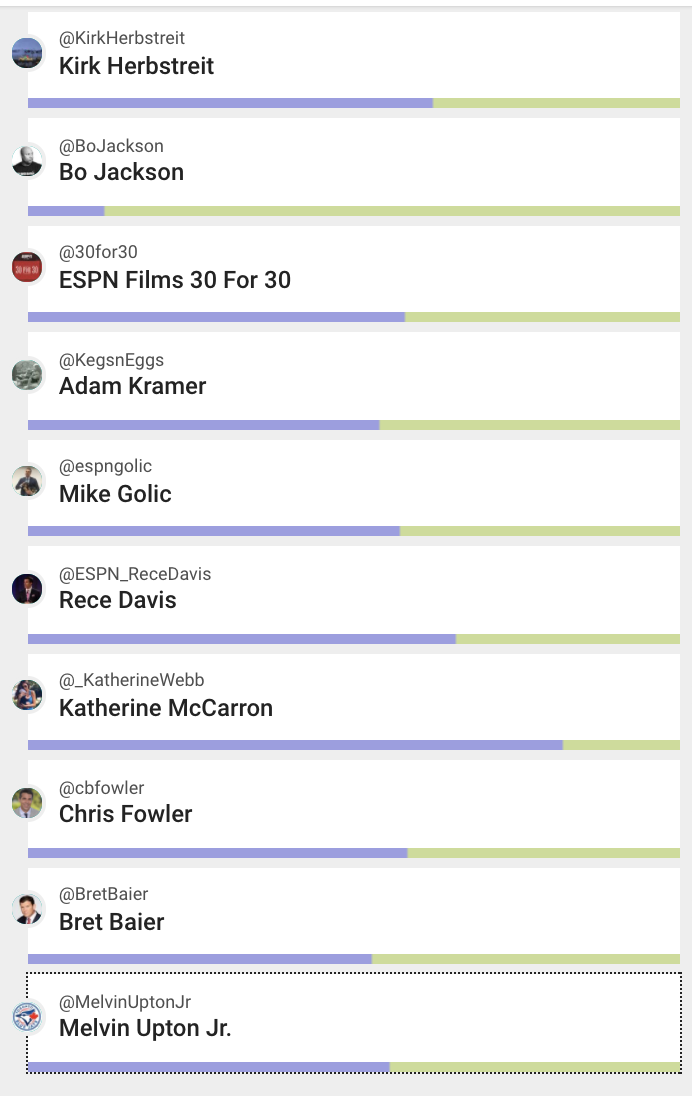 The social account that has the highest shared influence on both fan bases is Tony Dungy, the No. 1 New York Times bestselling author of Quiet Strength, Uncommon, and The Mentor Leader. According to his website, Dungy led the Indianapolis Colts to Super Bowl victory on February 4, 2007, the first such win for an African American head coach. Dungy has been involved in a wide variety of charitable organizations, including All Pro Dad.
Big Data Indicates Alabama vs Auburn is the Greatest Rivalry in Sports
University professors around the globe that conduct research on rivalries have documented that the strongest rivalries typically exist between fan bases that share a lot in common. Given how much Alabama and Auburn fans hold in common, we decided to see how other major rival fanbases compared to each other. We ran a similar anlysis to the one above between the fan bases of many other recognized rivals inculding Ohio State/Michigan, North Carolina/Duke, Red Sox/Yankees, Cowboys/Redskins, Manchester United/Liverpool among others. None of the fan bases we examined share as much in common as do Alabama/Auburn fans. Thus, big data provides yet another reason to claim the Iron Bowl game as the greatest rivalry in all of sports.
Written by:
Darin W. White, Ph.D.
Chair, Entrepreneurship, Management, Marketing Department at Samford University
Chair, American Marketing Association Sport & Sponsorship-Linked Marketing SIG
Founding Director of Sports Marketing Program in the Brock School of Business at Samford University