Published on August 17, 2018 by Nic Tice  
For the first time ever, Yahoo Sports will be offering fantasy college football this fall. Fantasy football has continued to grow since the first public version was launched in 1997 and now has over 50 million users. Because the market is so huge, it was only a matter of time until companies expanded their fantasy exploits from the professional ranks to college. In order to limit the player database, only schools from the Power Five conferences (SEC, Pac-12, Big Ten, Big 12, ACC) and independent Notre Dame will be used. This prevents stars from smaller schools putting up huge numbers against inferior competition and dominating a fantasy lineup. In the NFL, there are 32 teams. This sample is 65 teams, giving fantasy participants the ability to choose from more than double the teams they are accustomed to in a professional league. Since this type of league has never been done before, I calculated the top returning fantasy performers based on last season's stats and highlighted some players who didn't put up huge numbers last year, but who could see their roles expand for several reasons. Shown below are tables with the top ten returning layers at fantasy points per game and three more who should be among the leaders at seasons end listed in bold.
Quarterbacks
Last season, Lamar Jackson led all quarterbacks in scoring with 38.7 fantasy points per game but has since moved on to the NFL. Khalil Tate will look to take his place as the premier dual threat quarterback in college football. The Big 12 and ACC were the best conferences for quarterbacks to put up big fantasy numbers. When trying to predict what players will put up big numbers, it's almost better to look at the school and the offense history than the player itself. For instance, Oklahoma, Oklahoma State, and Texas Tech always score a lot of points and gain a lot of yards in the Big 12, regardless of who plays quarterback. Every conference has certain programs that are among the leaders in team offense because of the coach's system. Two unproven quarterbacks who could step into these types of situations are Oklahoma's Kyler Murray and Ohio State's Dwayne Haskins.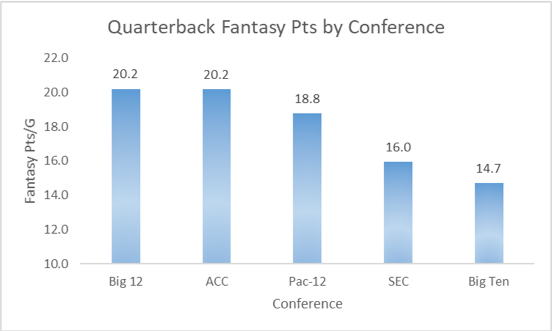 Both replace QBs who have had proven success (Baker Mayfield, J.T. Barrett), play in systems that have plenty of offensive weapons with coaches that know how to use them, and should have great team success to lead to high scoring games. Another player to look out for is Virginia Tech's Josh Jackson. Jackson was the highest scoring pts/G freshman last season and will look to build on that success. Virginia Tech was ranked 17 in the preseason coaches' poll and will need big performances out of their star QB to maintain that ranking.
Running Backs

The Pac-12 dominated the top running backs in 2017 with 5 of the top 7 coming from the conference. As shown above, they also return 5 of the top 10 for 2018. Based on the graph of average points per game by conference, it makes sense that the conferences are pretty close to inverse order to the quarterbacks. Bryce Love was the highest scoring running back last season and there's no reason to think that would change. The three bolded players all wrapped up successful freshman seasons and will play even bigger roles in their sophomore year. J.K. Dobbins overtook Mike Weber for the starting RB position at Ohio State and set the freshman record for rushing yards. As Ohio State transitions from J.T. Barrett to Dwayne Haskins, look for them to ride the proven commodity on offense to start the season.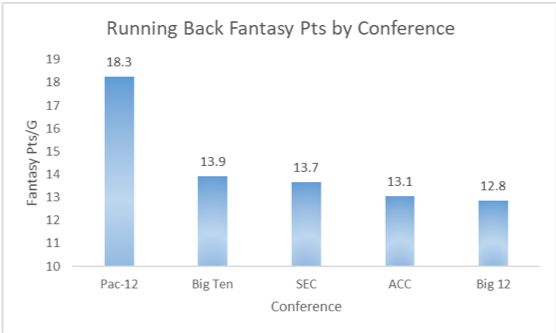 Cam Akers was the third overall prospect in his class and had a great freshman season, despite Florida State's struggles. New head coach Willie Taggart was known for his strong rushing attacks at Oregon and Florida State and Akers will be the focal point of the offense with quarterback Deondre Francois. Although he doesn't have the proven numbers of the others, D'Andre Swift was impressive in limited time behind 2017 first and second round picks Sony Michel and Nick Chubb. Swift will get a chance at the 2,500 rushing yards Michel and Chubb are leaving behind, and he was already the leader in receiving yards among the three. Georgia will be one of the best teams in college football and Swift will be a beneficiary of this.
Receivers

The returning receivers are headlined by potential high first round pick A.J. Brown and a touchdown machine in David Sills. Common sense says that a quarterback with good numbers will have a receiver with good numbers. The breakdown of receiver points per game by conference is the same as quarterbacks' points per game by conference. In general, the running backs are much more valuable than the wide receivers on a points per game basis. It's harder to predict impact receivers in college as opposed to running backs because much of the production is dependent on the quality of quarterbacks on the roster. One receiver who could explode in 2018 is South Carolina's Deebo Samuel. He's a do-it-all superstar at receiver who is a projected first round pick but had his 2017 season cut short by a broken leg. In the three games he played against NC State, Missouri and Kentucky, he tied for the Gamecocks' team lead in touchdowns and would be the second leading scorer in points per game.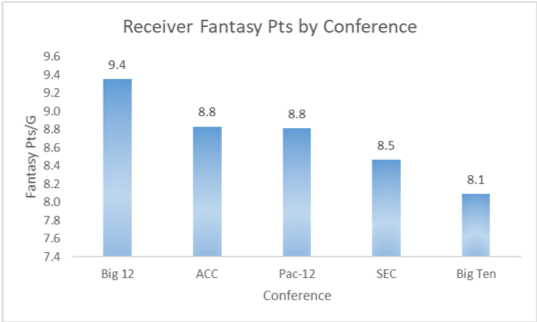 Both Kelvin Harmon and Marquise Brown played big parts on their teams in 2017, but key receivers leaving and above average quarterback play should see them both expand their offensive numbers. For Harmon, quarterback Ryan Finley returns as one of the best in the country. Fellow receiver Jaylen Samuels just graduated as the NC State leader in receptions and Harmon will surely receive additional targets because of this. Brown was Oklahoma's best receiver last year and the second leading receiver, tight end Mark Andrews, also went to the NFL. Kyler Murray will likely take over for Mayfield, but head coach Lincoln Riley should be able to have Oklahoma's offense remain elite. Brown also had a school record 265 receiving yards against Oklahoma State.
Takeaways
The fantasy teams will be constructed in the same way as the NFL: 1 QB, 2 RB, 2 WR, 1 TE, 1 FLEX (WR/RB/TE), 1 K, 1 D/ST, and 6 bench players. If I were setting a lineup, I would never play any position but running back at the flex. There were 53 teams to have a running back average more than 10 pts/g and only 28 teams to have a receiver average more than 10. Based on the numbers from last year, I would prioritize drafting at least one starting running back in the Pac-12. Because the number of teams is so much larger than the NFL and the rosters stayed the same size, almost every player on your team can be a starter. The only time to potentially take a backup is if you're hoping a highly rated freshman may beat out an upperclassman at a powerhouse program at some point in the season like Trevor Lawrence at Clemson. Regardless, this article should serve as a primer for who some of the first few picks of your fantasy draft should be.
About the Author
Nic is a rising junior at the University of South Carolina double majoring in Statistics and Sports Management. He is looking to pursue a career in NBA analytics after graduation.
Works Cited
College Football Statistics and History. (n.d.). Retrieved August 6, 2018, from https://www.sports-reference.com/cfb/
Hartwig, D. (2017, October 15). Stanford vs Oregon 2017-10-14. Retrieved August 8, 2018, from https://www.flickr.com/photos/dwhartwig/37448753870/
Pereles, Z. (2018, July 26). Yahoo Sports launches College Fantasy Football in time for 2018 season! Retrieved August 6, 2018, from https://sports.yahoo.com/yahoo-sports-launches-college-fantasy-football-time-2018-season-133248470.html
Yahoo Sports Fantasy Staff. (2018, July 26). Yahoo Sports College Fantasy Football player rankings: Get ready for draft season. Retrieved August 6, 2018, from https://sports.yahoo.com/yahoo-sports-college-fantasy-football-player-rankings-get-ready-draft-season-132408157.html