Published on February 19, 2018 by Drew Laing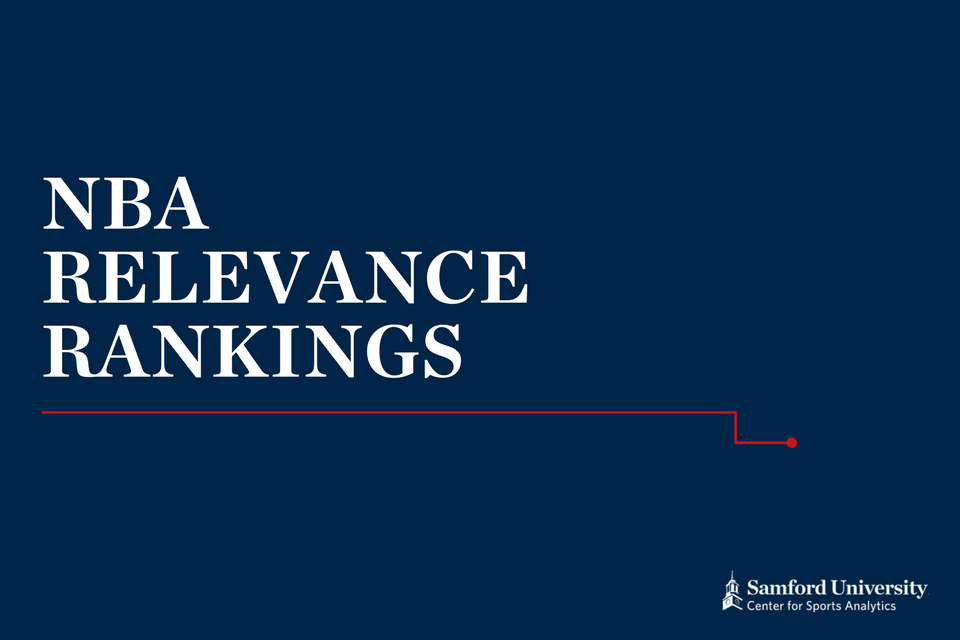 With the National Basketball Association trade deadline passed and All-Star Weekend on deck, the NBA season is really heating up. Heading into the break with a little more than 20 games left in the season for each team, teams are setting themselves up to make a run and secure a playoff spot.
NBA fans are certainly excited and anticipating a dramatic final stretch, but how has it affected each team's relevance to fans?
Samford University's Center for Sports Analytics released an All-Star Break update to its NBA Relevance Rankings, which are designed to measure the teams that are best at emotionally connecting with fans.
In the latest update, the Los Angeles Lakers surged to the No. 1 spot with an impressive 11 percent increase since the beginning of the season, finishing a full point ahead of the Golden State Warriors.
Aside from the Lakers' historically expansive fan base and rich team history, the team has continued to dominate headlines this season thanks to Lavar Ball's dramatics and the impressive play of rookies Lonzo Ball and Kyle Kuzma. The Lakers remain seven games out of the No. 8 playoff spot, however. Although they likely will not be a playoff team at season's end, it's evident that the excitement for the future of the team (development of young players, potential major free agent acquisitions, etc.) will drive even higher relevance among US sports fans in the coming years.
Rounding out the top five are the Warriors, Miami Heat, Chicago Bulls and Cleveland Cavaliers, due in large part to the presence of megastar LeBron James.
Two additional teams that also saw large percentage increases were the Indiana Pacers (14 percent) and Orlando Magic (18 percent) at Nos. 14 and 15 overall, respectively. The Pacers are led by Victor Oladipo, who played college basketball for the Indiana University Hoosiers. He is leading a Pacers resurgence, bolstered by a career year, and no doubt resonating with a very loyal and dedicated fan base in Indiana.
The Magic, on the other hand, are a surprising team to see a significant increase in relevance, given the Magic's struggles this season. Currently, they own the fifth-worst winning percentage and are a favorite for a top draft pick.
The New York Knicks and Detroit Pistons claim the biggest percentage drops in the league, seven and nine percent, respectively.
For the Knicks, although the team wasn't expected to be a contender this season and endured a slow start, they were playing well, led by big man Kristaps Porzingis. Although role players like Enes Kanter have stepped up, the season-ending ACL injury to Porzingis that he suffered in early February has all but guaranteed another non-playoff season for the Knicks and drained the fans of any hope that was left for a potential playoff run.
In Detroit, the Pistons currently sit at a disappointing No. 29 overall in the rankings update. It's a fitting position, given the disappointing season the Pistons are playing through right now. Despite established players like Andre Drummond, Tobias Harris, Avery Bradley, Reggie Jackson and a top coach in Stan Van Gundy, the Pistons currently remain three games out of a playoff spot.
It'll be interesting to see how the acquisition of superstar Blake Griffin prior to the trade deadline will impact the team's overall relevance to its fans. Should the team pick up its play and make a playoff run, there's no doubt that the change will be overwhelmingly positive.
One additional team that's experiencing positive change is the Utah Jazz. Although they are still in the bottom five in overall relevance, rookie Donovan Mitchell has emerged as a legitimate Rookie of the Year candidate and a budding superstar. His participation in the All-Star Weekend's Slam Dunk Contest will only further increase his nationwide stardom and especially his local fanfare as one of the team's prominent players moving forward.
The relevance rankings are based on a deep dive into social media data from more than seven million US sports fans. Along with Affinio, a big data consumer insights company in Canada, Samford University's Center for Sports Analytics runs detailed studies of U.S. sports fans to ascertain team's relevance. The analysis, which utilizes audience intelligence technology, advanced machine learning algorithms, and unsupervised segmentation technology, tap into billions of interest variables and network connections.
Drew Laing is a Samford University journalism and mass communication alumnus and writes for the Division of Marketing and Communication.