Published on August 12, 2019 by Marshal Smith  
Hailie Deegan is quickly becoming a NASCAR star on and off the track with her outgoing personality and her aggressive driving. Driving is in her DNA as she is the daughter of Brian Deegan, the most decorated Freestyle Motocross rider in X Games history. While her NASCAR career has only lasted 2 years - which began when she was 16 - she has become the most followed active NASCAR driver on Instagram and YouTube, without racing in a single national series yet.
Social Media Rise
Deegan has amassed the most followers for an active NASCAR driver on Instagram, with a massive 493 thousand followers. The next closest is 7-time Cup Champion, and arguably the most recognized active driver in NASCAR, Jimmie Johnson.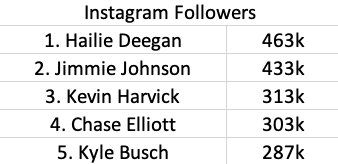 She not only has found success on Instagram, which highlights her quick and funny insta stories, but has seen a big following on YouTube. Her family's channel (Deegan38) has 496 thousand subscribers, a full one hundred thousand ahead of the official NASCAR channel which shows race highlights weekly.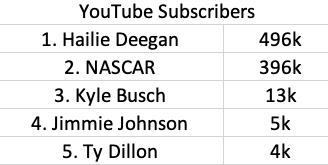 Deegan ranks second in overall social engagement and fifth in social media value this year for all NASCAR drivers.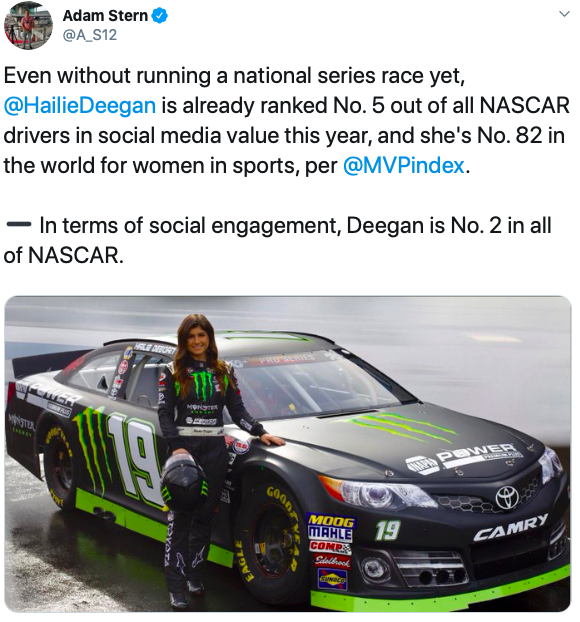 Her content on social media is not like other drivers' who have pictures of their wife and kids on vacation along with racing pictures. Her posts include videos of flipping a Polaris RZR, cooking her own meals, funny workout routines and other exciting things, along with the staple pictures of her cars that she drives.
Racing Background and Stats
Her rapid increase in followers and fans does not come just from her crazy videos. They come from the track as well, where she has some impressive numbers in her short career.

In her first season on the NASCAR K&N Pro Series West Tour, Deegan won Rookie of the Year. In that 14-race season, she had one win, five top 5's and twelve top 10's. Through 8 races on the same tour this year, Deegan has two wins, five top 5's and six top 10's. Before her NASCAR career began, she raced on the CARS Super Late Model Tour and Lucas Oil Off-road series. Recently, Deegan has raced in other NASCAR series, such as ARCA and the K&N Pro Series East. This nationwide exposure has helped gain her an even bigger following across her social media platforms.
What's in Store for Hailie?
Maybe the "Monster Girls" that pose when a winning driver is interviewed in victory lane will be a thing of the past in coming years. Once Deegan jumps into the big 3 series' (Truck, Xfinity and Monster) and showcases what she can do on the track, there will be no need to pay other girls to be on camera in victory lane when there is already one Monster-sponsored girl winning the race herself.
Sources
https://www.instagram.com/hailiedeegan/?hl=en
https://www.racing-reference.info/driver/Hailie_Deegan
https://twitter.com/A_S12
https://twitter.com/ElijahWhosoever
https://twitter.com/HailieDeegan
About the Author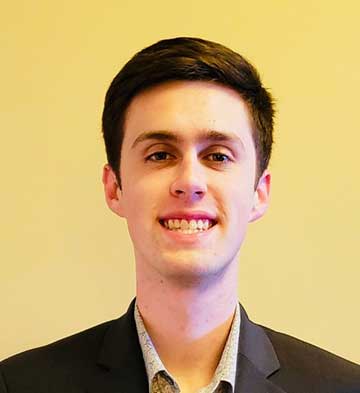 Marshal Smith is a Junior Entrepreneurship and Sports Marketing student here at Samford University. He plans to pursue a career with a professional sports team. Here is a link to his LinkedIn profile: www.linkedin.com/in/marshalwsmith