Published on November 23, 2020 by Darin W. White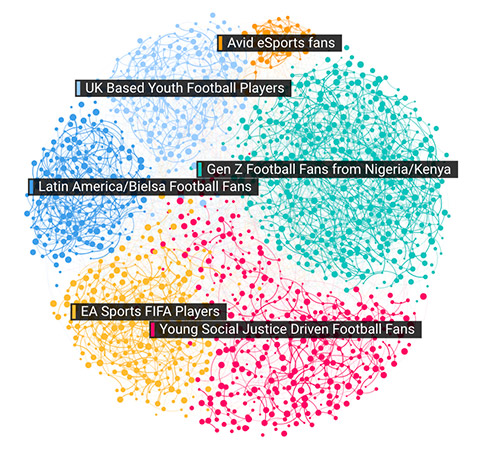 Earlier this year Leeds United FC was promoted to the English Premier League for the first time in 16 years. One of the advantages of promotion is the opportunity to expand the global footprint and increase the fanbase. Leeds United is not only growing the fanbase at an astonishing rate, but they are doing so by adding tens of thousands of individuals from the most coveted demographic group sports teams around the planet long for – Generation Z. According to Darin White, Executive Director of the Center for Sports Analytics, "Generation Z has replaced Millennials as the most coveted demographic group for brands ranging from Coca-Cola to Visa to Nike. Sports teams around the globe are scrambling to attract this generational cohort which has proven difficult because of their decreased interest in watching live sports."
The Center for Sports Analytics at Samford University took a deep dive into over 55,000 people that have started following Leeds United F.C. on social media since the beginning of the 2020 EPL season. Our analysis shows Generation Z football fans from around the globe are flocking to Leeds United F.C. According to White, "Over half of new followers are under the age of 30 and 85% are male. This group is much younger, significantly larger in sheer numbers, and more global in scope than new fans picked up by other teams promoted to the EPL over the last few years." In addition to the UK, the top places Leeds is picking up new fans from include Nigeria, Argentina, Egypt, Chile, India, Kenya and South Africa.
In the new global sports landscape successful teams must find ways to attract more fans because they provide new revenue which is the lifeblood of any team. According to White, Leeds explosive growth in popularity with younger fans puts Leeds in a strong position to drive significant new revenue for years to come. "Sponsors are scrambling for ways to connect with younger customers and Leeds United's growing Generation Z fanbase will be a great option."   
There are a variety of factors that come into play that make Leeds United an attractive team for young fans looking for an EPL to support including Leeds United's history, their current coach, and style of play.
Our analysis utilized Affinio which is an augmented analytics platform that leverages its custom graph technology to understand the billions of connections across social media data. According to their website, "Affinio's AI-based segmentation and visualization technology is putting the power of AI at the fingertips of business users around the globe so they can rapidly discover unique insights that power business decisions that win." Affinio is utilized by many of the world's largest brands including Unilever, the BBC Network, Sony and others.
Click on the below link to read a detailed report on Leeds United F.C.'s newest followers.