Published on April 14, 2022 by Jordan Fuller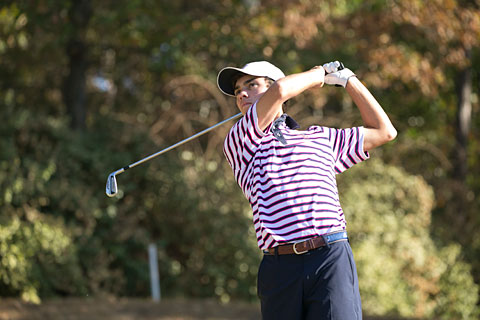 The numbers don't lie! Analytics predicts these five golfers will crush it in 2023.
There's no doubt that we're living in one of the most exciting times the world has ever been through. And that's true for sport as well as other areas. But no longer is it just about hard play and good sportsmanship. Analytics are at the top of the pile when it comes to following, betting on, or predicting sports results.
Everything from a golfer's swing effectiveness to equipment choices ultimately rests on sports analytics. Golf brands use them to create more streamlined, powerful equipment, and players use them to get a handle on their strengths and weaknesses.
As for gameplay, whether we're talking about a group of friends following their favorite golfers through the season or golfers themselves using in-depth analytics to improve on weak areas of their game, there's no doubt that the numbers are incredibly important.
While things can change in the blink of an eye, currently the analytics are pointing to a few select players being formidable opponents in 2023. How accurate will they be? It remains to be seen, but here are the golfers we believe will be crushing it in 2023, based on today's analytics.
Collin Morikawa
Morikawa is still just a couple of years into his pro career, but he's been on top of his game since he started. He's currently ranked second overall and has 2 major championships and 5 PGA Tour wins under his belt.
Analytics suggest that Morikawa is by far the best iron player around. His putting game is also strong, so while his drive isn't the most powerful, he makes up for it closer to the green, as suggested by the roughly 1.5 shots strokes per round he gains on shots into the green.
Despite his huge success with his irons, analytics show that many younger golfers still favor a powerful drive over the subtleties of irons and putters.
So while he may be a long way behind DeChambeau's driving distance, his exceptional consistency with his irons and putter suggests that he's only going to improve in 2023.
Patrick Cantlay
Patrick Cantlay—or Patty Ice—turned pro in 2012, but he's been on a real upward trajectory since 2017. He's currently ranked 3rd, and held the top spot in the World Amateur Golf Rankings for over a year.
He's had a cracker of a year. For the 2020/2021 PGA Tour season, he's consistently ranked high with an average off-the-tee score of 0.692, and with a driving accuracy of 62.90%, it's no wonder he's done so well.
While analytics highlight that his game is quite different to that of iron-master Morikawa—high driving distance and accuracy and average on the approach and green—Cantlay is well worth watching as we go through 2022 and into 2023.
Rasmus Hojgaard
Rasmus Hojgaard is barely out of his teens and already a three-time European Tour victor. That alone is enough to make him a formidable threat as we go through the 2022/2023 seasons!
February 2022 marks three years since he turned pro, and although he's far behind our top two players on this list in terms of ranking—currently ranked number 63—he's on the rise.
The stats show an excellent all round game from the Dane, although his driving distance is a little shorter than average (22nd in the 2021 Euro Tour season). He's also currently working on his wedge game, but judging by the young golfer's upward trajectory, he—and twin brother Nicolai—will be flying high in 2023.
Jon Rahm
There's no denying Jon Rahm is at the top of his game, as he enters week number 37 of being the top golfer in the world (combined total, not consecutive). 
Rahm, like Collin Morikawa, has a fairly average driving distance and accuracy. Analytics also suggests that he's lower down in terms of approach shot accuracy, but he has a power game on and around the green. 
Since going pro in 2016, stats show a constant upward climb in his rankings. With his impressive combined total of weeks at the top and his history of steady improvement, we can only see great things for Rahmbo in 2023.
Viktor Hovland
Viktor Hovland is another young golfer to watch as we go through the 2022/2023 season. His game is decent from drive to putt, but he's particularly strong on and around the green, according to analytics. In a game that's becoming more about nuance than power, these are invaluable skills to have.
He's currently 3rd in the Official World Golf Ranking, and with a number of wins to his name and a steady upward curve in performance since he turned pro in 2019, we foresee only positive results from him as we go through the year.
Conclusion
One of the most interesting things about analytics is that while they give us an excellent indication of what's to come, they can be derailed and switched up by a great many factors.
While the numbers are showing great things for these five golfers in the coming years, anything can happen. For example, Brooks Koepka is a dynamo on the course but has been plagued by injury over the last 3 years. A healthy, full-speed-ahead Koepka is definitely one to watch for in 2023, but based on current analytics, he's quite a bit behind.
In order to make the most of analytics, they need to be eyed regularly and adjusted for on the fly. This is true whether you're a pro looking to improve your game or a fan placing a bet on your favorite golfer!
While these predictions are confident based on the numbers today, all that remains is for us to wait and see what the future brings.
References:
Collin Morikawa Stats | Data Golf. (n.d.). Datagolf.com. Retrieved March 22, 2022, from https://datagolf.com/player-profiles?dg_id=22085
Jon Rahm Stats | Data Golf. (n.d.). Datagolf.com. Retrieved March 22, 2022, from https://datagolf.com/player-profiles?dg_id=19195
Patrick Cantlay Stats | Data Golf. (n.d.). Datagolf.com. Retrieved March 22, 2022, from https://datagolf.com/player-profiles?dg_id=15466
Rasmus Hojgaard Stats | Data Golf. (n.d.). Datagolf.com. https://datagolf.com/player-profiles?dg_id=23838
Viktor Hovland Stats | Data Golf. (n.d.). Datagolf.com. Retrieved March 22, 2022, from https://datagolf.com/player-profiles?dg_id=18841
About the Author
Jordan Fuller is a golfer with a deep interest in the game and the numbers behind it. When he's not analyzing and working on his own game, he's writing info-packed, valuable articles for his own website, Golf Influence.