Published on February 8, 2023 by Marshal Smith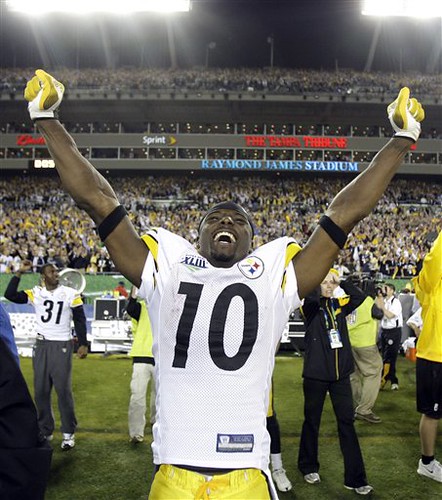 The Super Bowl is the biggest stage in American football, and the best players step up on the biggest stages. Here are some of the best Super Bowl performances by wide receivers throughout the years:
Jerry Rice (Super Bowl XXIII) - Rice, considered one of the greatest wide receivers in NFL history, had 11 receptions for a Super Bowl record 215 yards and a touchdown in the San Francisco 49ers' 20-16 victory over the Cincinnati Bengals. Rice split the defense on 2nd and 20 for a 27-yard gain with just over a minute to go, where Joe Montana and co. finished the drive with 34 seconds left to beat the Cincinnati Bengals ("Super Bowl XXII," 2023).
Lynn Swann (Super Bowl X) - Swann was named the MVP of Super Bowl X after catching four passes for 161 yards and a touchdown, including a juggling, acrobatic catch that remains one of the most memorable plays in Super Bowl history.
Deion Branch (Super Bowl XXXIX) - Branch caught a Super Bowl record-tying 11 passes for 133 yards and a touchdown in the New England Patriots' 24-21 victory over the Philadelphia Eagles.
Hines Ward (Super Bowl XL) - Ward had five receptions for 123 yards and a 43-yard touchdown from fellow wide receiver Antwaan Randle-El in the 4th quarter of the Pittsburgh Steelers' 21-10 victory over the Seattle Seahawks ("Super Bowl XL," 2023).
Isaac Bruce (Super Bowl XXXIV) - Bruce caught six passes for 162 yards and two touchdowns in the St. Louis Rams' victory over the Tennessee Titans. With 1:54 to go, Kurt Warner connected with Bruce on a 73-yard deep-ball to put the Rams up 7, where they held on to win 23-16 ("Super Bowl XXXIV," 2023).
Santonio Holmes (Super Bowl XLIII) - Holmes caught nine passes for 131 yards and had a clutch game-winning toe tap touchdown in the corner of the end zone with 35 seconds left, giving the Pittsburgh Steelers a 27-23 victory over the Arizona Cardinals ("Santonio Holmes Game Winning Touchdown Catch Super Bowl XLIII (2008)," 2020).
These performances by some of the best wide receivers in NFL history helped lead their teams to Super Bowl victories and cemented their place in Super Bowl history forever.
Sources
Note: this article used AI software, ChatGPT, to generate the base for this article, and was expanded on with specific stats and dialogue.
Super Bowl XLIII football. Openverse. (n.d.). Retrieved February 8, 2023, from https://openverse.org/image/a7512b7d-c6cb-4976-9de8-505acd6a9a24 
Wikimedia Foundation. (2023, February 1). Super Bowl XXXII. Wikipedia. Retrieved February 8, 2023, from https://en.wikipedia.org/wiki/Super_Bowl_XXXII 
Wikimedia Foundation. (2023, February 2). Super Bowl XL. Wikipedia. Retrieved February 8, 2023, from https://en.wikipedia.org/wiki/Super_Bowl_XL 
Wikimedia Foundation. (2023, February 6). Super Bowl XXIII. Wikipedia. Retrieved February 8, 2023, from https://en.wikipedia.org/wiki/Super_Bowl_XXIII 
Wikimedia Foundation. (2023, February 8). Super Bowl XXXIV. Wikipedia. Retrieved February 8, 2023, from https://en.wikipedia.org/wiki/Super_Bowl_XXXIV 
YouTube. (2020, June 21). Santonio Holmes Game Winning Touchdown Catch Super Bowl XLIII (2008). YouTube. Retrieved February 8, 2023, from https://www.youtube.com/watch?v=3mWHZKYFD9A 
About the Author
Marshal W. Smith graduated from Samford University in December of 2021 and is currently pursuing his M.B.A. with a concentration in Sport Business here at Samford. He would like to stay at Samford and teach Sports Business, Marketing or Analytics, or work for a major sports franchise in marketing or data analytics. Here is a link to his LinkedIn profile: www.linkedin.com/in/marshalwsmith