Master of Science in Environmental Management (MSEM)
A Master of Science in Environmental Management (MSEM) degree prepares students to address important environmental issues faced by industry, non-profits, governments, and individuals. Our 36-credit-hour non-thesis program provides a wide selection of courses including compliance, regulation and policy, field work, sustainability, chemistry, conservation biology, and project management to ensure a solid background in environmental issues so our students are prepared for an exciting career in this growing industry.
The MSEM degree was the catalyst. It taught me how to solve real-world environmental problems with practical solutions.Bill Peters, MSEM 1996, Director of Environmental Protection, Jefferson County (Retired)
Objectives and Curriculum
In the MSEM program, students will gain the ability to understand complex, and often difficult, issues in the environmental field and be equipped to make sustainable business decisions. Students will enter the workplace as leaders, prepared to quickly identify potential environmental liabilities by blending policy, science, and management skills to address the environmental problems of our modern world.
Is This Program for Me?
Students who like to learn, are fascinated by the natural world, are interested in complex problem solving, and who want to leave the world a better place will do well in our program. While a science background is helpful, it is not required for success in the program. We do offer biology and chemistry pre-requisite courses for those students who need a basic foundational understanding of science.
In the classroom, I received valuable knowledge about Environmental Management concepts and processes. Small class sizes and the close relationship to a competent professor made the program attractive. Away from my hometown in Berlin, Germany, I integrated quickly into the Samford family. The warm and welcoming manner of the people in the South played a significant role in this process. Leo, Berlin Germany, MSEM 2016
What Makes Us Different?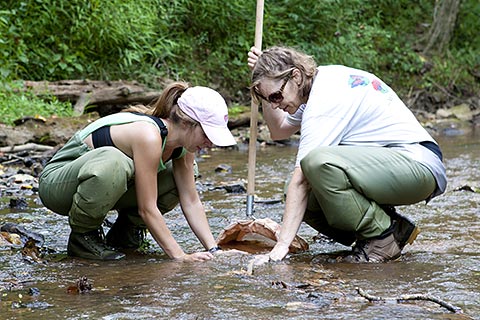 Big-Picture Focus
The MSEM program is unique because it offers a perfect blend of science, policy, and management skills to address the issues facing environmental managers. While other programs lean heavily on either science or technology, the MSEM program offers a bird's-eye view of the environmental landscape, preparing its graduates to see the big picture.
Joint Degrees
Environmental Management & Law
A joint graduate degree in environmental management and law (M.S.E.M./J.D.) is offered in conjunction with the Cumberland School of Law. Contact the Cumberland School of Law for more information.
Environmental Management & Business Management
A joint graduate degree in environmental management and business management (M.S.E.M./M.B.A.) is offered in conjunction with Brock School of Business. Contact Beth Smith or Elizabeth Gambrell for more information.
Career Preparation
Market Ready
The MSEM program offers career preparation in the following ways: 40-hour HAZWOPER certification through the Hazardous Materials course, a strong internship program, directed research with faculty members on a variety of environmental topics, and opportunities to network with professional environmental organizations. Class sizes are kept small to allow for rich classroom discussions and meaningful relationships between faculty and students.
It all started at Samford with the MSEM program. My third career is now my lifelong career: making a difference in my community and in the world.Bill Peters, MSEM 1996, Director of Environmental Protection, Jefferson County (Retired)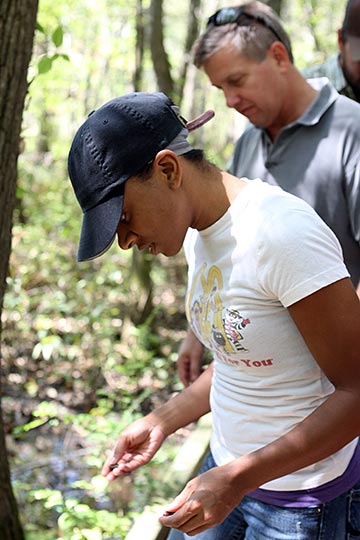 Career Opportunities
Energy and Utilities
Consultants
Government Agencies
Land Management
Private Industry
Safety and Health
Transportation
Urban Planning
Waste Management
Wildlife Conservation
Internships
Alabama Wildlife Center
AMEC Foster Wheeler
City of Birmingham, Storm Water Division
Freshwater Landtrust
Oak Mountain Interpretive Center
Southern Research
Spectrum Environmental Services
Terracon Consultants
Accolades, Alumni & Faculty
The professors really seemed to care about my career goals and how I might achieve them. I would say that was the best part of the program for me.Jordan Collins, MSEM 2010, ThyssenKrupp Steel USA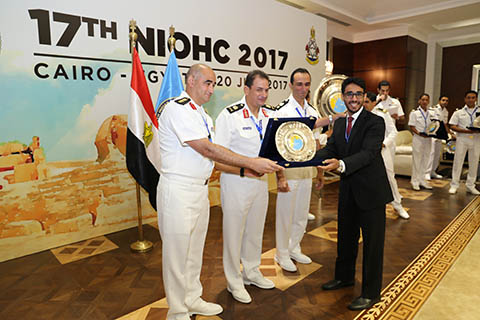 MSEM alumni Anas Althagafi represents the Saudi Arabia delegation at the 17th NIOHC conference in Cairo, Egypt.
Alumni Careers
Alabama Gas Corporation
Alabama Power
Bhate Environmental
Birmingham Water Works
Cardno ENTRIX
Dauphin Island Sea Lab
Eco Three
PM Environmental
Southern Company
ThyssenKrupp Steel
Upper Susquehanna Coalition
US Corp of Engineers
US Geological Survey
Notable Faculty
Admission
Admission Status
Three levels of admission status are designated:
Regular admission after three years of relevant work experience:
Graduation from an accredited college or university with an overall GPA of at least 2.50.
A minimum of three years relevant work experience
Two letters of reference from nonrelated persons.
Regular admission for recent college graduates (three years or less since award of undergraduate degree):
Graduation from an accredited college or university with an overall minimum GPA of 3.00.
A GRE score of at least 295 combined or a MAT score of at least 396, taken within the last five years.
Two letters of reference from nonrelated persons.
Provisional Admission
Provisional admission may be granted upon demonstrating seriousness of purpose and ability to succeed in the program. This status will be considered for applicants who do not meet all requirements for regular admission as listed above. The applicant must furnish two letters of recommendation from two nonrelated persons. If offered provisional admission, the student must complete the first six semester hours with no grade lower than a B. Upon demonstrating this level of work, the student will qualify for admission to regular graduate status.
Required Credentials for Admission
Each student must submit official transcripts from all colleges and universities attended. In order for transcripts to be official, they must be sent directly from the student's college/university to the Office of Admission, Samford University, 800 Lakeshore Drive, Birmingham, AL 35229. Transcripts sent to faculty or other offices on campus are not official. In addition, GRE or MAT scores must be sent directly to the Office of Admission from the testing agency. Scores furnished from other sources are not considered to be official.
Notification of Admission
Official notification of admission is communicated by letter from the Office of Admission. In the case of provisional admission, the letter may stipulate certain conditions that must be met by the applicant.
Prerequisites for Graduate Admission
While interdisciplinary in nature and accepting candidates with a variety of backgrounds and degrees, the program is heavily technical and scientific in design. Applicants will ideally have some training in the biological and physical sciences. If the admission committee notes a lack of scientific background in an applicant's preparation, it will require the student to complete a cell-based general biology course, specifically approved by the program directors, prior to taking any of the scientifically oriented courses in the program, with the exception of ENVM 501 (Biological and Environmental Chemistry). This cell-based general biology course may be an undergraduate course and will not count toward the 36 credits required for degree completion.
Acceptable Academic Progress (Minimum GPA)
Students in the M.S.E.M. program must maintain an overall 3.00 GPA in all graduate work. If a student earns a grade of D, F, or WF in any M.S.E.M. program course, or if his/her GPA falls below 3.00, the program director and relevant faculty must consider the student's promise and potential for successful completion of the program.
Transfer Credit
Up to nine semester credits/hours of appropriate and approved graduate coursework completed at another institution may be substituted for program course requirements. Coursework requested to be transferred must have been completed with a grade of at least B in each course. Such coursework must be the equivalent of a full semester's work (specifically, a course taken for three quarter-hours is NOT the equivalent of a three semester credit/hour course) and be supported by official transcripts and appropriate syllabi. Acceptance of such credit is solely the authority of the program directors.
Time Limit
All courses required for the master of science in environmental management must be completed within a period of five years from the academic session of first admission.