Samford University–#1 in Alabama and #3 in the region–offers an affordable fully online, 36-hour Master of Science in Environmental Management (MSEM) degree program that will prepare you to address important environmental issues faced by industry, non-profits, governments, and individuals, regardless of your undergraduate degree or career background. The program is designed with maximum flexibility, and can be completed in one year while still allowing you time for family, work and other commitments. You can complete your study whenever you like, wherever you have an Internet connection, and still have full access to our advisers, faculty and excellent on-campus resources such as career development and library resources. If you'd like to combine your MSEM degree with a graduate degree in business or law, contact us to explore one of our joint degree options.
Our program has a rolling admission process, meaning applications are considered as we receive them. We then make our enrollment decision within seven business days of receiving your completed application. Classes begin August 27, so review program cost,  contact us for more information and Apply Now to take the next step toward your new career!
If you're not ready to commit to a full master's degree, consider earning one of our online graduate certificates in environmental management or geographic information systems (GIS). If you decide to go on to the MSEM degree later, the 12 credit hours of these certificates will count toward that degree.
My MSEM from Samford University broadened my knowledge of environmental regulations and equipped me to effectively manage a comprehensive environmental program. Through this program, I gained insight into regulatory compliance, company risks and pollution prevention that, in turn helps me develop innovative solutions to meet the environmental challenges each day. Scotty Moates–Environmental Services, Kinder Morgan

Objectives and Curriculum
The online MSEM program will provide you with the knowledge and skills to understand and effectively manage complex, often multidisciplinary environmental issues. The program integrates policy, science, and management skills, so that graduates enter the workplace as leaders, prepared to address the challenging environmental problems of our modern world.
The program centers around a theme of  " Food, Water, and Energy". Courses on Energy and the Environment, Water Management, Sustainability, Environmental Justice, and Environmental Law, Policy And Regulations, will ensure that you are prepared for an exciting career in a growing, sustainability focused, environmental job market.
Is This Program for Me?
Do you like to learn? Are you fascinated by the natural world? Are you interested in complex problem-solving? Do you want to leave the world a better place? If so, this program is designed for you. While a science background is helpful, it is not required for success in the program. This program is designed to attract working professionals and undergraduate students aspiring to enhance their expertise in the area of environmental management. The GRE is not required to enter the program.
 Requirements include:
Bachelor of Science or Bachelor of Arts from an accredited Four Year institution
TOFEL score of 90
See detailed admission requirements below.
In the classroom, I received valuable knowledge about Environmental Management concepts and processes. Small class sizes and the close relationship to a competent professor made the program attractive. Away from my hometown in Berlin, Germany, I integrated quickly into the Samford family. The warm and welcoming manner of the people in the South played a significant role in this process. Leo, Berlin Germany, MSEM 2016
What Makes Us Different?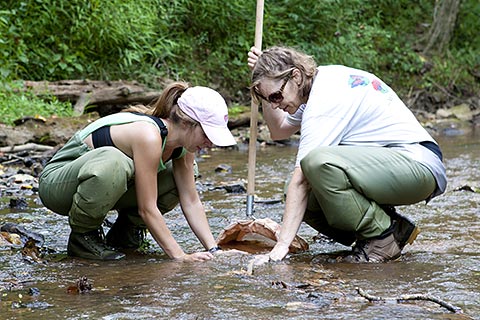 Big-Picture Focus
While other programs lean heavily on either science or technology, Samford's MSEM program provides a more interdisciplinary blend of science, policy, and ethical skills. This prepares graduates to approach the environmental landscape from the perspective needed by a team leader.  Most importantly, our classes are taught by distinguished and diverse faculty; many of whom are currently employed in the environmental industry, bringing their real world working experiences into the classroom (see complete list at right).
This approach combines environmental theories with practical workplace applications, providing you with a great depth of knowledge and making you more attractive to potential employers. 
Joint Degrees
Environmental Management & Law
The Juris Doctor/Master of Science in Environmental Management (J.D./M.S.E.M.) program, offered with Samford University's Cumberland School of Law, prepares students to work in government organizations such as the U.S. Fish and Wildlife Service, EPA, ADEM, FERC, and the U.S. Army Corps of Engineers; in companies such as Alabama Power and Southern Company; in environmental law firms, banks, consulting companies and major manufacturing plants; in educational institutions such as large high schools and universities; or in nonprofit organizations such as Ducks Unlimited, and various zoos and river keeper organizations. It is suggested to complete the core courses first, then begin adding electives. A new calendar offers A and B sections in the fall and spring, with one session each summer. Students who take a three-hour course in both fall and spring A and B sessions have more than ample time to complete the online program in three years. To learn more, contact  David Frings.
Environmental Management & Business Management
The Master of Business Management / Master of Environmental Science (M.B.A./M.S.E.M.) joint degree is offered in conjunction with Brock School of Business. To learn more, contact  David Frings.
Career Preparation
Market Ready
The MSEM program offers career preparation via 40-hour HAZWOPER certification through the Hazardous Materials course, a strong internship program, directed research with faculty members on a variety of environmental topics, and opportunities to network with professional environmental organizations. Class sizes are kept small to allow for rich classroom discussions and meaningful relationships between faculty and students.
It all started at Samford with the MSEM program. My third career is now my lifelong career: making a difference in my community and in the world.Bill Peters, MSEM 1996, Director of Environmental Protection, Jefferson County (Retired)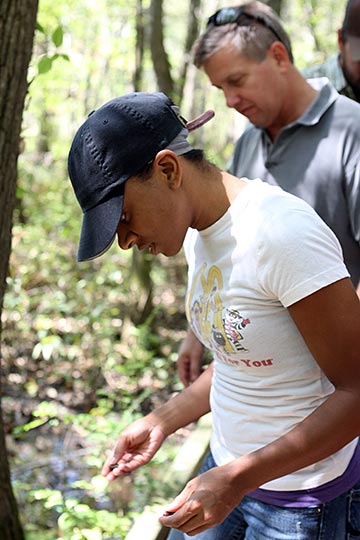 Career Opportunities
Energy and Utilities
Consultants
Government Agencies
Land Management
Private Industry
Safety and Health
Transportation
Urban Planning
Waste Management
Wildlife Conservation
Internships
Alabama Wildlife Center
AMEC Foster Wheeler
City of Birmingham, Storm Water Division
Freshwater Landtrust
Oak Mountain Interpretive Center
Southern Research
Spectrum Environmental Services
Terracon Consultants
Accolades & Alumni
The professors really seemed to care about my career goals and how I might achieve them. I would say that was the best part of the program for me.Jordan Collins, MSEM 2010, ThyssenKrupp Steel USA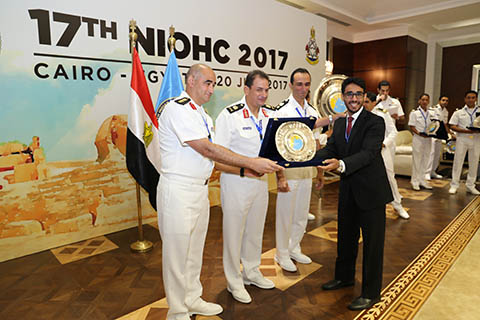 MSEM alumnus Anas Althagafi represents the Saudi Arabia delegation at the 17th NIOHC conference in Cairo, Egypt.
Alumni Careers
Government Organizations
U.S. Fish and Wildlife Service
U.S. Army Corps of Engineers
Federal Energy Regulatory Commission
Alabama Department of Environmental Management
Alabama Department of Conservation and Natural Resources
City of Birmingham
City of Hoover
Shelby County (Alabama)
Jefferson County Environmental Services Department
Jefferson County Department of Health
Alabama Department of Public Health
Birmingham Waterworks
Tennessee Department of Transportation

Industry

Alabama Power Company
Southern Company
Alabama Gas
Alabama Power Company
Southern Company
Alabama Gas
Spire Energy
Regions Bank
BBVA Compass
Spectrum Environmental
Southern Nuclear
Bhate Environmental Associates
PM Environmental
ATT
Terracon Engineering
Cardio ENTRIX
Nestle Nespresso
Disney
Eco Three
Thyssenkrupp Steel
Kinder Morgan
Nucor Steel
Great Southern Engineering
Progress Rail
Crittenden Partners
Batson-Cook Construction
Vulcan Oil Company, Inc.
Primarium, LLC
Carnival Cruise (UK)
U.S. Steel Tubular Operation
Alabama Casters and Equipment
Covanta

Education Institutions

Homewood High School
Samford University
University of West Alabama
Miles College
Dauphin Island Sea Lab

Not For Profit

CAMEL (Climate, Adaptation, Mitigation, e-Learning)
Alabama Wildlife Center
Birmingham Zoo
Living Rivers
Upper Susquehanna Coalition
Ducks UnlimitedS. Steel Tubular Operations
Admission
Admission Status
Four levels of admission status are designated:
Regular admission after three years of relevant work experience:
Graduation from an accredited college or university with an overall GPA of at least 2.50.
A minimum of three years relevant work experience
Two letters of reference.
Regular admission for recent college graduates (three years or less since award of undergraduate degree):
Graduation from an accredited college or university with an overall minimum GPA of 3.00.
Two letters of reference from nonrelated persons.
Special Status
Students not seeking a MSEM graduate degree but who are interested in taking classes (i.e. Continuing Education, Workforce Advancement) may take up to 12-credit hours of courses. Upon completing the first six semester hours with no grade lower than a B, you may be considered for admission to regular graduate status.
Provisional Admission
Provisional admission may be granted upon demonstrating seriousness of purpose and ability to succeed in the program. This status will be considered for applicants who do not meet all requirements for regular admission as listed above. The applicant must furnish two letters of recommendation from two nonrelated persons. If offered provisional admission, the student must complete the first six semester hours with no grade lower than a B. Upon demonstrating this level of work, the student will qualify for admission to regular graduate status.
Required Credentials for Admission
You must submit official transcripts from all colleges and universities attended. In order for transcripts to be official, they must be sent directly from the student's college/university to the Office of Admission, Samford University, 800 Lakeshore Drive, Birmingham, AL 35229. Transcripts sent to faculty or other offices on campus are not official. In addition, MAT scores must be sent directly to the Office of Admission from the testing agency. Scores furnished from other sources are not considered to be official.
Notification of Admission
Official notification of admission is communicated by letter from the Office of Admission. In the case of provisional admission, the letter may stipulate certain conditions that must be met by the applicant.
Prerequisites for Graduate Admission
While interdisciplinary in nature and accepting candidates with a variety of backgrounds and degrees, the program is heavily technical and scientific in design. Applicants will ideally have some training in the biological and physical sciences. If the admission committee notes a lack of scientific background in an applicant's preparation, it will require the student to complete a cell-based general biology course, specifically approved by the program directors, prior to taking any of the scientifically oriented courses in the program, with the exception of ENVM 501 (Biological and Environmental Chemistry). This cell-based general biology course may be an undergraduate course and will not count toward the 36 credits required for degree completion.
Acceptable Academic Progress (Minimum GPA)
Students in the M.S.E.M. program must maintain an overall 3.00 GPA in all graduate work. If a student earns a grade of D, F, or WF in any M.S.E.M. program course, or if his/her GPA falls below 3.00, the program director and relevant faculty must consider the student's promise and potential for successful completion of the program.
Transfer Credit
Up to nine semester credits/hours of appropriate and approved graduate coursework completed at another institution may be substituted for program course requirements. Coursework requested to be transferred must have been completed with a grade of at least B in each course. Such coursework must be the equivalent of a full semester's work (specifically, a course taken for three quarter-hours is NOT the equivalent of a three semester credit/hour course) and be supported by official transcripts and appropriate syllabi. Acceptance of such credit is solely the authority of the program directors.
Time Limit
All courses required for the master of science in environmental management must be completed within a period of five years from the academic session of first admission.