Samford's Classics major offers an outstanding education in Greek and Latin prose and poetry in the original languages, as well as the history and culture of the classical world and its importance for the 21st century.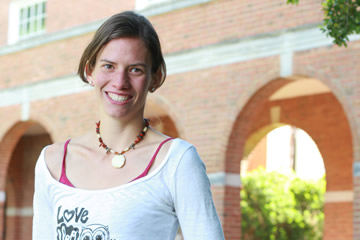 Being a classics major at Samford allowed me to explore concepts that positively impacted my profession and forever changed my path. The professors were dynamic yet deeply caring and the subject matter changed the whole world, so clearly it can change a life. I have never once regretted being a classics major. It was the best indoor education that I could have received. Jennifer Pharr Davis, record-setting Appalachian trail hiker, author of Becoming Odyessa and Called Again, Founder, Blue Ridge Hiking Company
Objectives and Curriculum
As a classics major you will travel to Greece and Italy, develop the language skills to explore the ancient world through the words of its original chroniclers and engage with the ideas that are the foundation of western culture.
Is This Program for Me?
Classics majors are curious about how the ancient past created our present. They love to explore other countries and cultures. They have aptitude in language study. They recognize that study of classics provides significant advantages in many careers.
What Makes Us Different?
Samford offers the best classics education in the region. Our professors are passionate about sharing their knowledge and experience, and work closely with students in small classroom settings and in the field, exploring the remains ancient Greece and Rome and revealing how the ancient world continues to shape our own. They are uniquely qualified to explain the influence of Greece and Rome on the development of Christianity, providing an essential historical foundation for personal faith and professional calling to ministry. Because travel is essential to the complete classics education, we offer the Mae E. Flynt Travel Scholarship to help students participate in Classics Department programs in Greece and Italy.
I'm one of the people who are of the opinion that a university can hardly call itself a university if it doesn't have a classics department--and this is doubly so for liberal arts schools. Classical knowledge is the foundation of everything we do, and has enormous relevance in all times. Samford's department carries that tradition in a superb way. The professors in the department are all excellent scholars committed to helping their students learn and develop as people, and I've been privileged to get to know them and learn from them over the years. Nathan Smolin '15, 2015-2018 Lilly Graduate Fellow
Career Preparation
Market Ready
The classics major's emphasis on language, history, travel and the foundational ideas and values of western culture is outstanding preparation for careers in the humanities, medicine, education, government and law.
Career Opportunities
Classics majors become authors, educators, entrepreneurs, ministers, physicians and scientists. Many choose to double-major in religion, pre-health or other undergraduate programs.
Fellowships
Classics majors tend to be outstanding students who qualify for a host of local, regional, national and international fellowships, scholarships and awards.
Accolades, Alumni & Faculty
Samford's Classics Department has been chosen to host the 2020 meeting of the Classical Association of the Middle West and South.
Alumni Careers
Samford classics alumni are educators, ministers, medical professionals, authors, scientists, attorneys, and business entrepreneurs.
Notable Alumni
Adam Borneman '05 is a minister and author of the book "The Social and Political Dimensions of John Williamson Nevin's Theology of Incarnation.
Aaron Carr '12 is a minister whose sermons have been included in publications of the National Festival of Young Preachers.
Jennifer Pharr Davis '04 set a new record of 46 days, 11 hours and 20 minutes for an assisted thru-hike of the complete Appalachian trail. Her books include "Called Again: A Story of Love and Triumph" and "Becoming Odyssa: Epic Adventures on the Appalachian Trail," the chronicle of her record-setting 2008 hike. She also is the author of numerous magazine articles and the hiking guides. She continues to hike, guide and speak through Blue Ridge Hiking Company, which she founded in 2005.
Sam Hahn '16 is a Rhodes Scholarship finalist and 2016-2019 Lilly Graduate Fellow
Marvin Leathers '05 is a neuroscientist and first author of the article "In Monkeys Making Value-Based Decisions, LIP Neurons Encode Cue Salience and Not Action Value," in the journal "Science".
Nathan Smolin '15 is a 2015-2018 Lilly Graduate Fellow
Michael Taunton '10 is an attorney and co-author of "The Caffeinated Gospel: Traditional Christianity With a Bold, Modern Flavor."