The Science and Religion major is a unique interdisciplinary course of study designed to equip students to understand, analyze, and productively engage issues arising at the intersection of science and religion. Students acquire a rigorous background that prepares them to understand the issues, fosters creative thinking abilities, equips them to make a positive contribution to thought in this area, and offers an exciting route to a number of post-graduation opportunities.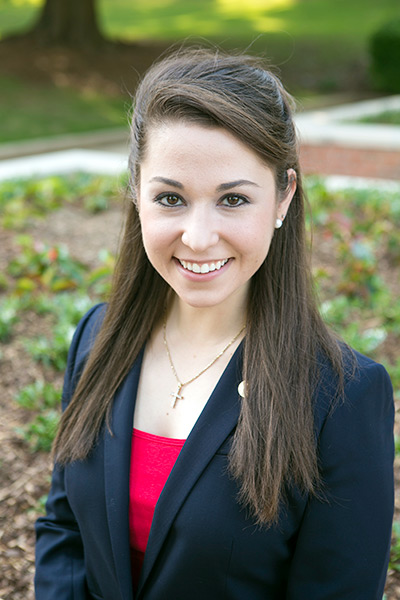 I am proud and honored to have been a Science and Religion major. I will continue to pursue a holistic understanding of those 'truths' for the rest of my life.Elizabeth Poulos '17 (UAB Medical School)
The disconnect between the life of the mind and the life of religious faith has grown wide in modern society and has hindered productive dialogue and interaction between the church and a significant segment of the population who can see no discernible connection between the two. Besides helping students deal personally with this issue, the major also prepares them to contribute to the science and religion dialogue.
Objectives and Curriculum
Students take a broad core in the sciences and humanities, then select a specific area of concentration (biology, chemistry, computer science, mathematics, pre-health, physics, or religion). These courses are framed by specific classes and a senior project in science and religion. Graduates from this program will:
understand the significance of issues arising at the intersection of science and religion.
be knowledgeable and conversant about those topics.
have experience discussing and writing about the issues.
be able to critically analyze and synthesize competing theories and claims.
possess a foundation upon which to contribute to the search for solutions.
Is This Program for Me?
Successful majors will be high-achieving students who enter the program with significant high school backgrounds in the sciences, mathematics, and the humanities, along with a keen desire to develop further in these areas. They will be intellectually curious, open to the exploration of new ideas and ways of thinking, and unafraid of a challenging curriculum.
What Makes Us Different?
There are few, if any, similar programs at other universities. At Samford, Science and Religion majors have the opportunity to explore important issues at the interface of some of the most important areas of life, but to do so within a distinctively Christian context.
Career Preparation
Market Ready
The general critical thinking and writing skills developed in this program are essential for a number of professional futures. Each student also selects an area of concentration, where more detailed experience with a specific discipline is gained, thereby opening doors to occupations or further study in that area.
Career Opportunities
Graduates of this program are prepared to pursue advanced degrees in Science and Religion or in their area of specialization or related fields where thoughtful analysis and expression are required. Some specific possibilities include academics (teaching and research), ministry, and medical school or other health professions.
Alumni
Alumni Careers
Graduate school in Science and Religion
Medical school