#1
Place in the Kentucky College Tournament (2016)
#3
Best Judge of the Past Decade (2000-2009)
60
Years Competing in the National Debate Tournament
For years, Samford University has had a rich tradition of being a powerhouse debate team. Not only is the school ranked in the top 50 nationally in the National Debate Tournament, but it also offers opportunities to engage others through the Summer Forensics Institute, the Samford University Public Debate Series, the Birmingham Area Debate League and the Bishop Guild Debate Tournament.
History
19th Century
In 1831, when Alabama's Baptists first began the idea of founding a college, the Manual Labor Institute of Greensboro, Alabama, the central focus of the curriculum was the art of declamation. Each Friday, all students participated in informal debates on contemporary issues. These required meetings took the name of the Franklin Polemic Society. The directors of the college believed that such exercises led to quicker and more insightful minds.
Although the Manual Labor Institute closed in 1836, the Franklin Polemic Society and its traditions were transferred to Howard College, which is now the College of Arts and Sciences at Samford University. The Franklin Society tradition of weekly declamations and debate continued until well into this century when, due to a host of changes in technology, the tradition of on-campus debates gave way to a demand for intercollegiate debates. Starting in the early 1900s, Howard College students participated actively and successfully in intercollegiate debate under the name of the Alabama Oratorical Society.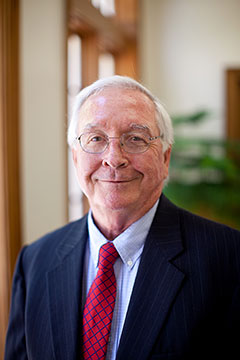 20th Century
In the 1950s Samford joined the National Debate Tournament (N.D.T.) and began the tradition that still lasts. Samford marked its 60th year in N.D.T. debate in 2014. Under the leadership of coaches G. Allan Yeomans in the 1950s and 1960s, Brad Bishop in the 1970s (where Samford won three DSR-TKA national championships) and Skip Coulter in the 1980s where Samford made the late elimination rounds of the N.D.T. four times), Samford University has established itself as one of the traditional debate powerhouses and will have a team at the national tournament this year. In the 1990s, Samford continued its long tradition of debate excellence under director Michael Janas, Ph.D. Samford was routinely represented at all national debate tournaments and is considered one of the most stable and successful programs in the Southeast region.
21st Century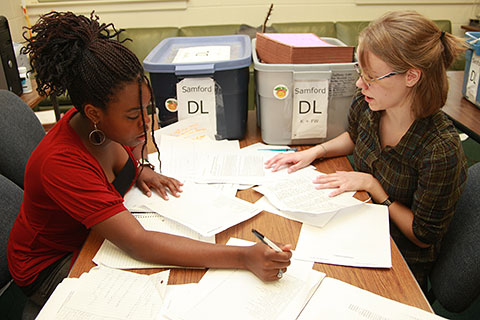 In the 21st century, the Samford Debate Team has continued to flourish under the leadership of Dr. Ryan Galloway. The debate team has represented Samford at Georgia State University, the University of Kentucky, the University of Alabama, Harvard College, Wayne State University, Wake Forest University, University of North Texas, University of Texas-Dallas, State University of West Georgia, University of Florida, Augustana College, the University of Texas, the University of Kansas, the District VI/SEC CEDA Regional Championships, the ADA National Debate Tournament, the CEDA National Debate Tournament, and the National Debate Tournament.
In addition to its nationally competitive teams, Samford also hosts the Samford University Summer Forensics Institute, the Samford University Public Debate Series, the Bishop Guild Debate Tournament, and the Birmingham Area Debate League.
Scholarship
We encourage all students to debate, but we cannot offer every student a debate scholarship. In addition to carrying over commitments from earlier years, the number of students that come to Samford to debate stresses the limits of our scholarship budget. One consequence is that we have to choose between relative qualifications when we make scholarship offers. Our paramount concern is that we offer scholarships to students who will succeed academically and actively contribute to Samford's debate team and community. Strong preference will be given to students with high-level NFL/TOC style policy debate experience.
We look forward to receiving your application for a scholarship. If you have any questions, feel free to contact Dr. Ryan Galloway for further information on the team and scholarship opportunities.
Frequently Asked Questions
Should I bring a laptop?
A laptop is highly suggested for policy debaters and encouraged for debaters in other formats. There is wireless on campus, and you will be supplied an internet code upon registration. If you bring a laptop please be careful! Although we have had no unfortunate instances in the past, it is your responsibility to take care of your computer. The policy debate labs will be using computers extensively and it is nice to be able to work with your own materials. In the past, students who have used Chromebook style laptops without access to the following software have struggled.
a. Microsoft Word- You may be able to get a free copy of Word using your school email. Visit the Microsoft Office in Education page for more information.
b. Verbatim- this is a free add on to Microsoft Word. Students should either have this installed OR have the ability to download and install software on their laptop during the camp.
What may I do during my free time?
Samford has a beautiful campus with plenty of room for recreational activities. Students tend to enjoy ultimate Frisbee and soccer especially.
What if I am vegetarian/vegan?
The cafeteria has options for every dietary requirement (although we are not Kosher/Halal). Vegetarian or vegan Meals are labeled.
I noticed that a friend from my school is also there - may I switch roommates once I get on the campus?
Due to safety and coordination reasons, we cannot accommodate roommate changes after the institute begins. We ask before the institute that people fill out mutual preference forms for roommates. If you would like to arrange for a specific roommate, please give us at least one week's notice before the institute begins.
Why do you have a lights-out policy?
Debate institute is a very engaging time, and it is possible to burn out if students stay up all night. It is important to learn to pace yourself, and because of this, the staff has constructed a schedule to ensure students are healthy and driven throughout the institute .The second reason is that we have a policy of total supervision. That means that we have specific staff members who are responsible for you. If you were to stay up all night, these staff members would have to stay up all night - we do not think that this is tenable.
May I attend religious services on Sunday?
We do our best to accommodate all requests regarding matters of faith. If you wish to attend services, see Mr. Galloway and he will help with your request.
May I see my parents during the institute?
Yes. However, you must be sure that Mr. Galloway received a written note saying when you are leaving and when you plan to return. It needs to be signed by your guardian. Try not to miss lectures or lab time. Sunday morning is the best time to visit with family.
What about my laundry?
We encourage you to do everything that you can to maintain good hygiene. The dormitories are fitted with clothes washers and dryers. However, you must think hard about when you will have time to do your laundry—since you spend a lot of time in class and only have limited time in the dorm. It can be done—it just requires some forethought.
What about early check-out?
Except under very specific pre-approved circumstances, we do not allow early checkout. On Friday night we take your keys, inspect your room and conclude the institute. Some people choose to go home after they have done this, however, we are not usually finished until after 10:30 (since people have to actually check-out and inspect your room). Most students depart on Saturday morning.
Is there a dress code at the camp?
On a day-to-day basis, there is no dress code: T-shirt and shorts are fine, as it is hot in Birmingham. You may want to bring a couple of business casual outfits for the tournament at the end of camp.
Notable Alumni
Erin Ramsey
Erin debated for Samford for four years where she earned degrees in Communication Studies and Political Science. Erin took a semester off from school her senior year to travel to Colorado to work as a Field Staff Coordinator for the Obama for America Campaign. She now works at Samford as an Admissions Counselor. We are so excited to have her on campus, just a short walk from the debate office!
Nick Agnello
Nick debated at Samford for four years where he earned a degree in Political Science. He qualified for the NDT three times, cleared at several major national tournaments, and was an irreplaceable resource for other members of the team. He was named Varsity Debater of the Year for 2007-2008 in the Southeast Central Region. He is currently pursuing a law degree in Florida.
Clark Bowers
Clark graduated from Samford University in Spring of 2007 as an honors candidate, majoring in political science, with a minor in writing. After a spectacular debate career that included qualifying for the National Debate Tournament three times, Clark attended the University of Alabama Law School.
Stephen Davidson
Stephen Davidson is a former debater at Samford University who is now a doctor at the Montgomery Cancer Center in Montgomery, Alabama. In 2006, Stephen generously established the Stephen L. Davidson Forensics Scholarship to Samford University's debate program.
Keith Herron
Keith Herron is a former debater at Samford University who is now the Executive Vice President of Regions bank in Middle Tennessee. In the Spring of 2007, Keith generously contributed the Susie Herron scholarship, named after his grandmother.
Davi Johnson
After an outstanding debate career at Samford that included qualifying for the National Debate Tournament three times, Davi Johnson pursued a doctoral degree in Communication Studies at the University of Georgia. The author of numerous published articles in communication theory, she is now an Assistant Professor of Communication Studies at Southwestern University in Texas.
Jamie Radford
Jamie Radford graduated from Samford University in the Spring of 2003. Jamie had a great debate career at Samford, qualifying for the NDT twice in his four year career. Jamie graduated from the law school at the University of Georgia and is an attorney in the Atlanta area.
Ashley Streat
Ashley graduated from Samford University in the Spring of 2006 with a degree in International Relations. Ashley had a spectacular career at Samford which included winning the Capitol Debate Tournament and qualifying for the National Debate Tournament twice. She also attended the University of Alabama's masters degree program in International Relations.
John Wilkerson
John Wilkerson graduated from Samford University in the spring of 2007 with a degree in History. John had an outstanding debate career, which included qualifying for the National Debate Tournament three times, and winning the University of Florida Debate Tournament. John is an assistant coach at Stratford Academy in Georgia.
Notable Faculty
Brad Bishop
Thomas Brad Bishop was a long-time Director of Debate at Samford University, and coached Samford's DSR-TKA nationals winning team numerous times. Samford debate takes its name, the Bishop Guild, from Brad Bishop. Brad is now a Professor of Law at the Cumberland School of Law in Birmingham, having taught contracts at Cumberland for over thirty years.
Ben Coulter
Ben worked as the Assistant Director of Debate at Samford University for eight years, recently moving on to the Cumberland School of Law. Ben served as the Director of the Birmingham Area Debate League, the Director of the Samford Summer Institute, and Director of the Bishop Guild High School Tournament. Ben was the coach for several qualifiers to the National Debate Tournament, and two teams qualified for the NDT in Ben's last three years as a coach.
Skip Coulter
Skip was a long-time Director of Debate at Samford University, and twice had teams in the "final four" at the National Debate Tournament. Skip recently retired from his position as the junior high debate teacher at Mountain Brook Junior High in Birmingham, Alabama. In 2007, Skip was inducted into the Alabama Debate Hall of Fame.
Ryan Galloway
Ryan is the current Director of Debate at Samford University, and has coached teams to the late elimination rounds of every major national tournament in the country, including numerous teams to the deep elimination rounds of the National Debate Tournament. In 2005, Ryan coached the National Debater of the Year, and was voted the third best judge of the past decade (2000-2009) in a national poll of his professional peers.
Links
Our Team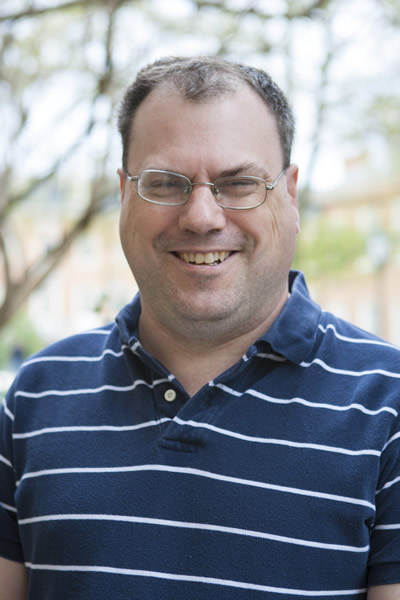 Ryan Galloway
Assistant Professor, Director of Debate
Communication Studies
News

Junior Varsity Debaters Place Second at Georgetown Tournament; Varsity Debaters Defeat Harvard
Samford University's Debate team competed at the Georgetown University Tournament in Washington, D.C., January 5-8, 2023.  

Samford Novice Debaters Reach Final Four Of Season Opener, Varsity Debaters Defeat Harvard
At the first debate tournament of the season hosted by Northwestern University, the Samford Novice Debate Team of Abby Montgomery and Grace Scott went undefeated in the preliminary rounds and advanced to the final four of the tournament. 

Novice Debaters Win National Championship
The team of Grace Blackwell and Abi McKibben is the best in the nation after victories at the American Debate Association National Championship.