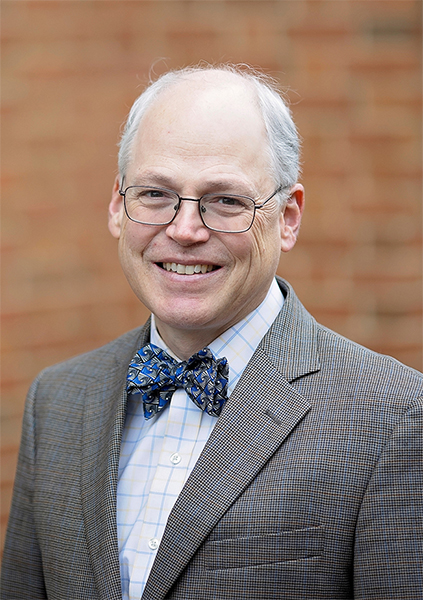 Professor
Howard College of Arts and Sciences
Biblical and Religious Studies
Office: Chapman Hall 228
David Bains is a historian of religion in the United States. His courses explore the interplay of culture, theology, and religious practices. He regularly teaches classes in several areas including: the history of Christianity, world religions, American religious history, Christian worship, and biblical studies. From 2015 to 2018 he served as chair of Samford's General Education Committee and as interim chair of the Department of Religion. A native of Hampton, Virginia, he studied physics and religious studies at the University of Virginia and received his Ph.D. in the study of religion from Harvard University.
He has published widely on the history of worship, architecture, and Christian practice. He leads tours of religious sites at the annual meetings of the American Academy of Religion and the American Society of Church History. The video portion of his curriculum on church architecture developed for Samford's Center for the Worship and the Arts is available online. He shares his insights about religion in the United States on his blog, www.chasingchurches.com.
He enjoys bicycling, photography, hiking, kayaking, waterskiing, and entertaining students at home with Martha, his wife. He is a member of Trinity United Methodist Church and also active in the life of All Saints' Episcopal Church and Birmingham Episcopal Campus Ministries.
Degrees and Certifications
B.A., University of Virginia
A.M., Harvard University
Ph.D., Harvard University
Awards and Honors
Phi Beta Kappa
S. Louis and Ann W. Armstrong Professor of Religion, 2016-18
Publications
"Beliefs and Practices."" In Future of Mainline Protestantism in America, edited by James Hudnut-Beumler and Mark Silk, 59–82. New York: Columbia University Press, 2018.
The Development of the Church: "The Principle of Protestantism" and Other Historical Writings of Philip Schaff, ed. with Theodore Louis Trost. Mercersburg Theology Study Series. Vol. 3. Eugene, Ore.: Wipf and Stock, 2017.
"Church Architecture Worldwide since 1800." In The Wiley-Blackwell Companion to World Christianity, edited by Lamin Sanneh and Michael McClymond, 386-98. Oxford: Wiley-Blackwell, 2016.
"Christianity." In Understanding the Religions of the World: An Introduction, edited by Will Deming, 325-88. Wiley-Blackwell, 2015.
"Philip Schaff: The Flow of Church History and the Development of Protestantism." (With Theodore Louis Trost.) Theology Today 71, no. 4 (January 2015): 416-28.
"Architecture, Protestant, From the Nineteenth Century to the Present," "Religious Thought," "Worship, Catholic," "Worship, Contemporary Currents," and "Worship, Protestant." In Encyclopedia of Religion in America, edited by Charles H. Lippy and Peter W. Williams. Washington, D.C.: CQ Press, 2010.
"Contemporary Worship: Trends and Patterns in Christian America." In Faith in America: Changes, Challenges, New Perspectives, Vol. 3, Personal Spirituality Today, edited by Charles H. Lippy, 1-23. Westport, Conn.: Praeger, 2006.
"Conduits of Faith: Reinhold Niebuhr's Liturgical Thought." Church History 73 (March 2004): 168-194.
Recent Presentations
"Introduction to Islam." St. Martha's Guild. All Saints' Episcopal Church, Homewood, Ala. April 16, 2018.
"Star Wars and Daoism." Faith and the Modern Family, All Saints' Episcopal Church, Homewood, Ala. February 25, 2018.
"Philip Schaff and the Place of the Bible in the Organic Development of Protestantism." The Bible and the Reformation: 2017 Baylor Symposium on Faith and Culture. Waco, Tex., October 27, 2017.
"History of Christianity 101." Nine-week series. Clark Center for Theological Studies. Canterbury United Methodist Church, Mountain Brook, Ala. March to May, 2017.
"Congregationalism, Anti-Slavery, and the Claiming of Denominational Ground in Washington, D.C." Spring meeting of the American Society of Church History, Minneapolis, Minn., April 17, 2015.
"Job: Wrestling with God." Four-week series. Grace Episcopal Church, Cullman, Ala. Lent, 2015.
"Stones and Replicas: Using the Holy Land to Christianize the American Capital." Annual meeting of the Southeastern Commission for the Study of Religion, Nashville, Tenn., March 7, 2015.
"Stones of Hope: American Protestants and Gothic Revival Churches." Annual meeting of the American Academy of Religion, Baltimore, Md., November 24, 2014.
Research
Religious Capital: Representing Religion in Washington, D.C.
Christian Worship in North America
Involvement
American Society of Church History
American Academy of Religion
Historical Society of the Episcopal Church
North American Academy of Liturgy