Published on September 2, 2010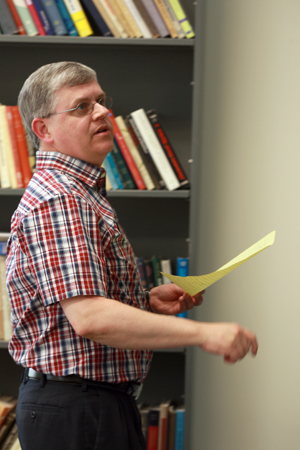 Samford University mathematics professor David L. Foreman has been named recipient of the school's 2010 John H. Buchanan Award for Excellence in Classroom Teaching.
Dr. Foreman received the award, in the form of a silver tray and $1,000 check, at the opening convocation of the fall semester on Tuesday, Aug. 31.
Since joining the Samford faculty in 1986, Foreman has taught primarily in the area of linear algebra, abstract algebra, number theory and calculus.
Students who nominated Foreman for the award cited his ability to explain complex and abstract ideas, said Samford provost and executive vice president Dr. Brad Creed, who presented the award.
Foreman, said Creed, goes above and beyond what a teacher should do and really cares about the student understanding the material. "He explains ideas in a concise manner without making students feel stupid or inferior."
A native of Monroe, La., Foreman graduated summa cum laude from Baylor University. He holds a master's from Indiana University and a Ph.D. from Louisiana State University. In addition to classroom responsibilities, Foreman has served on various university committees.
Foreman is a member of Birmingham's Brookwood Baptist Church, where he teaches a Bible class. He and his wife, Elvia, have two daughters, Julie and Emily.