Published on February 27, 2013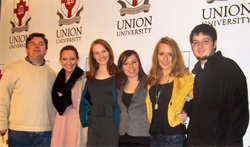 Samford Journalism and Mass Communication students and publications earned top awards at the 2013 Southeast Journalism Conference at Union University in Jackson, Tenn., Feb. 21-23.
Student Media Advisor Kenny Smith said Samford claimed five honors, including:
• First place, Best College Magazine–Exodus;
• First place, Best Journalism Research Paper–Anna Cox;
• First place, Onsite Competition Sports Writer–Clayton Hurdle;
• Third place, Best Sports Writer–Corry Mulligan; and
• Third place, Best Opinion-Editorial Writer–Adam Quinn.
More than 400 students from 32 universities competed in the Best of the South competition. Smith said only the University of Alabama fared better than Samford among the state's participants.