Published on October 29, 2014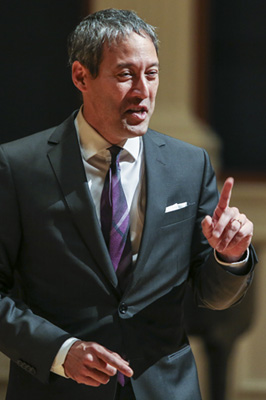 Korea scholar David C. Kang urges people to look beyond the threats posed by North Korea's totalitarian regime to see a very complex and traditional culture that defies stereotypes. Kang, speaking at Samford University Oct. 27 at the invitation of history professor Paul Cha, provided a rare and expert perspective on a nation that is alternately feared and mocked in the West.
Kang is professor of international relations and business, and director of the Korean Studies Institute at the University of Southern California. He is an internationally acclaimed expert on Asia and the author of many books and articles.
Kang's lecture was hosted by Samford's global studies program and history majors with generous support from the Distinguished Speakers Bureau of the Northeast Asia Council of the Association for Asian Studies, the Korea Foundation and Howard College of Arts and Sciences.
As the foundation for his talk, Kang showed his audience the symbol of the Korean Workers Party. To the expected communist hammer and sickle, it adds the calligraphy brush of the Confucian scholar-bureaucrats who ruled Korea for thousands of years.
"Communism is about sweeping away the past," Kang said, yet North Korea maintains and celebrates its traditional culture, especially family. Clans, identified with specific regions, are extremely influential in Korean culture, Kang said.  Kang himself is the 39th generation his own clan. "It's an awesome sense of belonging," he said.
"Every Korean company you've heard of is organized around the clan," Kang said. It's not surprising at Samsung, so why not the government of North Korea? As long as the family of current leader Kim Jong-un survives, Kang said, North Korea will survive. And so, North Korea continues to vex enemies and allies alike as "the only place in the world where the Cold War is still going on."
Kang said Western powers are unanimous in their belief that North Korea must change or "disappear forever," but they have only "a wafer-thin band of policy options." Military solutions are out of the question. With twenty million people just across the border in Seoul, South Korea, even a brief war is a guaranteed catastrophe. That leaves only degrees of sanctions and engagement as the means to promote change.
Kang favors economic engagement as a path to the reunification of the two Koreas, and noted that Chinese trucks might do more to open North Korea than any sanctions could. Where once those trucks hauled only Korean coal, they now carry out textiles and other products as North Korea is pulled into "the global assembly chain."
Consumer goods are flowing into North Korea, too, legally or otherwise. Some corporations are investing millions in North Korea in the hope of making billions when or if the country follows China's example.
As Kang showed tourist photos (yes, those are possible) that reveal North Koreans in current Western clothing fashions and using Western-style products, he presented a strong case that stereotypical images of North Koreans simply don't make sense now, if they ever did.
"On the one hand, they're 'brainwashed robots'," Kang said of common media depictions. On the other hand, they wake up everyday "yearning to be free." "They can't be both at the same time," Kang observed. Instead, he said, North Koreans are like people everywhere who want to be in the place they know as home in spite of its great faults.
Kang acknowledged the comic weirdness of North Korean leader Kim Jong-Un, who reached out to the West through comically weird former NBA player Dennis Rodman. But Kang described that cultural theater and Kim's public appearances with his wife as attempts to more closely identify with the vast majority of Koreans who are "neither the true oppressors at the top, nor the true victims."
Kang appears to be confident that for all its official bluster and horrifying human rights abuses, North Korea can't shut out the rest of the world forever, even if its leaders wanted to. But it isn't likely to just abandon its powerful traditions and throw open the gates, either. "It's going to change in ways that we probably can't control," Kang said. "At best, we can try to nudge it in a certain way."