Published on April 24, 2014 by Mary Wimberley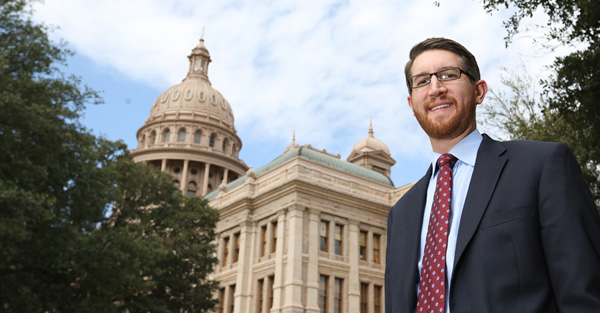 Samford University alumnus Jeremy K. Everett has been appointed to the 10-member National Commission on Hunger, established by the U.S. Congress in January.

Everett, a 1998 Samford graduate and founding director of the Baylor University-based Texas Hunger Initiative (THI), was named to the commission post by House Speaker John Boehner.

The National Commission on Hunger is charged with providing policy recommendations to Congress regarding programs and funds to combat domestic hunger and food insecurity. It will also develop recommendations to encourage public-private partnerships, faith-based sector engagement and community initiatives to reduce the need for government nutrition assistance program, while protecting the safety net for society's most vulnerable members.

"This is the first time Congress has appointed a commission to address hunger, and I feel both honored to be chosen by Congress for the commission and a sense of responsibility to those living with hunger and in poverty to ensure a better quality of life for all Americans," Everett said in a news release. "What better first step than to work to ensure that all people have enough to eat."

The commission includes three people appointed by the Speaker of the House, two by the House minority leader, three by the Senate majority leader and two by the Senate minority leader.

In addition to serving as a commissioner, Everett will continue in his post at the THI, a collaborative project of Baylor's School of Social Work and the Texas Baptist Christian Life Commission. The initiative works to end hunger through policy, education, research, community organizing and community development.

Prior to being named to the THI post in 2009, Everett was founder of Guadalupe Street Coffee, a social entrepreneurship venture to address the root causes of poverty in San Antonio's West Side. He has worked for international community development organizations as a teacher, religious leader, community organizer, fundraiser and organic farmer. A specialist on subjects of poverty, community development and organizing, hunger and social entrepreneurship, he writes for the Huffington Post and has been featured on PBS documentaries.

At Samford, Everett was a religion major and a member of Pi Kappa Phi fraternity. He holds a master of divinity degree from Baylor. He and his wife, Amy Miley Everett, have two sons, Lucas and Sam.