Published on July 20, 2015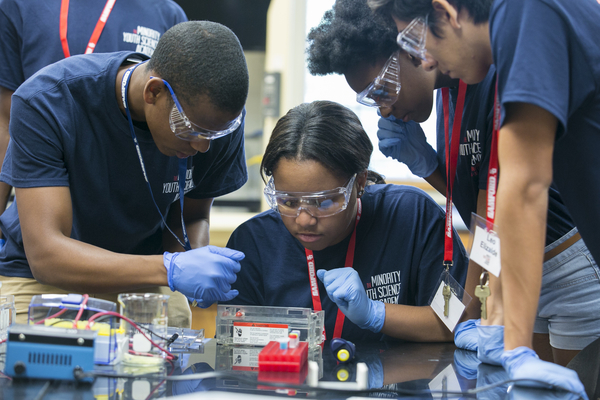 Samford University's Howard College of Arts and Sciences hosted 24 high school students for its 2015 Minority Youth Science Academy (MYSA) June 28-July 1.
The residential summer program, launched in 2014, helps prepare outstanding minority high school students who aspire to careers in science, technology, engineering and mathematics (STEM).
Denise Gregory–Samford chemistry professor and Director of Diversity and Intercultural Initiatives–said the inaugural camp was an overwhelming success. "All it took to help these young minds pick a path was exposure to the possibilities, and they ran with it, " Gregory said.
Again this year, scholarship donors helped many students participate. Samford history professor Carlos Alemán worked with the Fiesta Birmingham organization to secure six scholarships for Latino students.
The 2015 MYSA participants networked with peers, met potential mentors, took field trips, learned about the college application process and explored many aspects of STEM education and careers. Gregory said the number of STEM activities doubled from the first year, and included work in biology, chemistry and physics, electrical engineering, material science, and graphing computer programming.
A panel of minority STEM professionals made an especially big impression. "Both the students and the parents echoed the importance of seeing minorities in these professional STEM careers and the benefit of seeing someone that looks like them in these roles," Gregory said.
The panel certainly resonated with Jill Harris of Alabaster, Alabama, partly because it introduced her to study and career options she had never considered. "It's helped me figure out which science career I want," she said. For now, at least, she is interested in computer programming because "it's ever-changing." "I like that you're not going to do the same thing all the time," she said.
Felicia Arteaga of Birmingham said her interest in medicine arises from a serious illness in her family. She feels called to help, and is especially interested in becoming a neurosurgeon. Arteaga will take three AP courses next year to prepare for college, and has a new possibility to consider. "I was sitting on my bed in the dorm last night thinking, 'what if I consider Samford?'," she said.
Jabbari Smith, of Prattville, Alabama, said MYSA helped him focus an interest that began with childhood visits to doctors. "I used to bombard them with questions," he said. "I'm in love with science, so this camp is putting it on the nose for me".
"My dream is to be a biomedical engineer," Smith said. "That's what I want my legacy to be—to know that I helped people."