Published on February 5, 2015 by Jimmy Lichtenwalter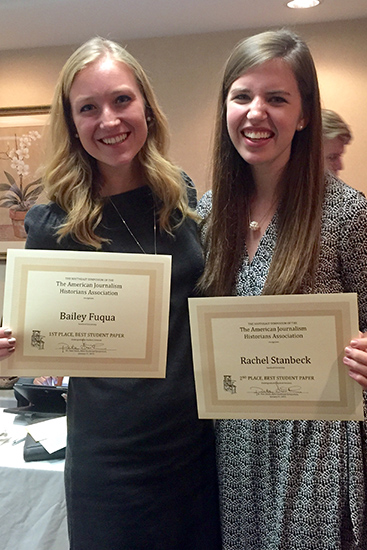 Samford University students Bailey Fuqua and Rachel Stanback took first and second place honors for their research presentations at the American Journalism Historical Association's (AJHA) Southeast Symposium Jan. 31.
Every year, students from schools all over the southeast give presentations on their undergraduate, graduate or doctoral research at the AJHA symposium. 
Fuqua, a senior journalism and mass communication major and a public relations and advertising minor from Franklin, Tennessee, won first place in the undergraduate category for "Faces of Beauty: Good Housekeeping's Changing Coverage of Health and Beauty, 1930-1979".
"For my research I basically analyzed Good Housekeeping from 1930 to 1979 and looked at pictures and advertisements," said Fuqua. "I really looked at how the magazine defined beauty and how that definition evolved over time."
Stanback, a senior journalism and mass communication major and general business minor, received second place honors for "Southern Living or White Middle Class Living? A Look at the Magazine's Racial Inequalities from 1966 to Present." Stanback is from Columbus, Mississippi.
Each presentation lasted 12 to 15 minutes and was followed by an extensive question-and-answer session. Of the 16 total students competing at the Symposium, Fuqua and Stanback placed first and second respectively in the undergraduate research category.
"Our students stacked up very well, even against doctoral students," said Samford journalism faculty member Julie Williams. "I am so proud of them."
Williams, who instructs the journalism and mass communication department's senior research course, takes Samford students to the AJHA's Southeast Symposium each year.
"Samford has done well at this conference," she said. "What's interesting is that even the professors learn a lot."
Jimmy Lichtenwalter is a journalism and mass communication major and a news and feature writer in the Office of Marketing and Communication.