Published on December 12, 2015 by Sean Flynt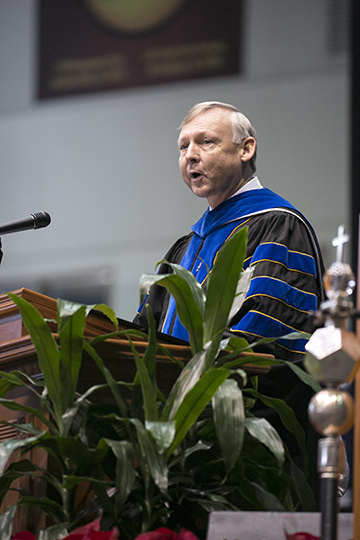 Samford University awarded about 240 degrees at its fall commencement Dec. 12. David W. Chapman, dean of Samford's Howard College of Arts and Sciences for the past 15 years, presented the commencement address.
Chapman, who has served on Samford's faculty for 25 years, will step down as dean at the end of the current academic year, but will continue to teach as professor of English and will have a role as director of the John Howard Scholars following a sabbatical during the spring of 2016.On Friday before commencement, Howard College of Arts and Sciences honored Chapman during its end-of-semester gathering. The celebration included tributes from college faculty and staff, and the distribution of A Samford Life, a book of Chapman's reflections on his time at the university.
In his commencement address, Chapman offered observations on three well known quotations referring to "self."
Chapman said the ancient Greek admonition to "know thyself" originated as a "warning against pride" but came to mean "understanding who we are in the deepest sense." The self is not "a diamond hidden away in a deep mine," fully formed and found only once, Chapman said. Rather, our individual self is more like a seed, with some fixed properties but also "shaped by the soil in which we are nourished — our friends and families — and the climate where we live — the social and economic structures around us."
College, especially, is viewed as a time of great opportunity for self-discovery, but Chapman said it is only the beginning of "a lifetime occupation." He urged graduates to never give up the quest for self and to avoid choosing careers that suppress it. "Don't give up your life for anything less than meaningful, satisfying work that calls forth your best self," he said.
Chapman acknowledged that Shakespeare's "to thine own self be true" — a passage from Hamlet "uttered by an unlikable character to his unscrupulous son" — could be read as an endorsement of a destructive "do-your-own-thing philosophy." But, he added that "being true to ourselves is not a license to abandon our responsibilities or ignore the needs of others." Rather, he said, it is a reminder to nurture the seed of self and to light an individual intellectual fire. In his case, he said, "it turns out that what I love to do and the way in which I can best serve others have often proven to be the same thing."
Noting the Biblical command to "love thy neighbor as thyself," Chapman emphasized that we can love our neighbor only "to the extent that we also love ourselves" in spite of our human limitations, and take to heart the assurance of 2 Corinthians: "My grace is sufficient for you, for my power is made perfect in weakness."
In an age in which the value of education is often reduced to consideration of "return on investment," Chapman said Samford still values the unity of service and the quest for self. "In many ways, the good you do for others will be the defining characteristic of being a Samford graduate," he said. And although the daily tally of the world's "incomprehensible violence and unspeakable humanity" can lead us to wonder if it is possible to love at all, he said he still believes in the power of love over evil. "I draw inspiration from the young people sitting before me today, knowing as I do your dedication to making this world a better place."
At the closing of the ceremony, Samford President Andrew Westmoreland, honored the "December superstars" with his own wishes for them. "May your future be all that you dare to dream," he said. "May God provide you with blessings and opportunities beyond your expectations. May be you safe. May you be challenged. May you be inspired. May you fulfill your parents' dream of gainful employment and may you be rich beyond what you earn. And then, may you remember that on a hillside in Alabama, there are people who will recall your name years from now with the proud memory, 'that was my student.' We have given you our best, such as it is. Now take that and multiply it across the planet."