Published on April 6, 2016 by Sean Flynt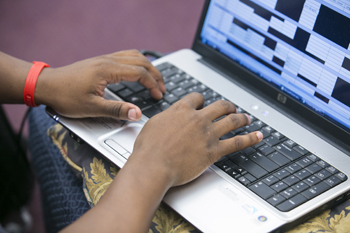 Samford University's Howard College of Arts and Sciences will offer seven online courses this summer, continuing an increasingly popular study option. As in January, 2016, when 128 HCAS students participated in online courses, the summer focus is on fulfilling general education and core curriculum requirements.
Students in the courses can participate from home or anywhere else, and on their own daily schedule, as long as they have computer access to complete regular assignments.
"We didn't know how students would respond to the online course offerings, but they've proved quite popular," said Dana K. Basinger, HCAS assistant dean. Basinger said that although the online courses are more convenient for students who need to be at home or serve in internships or have paid jobs in the summer, they are not a less challenging option. "Online courses certainly aren't less work than on-campus courses," Basinger said. "They require a heightened level of student engagement, and that's probably why students actually enjoy them."
Interested students–including those from other universities–can talk with their academic advisors and register for the HCAS online courses through the final day to add a course in either of the summer terms. Faculty and departments can provide details of the offerings.
The 2016 HCAS online summer courses include:
Biblical Perspectives   UCBP 101   Roxburgh/Patrick/Leonard
Intro to World Religions    Relg 201   Battaglia
Infectious Diseases    Biol 337   Layton
Gen/Organic/Biol Chemistry    Chem 108   Garza    Chem 109 lab may be taken in regular semester
Foundations of Chemistry    Chem 205   Ponder    Chem 206 lab may be taken in regular semester
Introduction to Sociology    Soci 100   Davidson
Contemporary Math    Math 110   Powell