Published on May 1, 2016 by Myralyn Allgood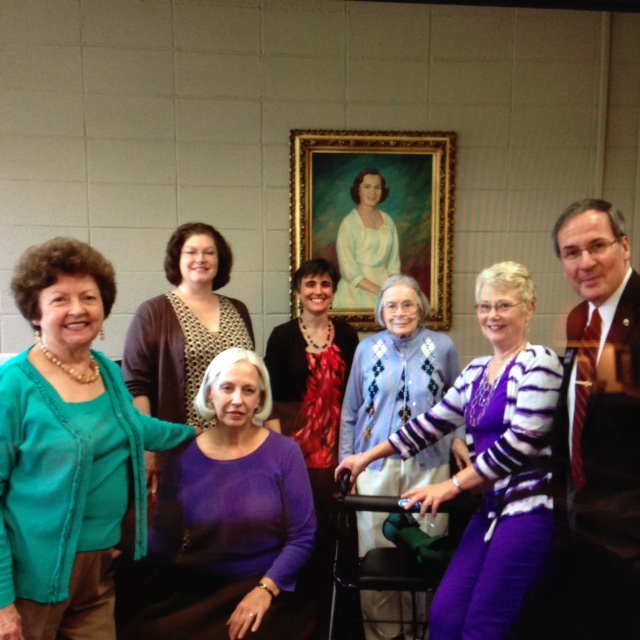 This May marked the first anniversary of a great loss for WLAC. We will always miss our colleague, mentor and benefactor, Dr. Grace E. Márquez.  
A 1942 graduate of Howard College at the age of 19, she returned to her alma mater to teach in 1945, after receiving her Masters degree in Spanish and English from the University of North Carolina at Chapel Hill, the youngest graduate student enrolled.  
She taught at Howard/Samford for a total of 18 years, with interspersed positions at two institutions in Mexico, Birmingham-Southern College, and the Woman's Missionary Union (WMU), SBC. She earned her Ph.D. in Spanish literature from the Universidad Inter-Americana in Mexico in 1964.
Wherever she went, Grace Márquez was a trailblazer.  While at Samford and 'Southern, she was a beloved teacher who inspired her students to excel in their studies and to become involved with Spanish speakers near and far.  She was co-founder of the Birmingham Club de Español and took her students with her to its gatherings.
She also enjoyed travel-study with her students in Spain, Mexico, the Galapagos Islands, and Costa Rica. In 1959 she organized Howard's first study abroad program in Mexico. Then in 1989, she escorted the first Samford group to Costa Rica's Centro Linguístico Conversa, where WLAC's JanTerm program continues to flourish 27 years later.
At the WMU she edited the Spanish-language magazine, Nuestra Tarea, and soon found herself in the position of director of its editorial department. She also translated numerous book and manuals, all while supervising the work of eight editors and five magazines.
During her years of residence in Mexico, she taught English to Spanish speakers at the National University and in Vera Cruz, organizing a plan for Samford Spanish majors to teach alongside her each semester. She also taught Spanish to indigenous children, who spoke only tribal languages, while she lived and worked at the Indian Rescue Mission there.
Back in Birmingham, she led her local church, Baptist Church of the Covenant, in developing an English as a Second Language program, taught a Sunday School class for internationals, and a Bible study in Spanish. She was actively involved with the Covenant's sister church in Cuba, traveling there on several occasions and hosting church groups when they visited Birmingham.
At Samford, she was actively engaged in campus life, creating a series of special opportunities for students: the Grace Hicks Ezell Scholarship, awarded annually to the outstanding Junior Spanish major; a Spanish Club for all students, dating from East Lake campus days; a chapter of the Spanish honor society Sigma Delta Pi in the 1950's; and the first interactive language lab on the Lakeshore campus in the 1960's. To stay connected with alumni, she served as editor of the WorldNotes newsletter for many years.
A faithful member of the American Association of Teachers of Spanish and Portuguese, she was named its National Teacher of the Year in 1989. Shortly thereafter, she was honored by Samford as Alumnus of the Year. Her most recent honor at Samford was the dedication of WLAC's new Grace Márquez Language Technology Forum in 2013.
Grace Ezell Márquez lived and breathed her passion for the Spanish language and its diverse cultures. Her enthusiasm was contagious and enriched the lives of generations of students. She was loved by many and will be greatly missed. As a final tribute, six of her "hijos de la lengua" are at work compiling a memorial volume in her honor, to be debuted in May of 2016, the first anniversary of her death. It will include a bilingual collection of her own poetry and essays, published articles about her remarkable life, a trio of eulogies, and letters of tribute by former students, colleagues, and friends.
As we all say farewell to our mentor and madre de la lengua, we can celebrate a life well lived and give thanks for the many ways she touched our lives. In the words of Spanish poet Jorge Manrique, ". . . aunque la vida murió, nos dejó harto consuelo su memoria."