Published on March 22, 2017 by Sean Flynt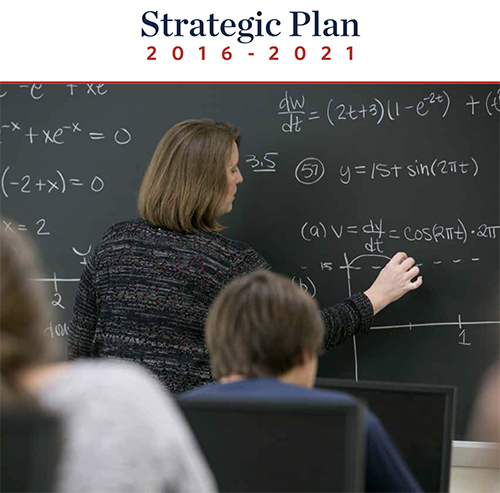 Samford University's Howard College of Arts and Sciences (HCAS) has produced a new strategic plan to guide its development through 2021.
A team of faculty began developing the plan in the spring of 2016 under the interim leadership of Provost Mike Hardin. The arrival of new dean Timothy D. Hall in fall 2016, along with the continued growth of the university in many other areas, contributed to what Hall described as "the widespread sense that now is the right time to bring our strategic direction into focus".
"As our new mission statement affirms, Howard College of Arts and Sciences is the heart of Samford University, and our faculty makes that a reality as it touches the hearts and minds of every undergraduate student the university admits, no matter what major the student ultimately chooses," Hall said.
Key elements of the strategic plan include:
A new mission statement
"As the heart of Samford University, the Howard College of Arts and Sciences inspires students to a lifetime of inquiry and service through engaged learning, faculty research and vocational discovery within the liberal arts and the Christian ethical and intellectual traditions."
A statement of values
"As a community, Howard College shares the following values that guide all our activities:
• Education through experience, research and service; 

• Mentorship that fosters intellectual, vocational and ethical growth; 

• Collaboration among students, faculty and staff; 

• Inclusion of people from diverse backgrounds; 

• Commitment to civil society and Christian values that contribute to it; 

• Engagement with the challenges that confront communities world-wide; 

• Stewardship of the Earth's resources. 

Strategic focus areas 

"Fulfilling our mission requires a process of innovation and continuous improvement consistent with our shared values across the College's activities. Accomplishing our goals requires a wide variety of strategies that, together, support four strategic focus areas.
• Committed People
• Shared Purpose
• Academic Inquiry
• Active Participation 

Hall said the strategic focus areas (described in greater detail in the complete document) will help the college make smart decisions about how to organize offices, design innovative classrooms and develop programs to prepare students for productive careers and rewarding lives in a rapidly changing world.
The new strategic plan will engage with Samford's Quality Enhancement Plan (QEP) and inform the college's Forever Samford campaign, which aims to increase the college's scholarship funding, support academic programs and improve spaces for faculty, staff and students.
Follow Howard College of Arts and Sciences on Facebook and Twitter