Published on May 1, 2019 by Sean Flynt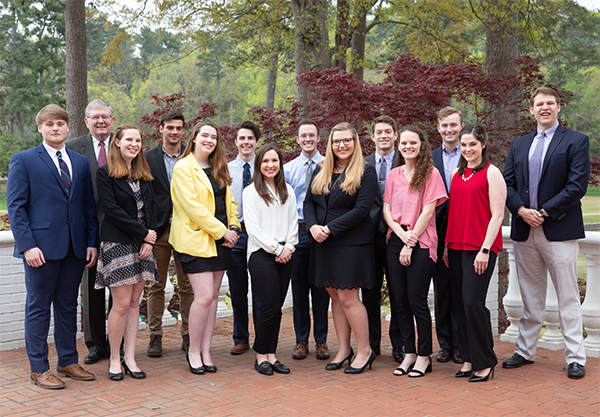 Samford University students have earned $6,000 in cash for their participation in the 2019 American Independence Awards, sponsored by the Alabama Society of The National Society of Colonial Dames in America (NSCDA) in April.
The 44 societies and 15,000 members of the NSCDA promote appreciation for the people, places and events that led to the formation and development of the U.S., and provide leadership in the field of historic preservation, restoration and the interpretation of historic sites. For more than 60 years, the organization has worked to honor outstanding historical research by Samford undergraduate students. The 15 students honored this year represent two academic divisions and five majors and concentrations.
Junior history major Holly Vlach earned the first place honor with her paper onThe Great Cheese: John Leland as an Enforcer of Ciceronian Ideals of Community 
 Junior history Robert Nikont (history) earned second place with Shays' Uprising: A Conflict Over the Meaning of Republicanism in Postbellum Massachusetts.     
Sophomore public administration major Madeline Sparks earned third place with The Strange Journey of Charles Woodmason.
Junior University Fellows honor student and history and classics double major Sarah Sharpton earned fourth place with Dear Theodosia: Public Obsession and the Disappearance of Theodosia Burr Alston.           
Junior John Howard Scholar and history and classics double major Drayton Cullen earned fifth place with The End of Puritanism: How Issues Surrounding the Halfway Covenant Removed Calvinist Idealism from America      
Honorable mention awards included:
How Memory Affects Views of Founding Father Alexander Hamilton –Melanie Hancock (history)    
The Alien and Sedition Acts: A Fight for Power and Rights– Anna-Drake Stephens (history)         
Slave Rebellions, the British Caribbean, and the American Revolution–Max Willinger (history-legal studies)
Breaking Points of the American Revolution–Noah Glenn (nursing)
Pinturas de Casta: Conceiving Identity in Spanish North America–Jared Skinner (history)
Lord Dunmore's Ethiopian Regiment: Exploiting the Colonial Fears of Slavery–Sam Bartz (history-legal studies)
South Carolina During the Revolutionary War–Ben Hewitt (history)
The Puritan Foundations of American Government: How the Experiences and Religious Beliefs of the Puritans Shaped Their Government and Framed Modern America's–Sarah Schansberg (history/classics)
The Spark and the Fire: A Historical Study of the Motives and Values of the Reconstruction of Colonial Williamsburg–Jonathan Lawson (history-legal studies)
Massachusetts Bay Colony v. Anne Hutchinson: Due Process or Kangaroo Court?–Gary Hutto (history)
The top five honorees summarized their papers at the annual meeting of 100 Dames, donors and other supporters.