Published on May 4, 2020 by Sean Flynt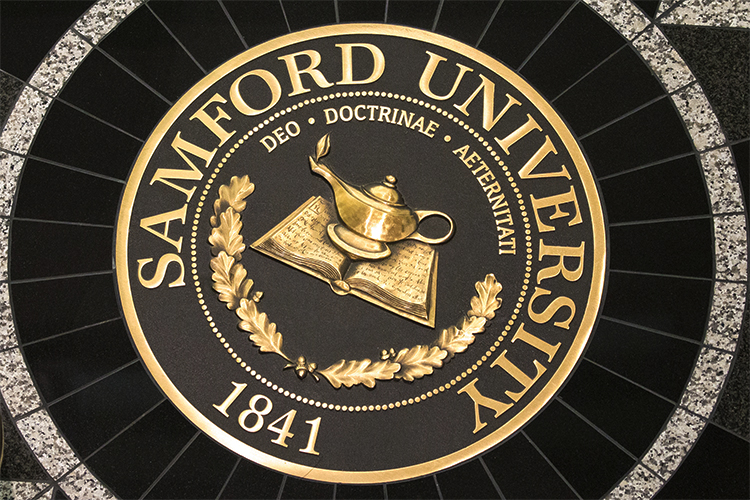 Samford University's Department of Biblical and Religious Studies presented its annual academic honors in a special online event April 30. The evening included a remembrance of former professor Sigurd Bryan and a special welcome to Rony Kozman, who participated in the event and will join the faculty this fall. The extensive department and university honors included:
Dean's List
Bridges Harrison, Eva Parker, Jacob Patton and Samuel Rapp.
Seal Honor Medal (GPA of 3.75 or above for the second time)
Emma Buckles
Tower Honor Medal (3.75 or above GPA for 63- 95 credit hours)
Morgan Champion
Anna Kutsko
John Pawlik
Howard Honor Medal (3.75 or higher GPA for at least 96 credit hours)
Julia Bradley
Lauren Center
Jane Foncea
Hannah Godfrey
Madeline Jackson
Taylore Miller
Emma Welch
2020-21 Departmental Scholarships
Dawson Brown–Hubert Fisher Memorial Scholarship
Emma Buckles–John & Lillian Holcomb Scholarship
Olivia Easterling–Claude E. Matthews Scholarship
Taylore Miller–Guffin Memorial Scholarship
Andrew Morris–Abrams Religion Scholarship
Eva Parker–Madeline Dix Reeves Scholarship
Jacob Patton–John & Jessica Loftis Scholarship
John Pawlik–Sigurd Bryan Scholarship
Abigail Ratliff–W.T. Edwards Endowed Scholarship
John Michael Tarleton–Brookwood Baptist – Gray Scholarship
Anne Marie Vines–Michael & Laura Duduit Scholarship
Rachel Witmer–Bee Talford Jones Family Scholarship
Departmental Awards
John Pawlik earned the Samford Sunday Award, presented to students who have represented the department by preaching in Alabama churches through the Samford Sunday program.
Anna Kutsko and Emma Welch both earned the Community of Scholars Award, given each year to a student who has made significant contributions to the development of scholarly community within the department.
Madeline Jackson earned the Cowley Award, presented to a student demonstrating excellence in scholarship, leadership and commitment to ministry.
Jonathan Hartley earned the Vernon Davidson Award for excellence in Biblical languages.
Julia Bradley and Samuel Rapp earned the Talley-Windsor Award, presented to graduating seniors who are preparing for a church-related vocation, who have demonstrated performance, promise, initiative and compassion, and who have been involved in a Baptist church.
Hannah Godfrey earned the Carlton F. Whirley Award, presented to the graduating senior who has already committed him/herself to a career in missions, who in his/her life as a college student has demonstrated commitment to missions, and who through his or her school work has expressed commitment to learning.
Carol Graffeo earned the first W. Landon Miller Award for Academic Achievement, presented to a graduating senior who has demonstrated extraordinary academic achievement in their program.
Lauren Center and Jane Foncea earned the Herman Ross Arnold Award, presented to the graduating ministerial students who, in the opinion of the department faculty and classmates, have best exemplified Christian humility and unselfish service and have best applied to the improvement of the mind.
The event also allowed the graduating seniors a chance to speak about their future plans and goals. The group included:
Julia Bradley
Lauren Center
Jane Foncea
Hannah Godfrey
Carol Graffeo
Bridges Harrison
Madeline Jackson
Clayton Long
Andrew Morris
McKenna Neville
Sam Rapp
Josh Roettele
Corey Thomas
Patrick Thompson
Emma Welch