Published on May 15, 2020 by Sean Flynt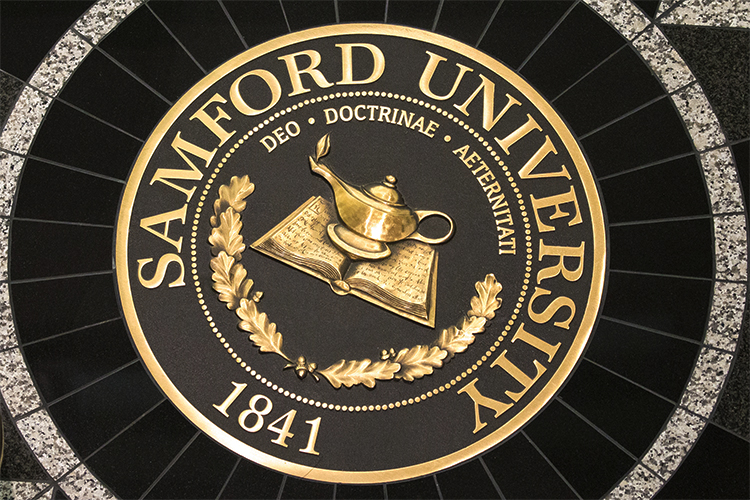 For the first time in the nearly 180-year history of Samford University's Department of English, faculty presented year-end student honors from a distance April 29. The COVID-19 pandemic kept faculty and students physically apart, but they were joined in a live video event that can be viewed here.
Jillian Fantin, received the Vivian Lankford Campbell Creative Writing Award.
Andre'A Roper recieved the Francis Marlin Mann Center for Ethics and Leadership Leadership and Character Award.
Ethan Sanders recipieved the Exemplary Film Studies Award Winner.
Emily Thorington recipieved the Ladell Payne Exemplary English Major Award.
Class honors included:
Dean's List, 3.75-4.0
Mackenzie Arnold
Abigail Aho
Rachel Brockwell
Ansley Burnette
Eulaya Erb
Jillian Fantin
Parker Gilley
McKenzie Glaze
Carol Graffeo
Megan Harris
David Holmes
Ashley Jackson
Jillian James
Julianne Jorgensen
Margaret Kirby
Elana Koehler
Heather Krebel
Sarah Lake
Kennedy Looper
McKenzie Marlow
Abigail Olive
Emma Pugh
Andre'A Roper
Claire Scott
Lacey Spear
Alex Speir
Emily Thorington
Rachel Woodruff
Audrey Woods
Kate Young
Dean's List, 3.5-3.749
Peter Aagaard
Mia Banuelos
Sophia Brough
Will Carlisle
Isabella Cruz
Erin Cyrier
Addie Lee Frierson
Celena Hathaway
David Holmes
Caroline Knowles
Jake Maddox
Kollin Muenstermann
Eva Parker
Kelly Regan
Cara Sadler
Madeline Saltsman
Ethan Sanders
Mary Kathryn Stanley
Corynne Vermillion
Drew Wehry
Esther Williams
Tara Williamson
Scholarship Recipients
Mackenzie Arnold
Mia Banuelos
Brice Boyer
Sophia Brough
Isabella Cruz
Kate Davis
Eulaya Erb
Addie Lee Frierson
Parker Gilley
McKenzie Glaze
Ashlynn Hamrick
Megan Harris
David Holmes
Ashley Jackson
Margaret Kirby
Elana Koehler
Heather Krebel
Jake Lane
Kennedy Looper
Kollin Muenstermann
Eva Parker
Hope Rentz
Andre'A Roper
Madeline Saltsman
Jordan Shoop
Taylor Skipper
Lainey Smith
Rachel Woodruff