Published on September 30, 2020 by Sean Flynt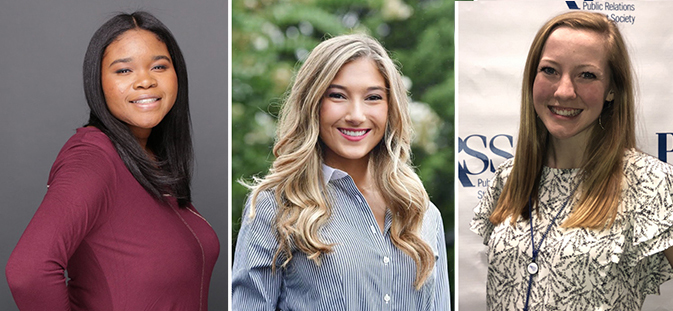 Two Samford University Journalism and Mass Communication alumni and one current student have earned top honors for their achievements at Samford.
Advertising alumna Anna Bain '20 earned the American Advertising Federation (AAF) Birmingham Student of the Year ADDY Award for her work at Samford. The 2020 Brick Award winner currently is a client specialist for Birmingham-area Starnes Media.
Current junior Moriah Mason has earned three organizational scholarships in support of her studies. In addition to Delta Xi Phi sorority's Brandy Nicole "Nikki" Murphy Memorial Scholarship, Mason recently learned that she will receive the 2020 Outstanding Panhellenic Woman Scholarship and National Multicultural Greek Council Scholarship.
Public relations alumna Page Secreast '20 received a National Gold Key award from the Public Relations Student Society of America in September. The award is the highest individual honor bestowed upon PRSSA members, and recognizes outstanding academic excellence in public relations and leadership in the organization. At Samford, Secreast was a member of the PRSSA team that created a national public relations campaign—Voices of Bham—focused on diversity and inclusion. The Overall Outstanding Journalism and Mass Communication Student of 2020 currently serves as Solution Sales Specialist with IBM's Summit Program.