Published on July 27, 2020 by Sean Flynt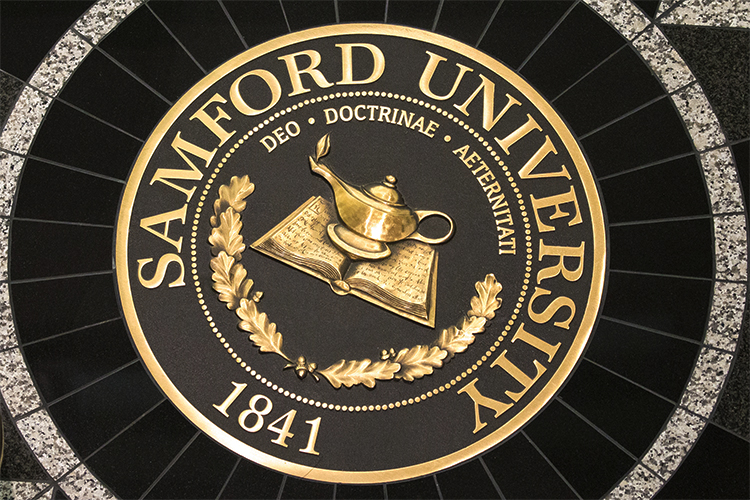 Samford University's Howard College of Arts and Sciences has announced a new academic program for outstanding humanities majors studying in the Christian liberal arts tradition. Stockham Scholars–selected from among rising sophomores who aspire to careers in business, law, ministry, education and public service–will maintain academic excellence and complete an approved internship and capstone independent study on freedom, civic virtue and leadership. Each will receive a scholarship of $3,000 per year for three years. Selection of the first class of Stockham Scholars began this spring.
"Responsible leadership and citizenship in a constitutional republic do not sustain themselves without effort," said Jason Wallace, Stockham Chair of Western Intellectual History and organizer of the Stockham Scholars program. "Each generation must understand the ideas and institutions that give order to civilization. This task begins with intentional education that emphasizes the vital relationship between freedom, virtue, and self-governance. The Christian liberal arts tradition can and should make a difference in how we order our lives and transmit our values."
In addition to the Stockham Scholars, Wallace oversees and directs two other initiatives named in honor of Richard Stockham Jr., a Birmingham, Alabama, native and Princeton University graduate who cared deeply about the educational value of the Western and Christian intellectual traditions. Stockham Stewards provides "great books" study abroad opportunities in select centers of Western cultural and institutional development for outstanding Samford students regardless of their major. Stockham Speakers hosts lectures and seminars related to responsible citizenship in a free society, the Western and Christian intellectual traditions, and the unique significance of the American political project.
"In the midst of 21st century cultural pluralism Western thought and history continue to shape important ideas about human nature, religious faith and political community," Wallace said. "The goal of the Stockham chair and endowment is to pursue these matters not to the neglect of broader global concerns, but in the hope that Western thought and history provide a perennially rich tradition of values that make human community both meaningful and possible."
"I am thrilled with the promise and potential of this new Stockham Scholars initiative," said Howard College of Arts and Sciences dean Tim Hall. He noted that the program builds on the current strengths of Samford's Core Curriculum, which draws on the intellectual and spiritual resources of Christian thought and practice to cultivate leadership and responsible citizenship among our students. "Students selected for this prestigious scholarship will enjoy mentorship and support to pursue excellence in their studies as they prepare to become responsible leaders across a wide range of vocations and careers," Hall said. "The world will be better for the preparation the Stockham Scholars will bring to their callings beyond Samford."