Published on November 30, 2021 by Sean Flynt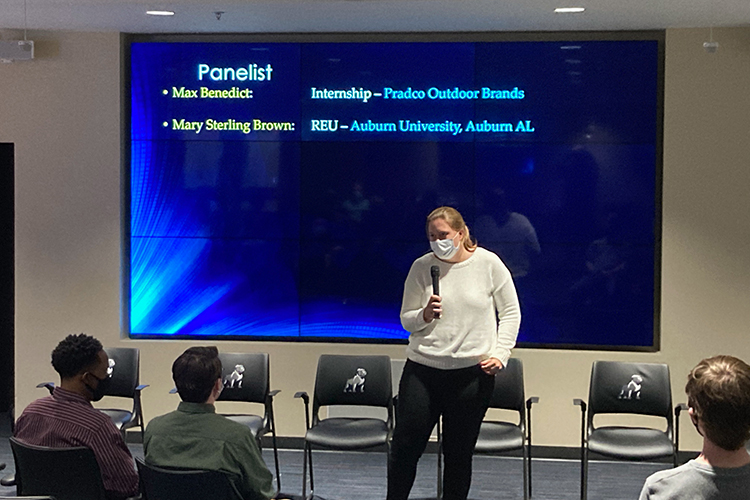 A computer science panel moderated by professor Greg Kawell this fall introduced students to the internships and external research experiences for undergraduates (REUs) that can have a profound impact on career paths. "The main reason I do the student panel is that the students themselves are the best communicators of what the experience meant to them," Kawell said.
The computer science majors (and experiences) represented on the panel included:
Max Benedict (internship at Pradco Outdoor Brands)
Mary Stirling Brown (REU at Auburn University)
Merritt Cahoon (REU at University of Texas–Arlington)
Sawyer Emerson (REU at Texas State University-San Marcos and internship at Noetic Strategies, Inc.)
Bailey Holland (internship at HudsonAlpha Institute for Biotechnology)
Matt Lad (REU at University of Houston)
Ian Robinson (internship at Northwestern Mutual)
Samford's Department of Math and Computer Sciences encourages computer science students to have REU experiences and internships early in their Samford education—not later than their sophomore summer–so they'll have time to try both. "Most go off feeling they are not even ready to do anything like this," Kawell said. "We push them, and they return with a much deeper appreciation for all the field of computer science encompasses." Kawell said they also tend to come back more focused on academics.
Kawell said the experiences sometimes change students' plans in unexpected ways. An REU might convince a student to move directly into the business world, for example, while a business internship might inspire a student to pursue graduate education. Student panelist Mary Stirling Brown was among those whose plans were transformed in this way. In her REU at Auburn University last summer she researched drones and autonomous flying using a LiDAR sensor. "I learned that I really enjoyed research and would for sure want to attend grad school following Samford," she said. "I am now in the process of applying to several schools to get my master's degree in computer science."
Kawell said many internships extend beyond summer, into the senior year and eventually become full-time careers. "The impact these experiences have on students is wide-ranging and just really enhances their final time at Samford and prepares them for the next stages after college."