Published on December 14, 2021 by Sean Flynt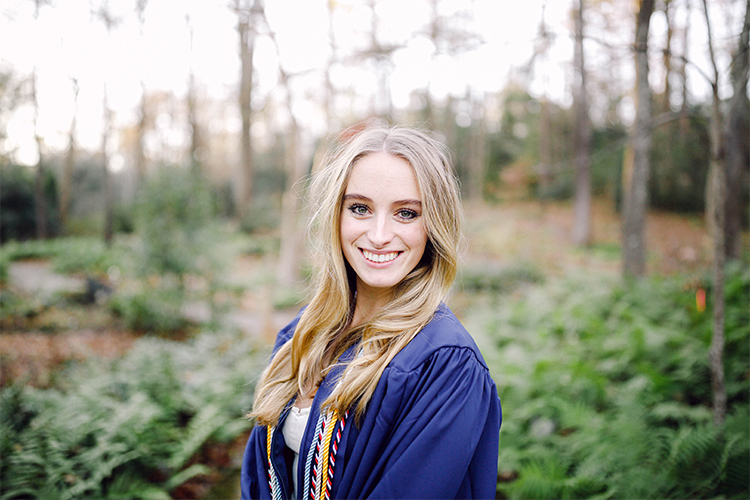 Graduating Samford University law, politics and society major Libby Rau attended a private Christian high school, and made her first college choice specifically to explore beyond that community. "You could not have paid me to come to Samford as a senior," she laughs now. "I wanted something bigger." She found something bigger at a state university in her native North Carolina, and found friends who were unlike her in many ways but who shared her growing interest in issues of social justice. "I came to see the value in diversity, and really made an effort to surround myself with people who are different from me," Rau said. There was something missing from that experience, though.
"I felt called to Birmingham in kind of a weird way," Rau said. "I didn't realize until I got here why. I really do think it was because of this civil rights and racial justice and criminal justice work that Birmingham is so central to." She also found that Samford–a Christian university in suburban Birmingham–could help her relate her faith to those pressing social issues through academic challenge, campus leadership, caring mentors and unique internship opportunities.
After transferring to Samford as a sophomore, Rau soon learned about the many ways she could match career to calling. Her communication arts professor, Keya Kraft, encouraged her to consider a policy-driven approach, which ultimately led Rau to her interdisciplinary major and a host of other mentors, including political scientist Marissa Grayson, civil rights historian Jonathan Bass, and university professor Chris Metress, among others.
Research projects and internships put Rau's studies to work. She served as a Jefferson County Memorial Project Research Fellow in 2020-21, diving deep into the history of Linn Park, the proposed site of a memorial for 30 victims of racial terror. An internship with the Birmingham Civil Rights Institute (BCRI) this summer enlarged her professional network and enriched her understanding of current local issues. She provided administrative support, helped write grants related to homelessness and the relationship between communities of color and law enforcement, helped create a new internship opportunity for other local students, and learned how a nonprofit organization of national stature functions day-to-day. "I feel like that was such a formative experience for me—just seeing behind the scenes, what goes into running not only a museum but being involved in this community work," Rau said.
An ongoing internship with Alabama Appleseed Center for Law & Justice helped refine Rau's interest by introducing her to people incarcerated in Alabama's prisons–some of them serving life sentences for nonviolent crimes under the state's Habitual Felony Offender Act. Rau's work for the organization includes responding to letters from incarcerated men and families seeking help. Alabama Appleseed has been able to provide hope for some of them, but the stories don't always end well. "Hopelessness abounds in this area," Rau said.
Justice and Faith
Like Equal Justice Initiative founder Bryan Stevenson, Rau finds that proximity to people suffering from injustice inspires her to act. It also compels a personal faith response, and that's why she wants to continue her education by earning both a law degree and a graduate degree in theology starting next fall. "I'm really passionate about the intersection of Christianity with this kind of criminal justice work," she said. "It's so clear, in the Bible, that we're called to pursue a kind of restorative justice, and to care for prisoners and the vulnerable."
Rau interviewed Alabama Appleseed clients for her senior Samford thesis on Christians' role in shaping policies that drive mass incarceration. That project unites her calling, internships and Samford education in a single scholarly work, and prepares her to mobilize other Christians. She said she is constantly learning about her own privileges and biases, and learning about what is and isn't effective in motivating Christians to join the broad cause of social justice. She has learned, for example, that it isn't about changing peoples' minds. "I think if you don't start with your own heart it's really hard to be doing this for the right reasons," she observed. "It's not just about 'you're wrong and I'm right,' because that's almost never the case. It's about building relationships with people and growing and learning together."
Rau said her work with the multicultural affairs committee of Samford's SGA helped her develop the empowering perspective that growing together as a community doesn't require unanimity or perfect people. One never arrives at a state of "perfectly culturally competent" or "perfectly anti-racist," she said. Progress comes in the trying. "I think we're called to wake up and take up our cross every day, wake up and choose to be understanding and humble and celebratory of other cultures," Rau said. "We're not called to perfection. We're called to make an effort."